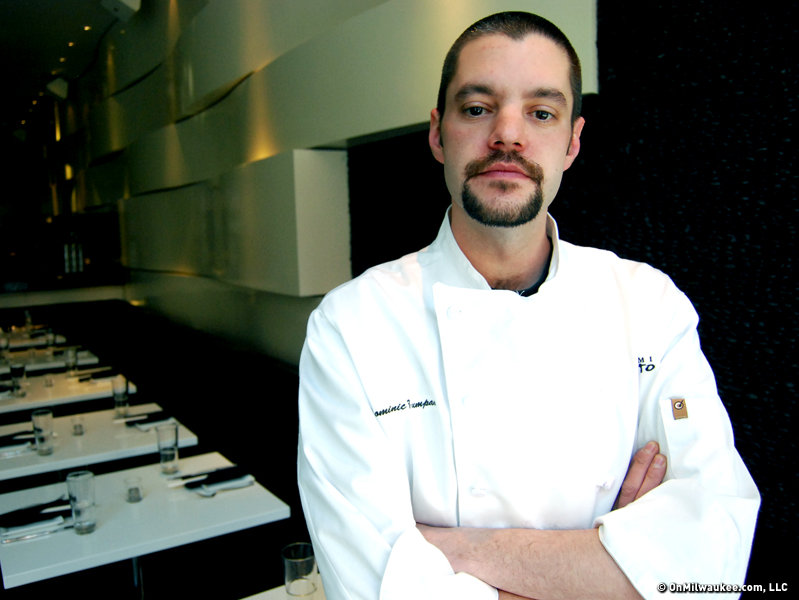 Featured chef: Dominic Zumpano of Umami Moto
Podcast:
OnMilwaukee.com Chef Profile: Umami Moto's Dominic Zumpano
Subscribe
to OnMilwaukee.com Podcasts
When restaurateur Omar Shaikh re-fashioned Eve, 718 N. Milwaukee St., into Umami Moto last July -- along with co-owners Michael Polaski and Tom Wachman -- he brought in 30-year-old Dominic Zumpano to helm the kitchen.
A Chicago native, Zumpano was sous chef to "Iron Chef" champ Beau Macmillan in 2006 and most recently worked at Elements, the fine-dining venue at Scottsdale's The Sanctuary on Camelback Resort in Arizona. He also cooked at Different Pointe of View, known as one of the priciest eateries in the Phoenix area.
Although he's only been here a few months, Zumpano has already worked his magic for Aaron Rodgers and other Packers and Spike of Bravo's "Top Chef" show, among others, and he made the final four in East Town Market's Battle of the Chefs in September. He also oversees Umami Moto's sister restaurant, Charro, across the street.
We asked him about his background and a few of his favorite things.
OMC: What kind of experience and training brought you to Umami Moto?
Dominic Zumpano: I was working at Sanctuary resort's Elements restaurant in Scottsdale, Ariz., as the executive sous chef when Omar Shaikh recruited me to Milwaukee to open Umami Moto. I am a graduate of Scottsdale Culinary Institute and have 14 years in fine dining.
OMC: Can you explain the Umami Moto concept?
DZ: The Umami concept is based upon the element of the fifth taste. Creating a balance of flavors and textures to excite all of your senses.
OMC: Do you have a signature dish?
DZ: My lobster bisque is by far my signature dish. It's the dried porcinis that make the dish.
OMC: What do you like most, and least, about your job?
DZ: The thing I love most about being a chef is the ability to be creative. With all the great product that is out there the possibilities are endless. I'm not really sure there is a least favorite part about my job.
OMC: What are your favorite places to eat out in Milwaukee?
DZ: So far, since I have been here, my favorite places to eat are Hinterland, The Dogg Haus and Carnevor.
OMC: Do you have a favorite cookbook?
DZ: My favorite cookbook is "Alinea" by Grant Achatz.
OMC: Do you have a favorite TV or celebrity chef?
DZ: Favorite celebrity chef is Thomas Keller, hands down. What I like about Keller's style is how simple it is. Its not way over-thought and his technique is flawless. Achatz on the other had is so far outside the box its mind blowing. When I cook I shoot for a combo of the two.
OMC: What's been the biggest development in the culinary arts over the past 10 years?
DZ: I think the biggest development is the culinary world is the introduction of gastro cooking. It's taking new techniques and food to another level.
OMC: What kitchen utensil can't you live without?
DZ: I would be lost with out my plating spoons and my French fish spatula.
OMC: What's the next big trend in food?
DZ: It's hard to say what the next big trend is going to be. There are so many talented chefs out there you never know which way it's going to go. Just when you think you have it figured out somebody throws a curve ball.
OMC: What's the toughest day / night to work in the restaurant biz?
DZ: For me some of the toughest days are when family events are going on and I have to work.
OMC: What is your favorite guilty dining pleasure?
DZ: Pizza, for sure. I can't get enough of it.
Talkbacks
darthfader | Feb. 11, 2009 at 6:14 p.m. (report)
The food at Umami Moto is amazing. I don't eat seafood, so I tried their short ribs with cheesy grits and slaw. I fell in love. I am definitely heading back soon. Nice job Dominic!!
Facebook Comments
Disclaimer: Please note that Facebook comments are posted through Facebook and cannot be approved, edited or declined by OnMilwaukee.com. The opinions expressed in Facebook comments do not necessarily reflect those of OnMilwaukee.com or its staff.