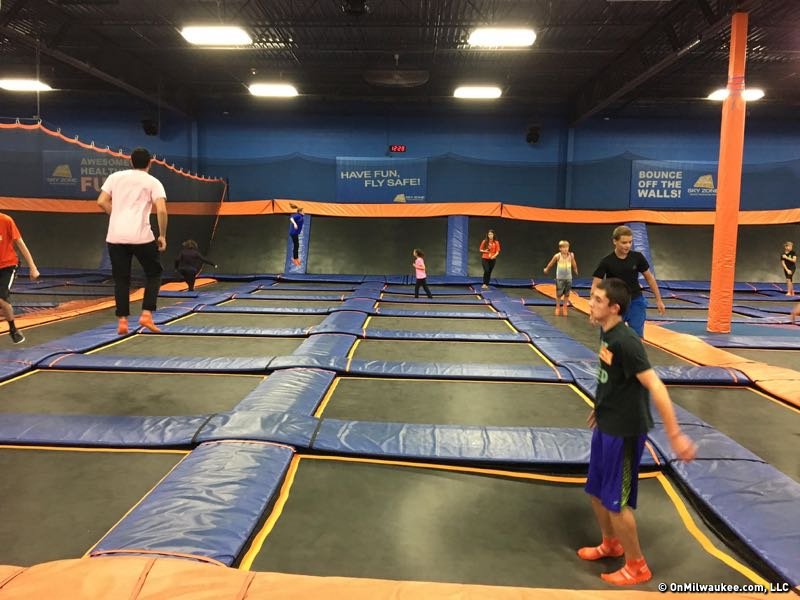 Kids' birthday party guide, 2013
Note: The contents of this guide were checked for accuracy when this article was updated on July 21, 2013 at 1:15 p.m. We continually update the thousands of articles on OnMilwaukee.com, but it's possible some details, specials and offers may have changed. As always, we recommend you call first if you have specific questions for the businesses mentioned in the guide.
Having your child's birthday party at home has its advantages. It's usually less expensive and provides an intimate environment. However, most kids eventually want to have their birthday party at a locale other than their own backyard. That's where this guide comes in handy.
Whether your kid is more bouncy or more craft-oriented, there's a Brew City birthday party that can accommodate his / her wishes. The beauty of the away-from-home birthday party is that you don't have to clean up after the festivities.
Here's a list of Milwaukee businesses that offer birthday parties, and feel free to add your own via the Talkback feature.
At A Hair For Kids Salon
14023 W. Greenfield Ave., New Berlin, (262) 938-5999
ahairforkids.com
Parties include a dress-up trunk full of prom dresses and evening gowns, hair styles with fairy glitter dust, nail polishing, make-up, karaoke and a fashion show. The salon offers make-your-own glitter body lotions and glitter lip gloss, too. Call or check the Web site for prices.
Build-A-Bear Workshop
2500 N. Mayfair Rd., Wauwatosa, (414) 453-2327
buildabear.com
Prices vary greatly at a Build-A-Bear party, but a "pawsonal" party planner helps keep it within your budget. Each guest gets to "build" a bear in a pretend bear factory and can add outfits and accessories for an additional price.
Chuck E. Cheese's
2701 S. Chase Ave., (414) 483-8655
chuckecheese.com
there are a variety of party packages at The Chuck, but in general, guest receives tokens for games, live entertainment, pizza and soda.
Godsell Farm
S105W15585 Loomis Dr., Muskego, (414) 425-2937
godsellfarm.com
This family farm features lots of party options, including petting zoo parties, craft parties, theme parties ("Little House on The Prairie," cowboy / cowgirl, etc.) and more. Hay rides, pumpkin picking (seasonal), bonfires, pinatas and farming demonstrations can be included in the event.
Hoffer's Tropic Life Pets
7323 N. 76th St., (414) 760-2257
Kids get to observe fish and reptile areas, and will meet a bunny, chinchilla, rat, millipede, beaded dragon and / or snake. Parents may bring in food, beverage and party favors, and can set up in a large party room.
Hula Hoop Party from Hoop Vive
hoopvive.com/parties.php
Milwaukee hula hoop queen Anna Stone will comes to your home / yard and provide two hula hoop performances and a hula hoop making workshop. Each child gets a hoop to keep. Recommended for kids at least 7 years old. Stone brings all of her own supplies and can provide a sound system if needed.
Kid-do's Glamour Partyz
N81W15042 Appleton Ave., Menomonee Falls, (262) 251-8060
Glam up your next party with a special makeover, hairstyle and nail polish application at one of the few hair salons just for kids in the Milwaukee area. The party is approximately two hours long and includes fun music to dance to and a "modeling show."
Koz's Mini Bowl
2087 S. 7th St., (414) 383-0560
Weekend bowling parties are available in this one-of-a-kind duckpin bowling alley with human pinsetters. Soda and chips available for purchase. Call well in advance. Remember to tip your pinsetter!
Lucky Bob's Raceway
5822 W. Forest Home Ave., Greenfield, (414) 327-4003
At Lucky Bob's, a slot car racing party includes practice race time, a 30-minute race and a T-shirt for the birthday child. Pizza, treats and sodas available for purchase.
Milwaukee County Zoo
10001 W. Bluemound Rd., (414) 771-3040
milwaukeezoo.org
Prices and packages vary, but the zoo offers a fun, educational environment for birthday parties of all sizes. Call for more information.

Milwaukee Public Museum
800 W. Wells St., (414) 278-2728
Website
The museum offers themed parties, including butterflies and dinosaurs, ideal for kids ages 4-10 years old. Go to the web page for more info.
Monkey Joe's
2040 W. Bluemound Rd., Waukesha, (262) 549-3866
monkeyjoes.com
Monkey Joe's indoor inflatable playground offers party rates that range depending on the number of guests and whether the party is held on a weekday or weekend. Parties include use of a party room, and you can bring in your own cake. Food and drink must be purchased from Monkey Joe's vending area.
Murray Hill Pottery
2458 N. Murray Ave., (414) 332-8828
murrayhillpottery.com
Murray Hill offers small-scale kids' parties where each guest makes and paints a clay bowl. Bring in your own food and drink. Call Murray Hill for more information.
Organ Piper Music Palace
4353 S. 108th St., (414) 529-1177
organpiperpizza.com
Call ahead to make a reservation for your child's party. Organ Piper doesn't offer party packages, but can accommodate large groups and offers pizza, a game room and free organ entertainment.
Pettit National Ice Center
500 S. 84th St., (414) 266-0100
thepettit.com
Ice skating parties are available in three packages, and all include skate rental, admission and food and drink. Multiple party packages are available, depending on food and drink choices. Call at least one week in advance.
Pump It Up
195 N. Janacek Rd., Brookfield, (262) 780-1010
pumpitupparty.com
Pump It Up features an array of indoor bouncy structures. Party package prices range depending on if it's on a weekday or weekend and the number of children. Call for exact prices. Drinks and use of party room are included.
Schlitz Audubon Nature Center
1111 E. Brown Deer Rd., Bayside, (414) 352-2880
Have your birthday at the center, or have the center come to you. Naturalist-led nature parties starring three or four of Schlitz Audubon's reptile and amphibian friends include a two-hour nature program for up to 15 kids.
StoneFire Pizza Company
5320 S. Moorland Rd., (262) 970-8800
stonefirepizzaco.com
StoneFire offers a variety of party packages. The restaurant and game center features bowling, bumper cars, indoor rock climbing, video games, play space and more.
Urban Ecology Center
1500 E. Park Pl. (Riverside Park), (414) 964-8505
1859 N. 40th St. (Washington Park), (414) 344-5460
urbanecologycenter.org
The Urban Ecology Center offers a variety of "b'earthday" parties. Themes include rock climbing, birds, maps, edible plants, water adventure and more. Staff-led, themed birthday parties with guided activities are available, or parents can rent a room and facilitate their own party.
Talkbacks
080808888 | Sept. 24, 2013 at 11:20 a.m. (report)
We have always enjoyed balloon artist of Half Twisted - Half Knot. His balloons keep getting bigger and better each time year. Last time we got a 5 foot ostrich and a wearable bird.
Wee | July 22, 2013 at 4:31 p.m. (report)
The most amazing Princess Dress-up Parties are hosted at Wee Imagine in Oak Creek for 20 years! https:/ www.weeimagine.com Children Dress-up , dance in the Disco Ballroom & sit at child sized chairs & tables set with whimsical tea cups and plates for a Tea Party ! This is the kind of party a child remembers forever.
Facebook Comments
Disclaimer: Please note that Facebook comments are posted through Facebook and cannot be approved, edited or declined by OnMilwaukee.com. The opinions expressed in Facebook comments do not necessarily reflect those of OnMilwaukee.com or its staff.