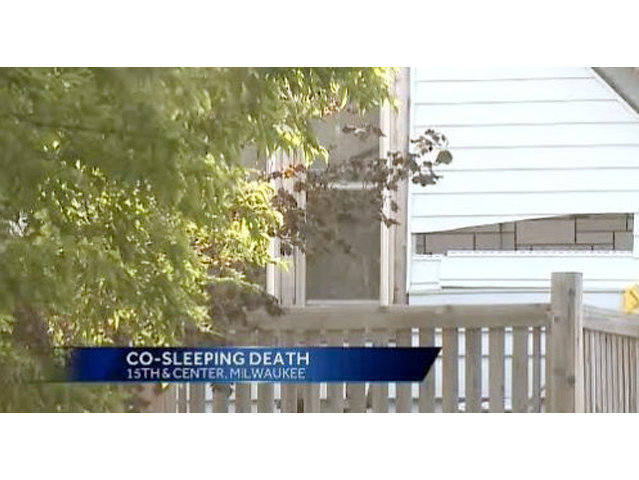 Progress in preventing infant deaths comes too slowly
I continue to be shocked and saddened each time I read about another child dying in Milwaukee from sleeping in an unsafe place.
Just last week a six-month-girl named Faith died while in bed. Beer cans were found in the apartment.
Faith was black. Seven of the 11 deaths so far this year were black babies.
I know we don't like to talk about race in this community, but it's an inescapable fact that these deaths occur more in black homes than anywhere else. The Milwaukee Journal Sentinel makes a huge deal each time one of these babies dies, but the paper can't seem to put each death into context.
I spoke with Karen Domagalski, operations manager in the County Medical Examiner's office and she pointed out that there had been a steady decline in deaths from either co-sleeping or sleeping in an unsafe sleeping environment.
In 2007, for example, there were 29 deaths that fell into this category. Each year since then the total has gone down. Progress is being made, but any death of an infant is one death too many.
Yet reading the only daily newspaper in town you would get the impression that we are faced with an epidemic of these deaths. And it's just not true.
But this is a problem that seems to defy an answer, much less an easy answer.
In many of these cases alcohol or drug use by the adult is a huge factor.
And no matter how much we don't want to face it, race is some kind of factor. The plain fact is that it seems like the message about healthy ways for an infant to sleep is not getting through to a portion of our population.
It seems obvious that some people are oblivious to the advice that the safest way for an infant to sleep is on his or her back in a crib. In Milwaukee we give away cribs to mothers who can't afford them and that's true in many large cities.
But the National Institutes of Health just released the results of a 17-year study that found about 14 percent of infants were sleeping in unsafe environments.
The researchers found that over the course of the study, bed-sharing became more common among all ethnic and racial groups. Using a three-year moving average calculation, they found that among white infants, the proportion of those usually bed-sharing increased from 4.9 percent in 1993 to 9.1 percent in 2010.
For Hispanic infants, the percent usually bed-sharing rose from 12.5 percent in 1993 to 20.5 percent in 2010. With African-American infants, the percentage of those usually bed-sharing increased from 21.2 percent to 38.7 percent during the same time period.
"The disparity in nighttime habits has increased in recent years," said Dr. Eve Colson, the Yale Medical School researcher who led the study. "Because African-American infants are already at increased risk for SIDS, this trend is a cause for concern."
More than half of the caregivers surveyed since 2006 reported that they had not received advice from their doctor about bed sharing.
That study is mind-boggling. Almost 40 percent of black households report bed-sharing.
I know we want to treat everybody the same, but this particular plague seems more pronounced in the black community and we all have a responsibility to help stop it. A big part of that is being honest about it.
Talkbacks
DTtoBurbs | Oct. 3, 2013 at 1:29 p.m. (report)
Do critics of co-sleeping - including Mr. Begal - have a clear understanding of how prevalent co-sleeping deaths are compared to deaths in cribs? Certainly and without saying, one death is too many. But if the general feeling is that co-sleeping deaths happen "a lot", the natural follow-up question must be, "Compared to what?" According to CSPC (Consumer Product Safety Commission) studies, 515 co-sleeping deaths occurred between January 1990 and December 1997, an average of ~74 per year. In comparison (remember, this is the important follow-up), CPSC reports that, between January 1997 and July 2002, 156 deaths occurred in cribs, for an average of ~34 per year. Yes, this is twice as many, but the difference is 40, not 1,000. Of the millions of births each year, is 74 "a lot"? What does that amount to as a percentage of total babies? Pretty small. Again, one death is too many. But let's remove drugs, alcohol, obesity, and the other factors, and see how much that reduces co-sleeping deaths by. Unfortunately, those stats are not easily found. I wonder how many of those co-sleeping deaths occur in affluent or educated neighborhoods, where proper precautions are taken. Good for Dave for addressing an uncomfortable "theory" and commonality, but it's also time to stop sensationalizing and generalizing these terrible deaths. Co-sleeping is not an automatic death sentence. No more than crib sleeping is for 34 babies each year.
MkeMom | Oct. 3, 2013 at 11:33 a.m. (report)
You have some good call outs and some I disagree with. Its very hard as a mother who firmly believes in the benefits of safe co-sleeping to hear blanket criticisms of the practice. I am the parent of a 14-month old boy and my husband and I have co-slept with him since he was one-month old. We talked at length about this decision, read books and websites and talked to friends and family members about the pros and cons before making the decision. I spent hours observing how my son slept and we follow all of the common-sense rules on what to do and not to do while co-sleeping. The biggest donts being not to co-sleep when under the influence of drugs and alcohol, not to let your child sleep with other family members or non-family members, not to co-sleep on couches and chairs, not to co-sleep if youre morbidly obese or a smoker and not to sleep with heavy blankets and pillows. I believe that the vast majority of co-sleeping deaths happen when the above donts arent followed and its a shame that the media, namely the Journal-Sentinel and the citys anti-co-sleeping campaign, doesnt make this clear.
AndrewJ | Oct. 3, 2013 at 10:05 a.m. (report)
Said it back in April when Mumper wrote about this, and I'll say it again: Word on the street is that Milele Coggs and Gwen Moore have essentially removed Barrett and Chisholm's teeth on this by claiming co-sleeping is a cultural issue, and any attempt to prosecute would be portrayed as a cultural attack. Unfortunately both Barrett and Chisholm take the marching orders as they apparently value their elected positions more than the innocent lives being lost. Very sad. Unless stupidity is a new culture that I'm unaware of, getting drunk/high and smothering a human being should definitely come with consequences.
Facebook Comments
Disclaimer: Please note that Facebook comments are posted through Facebook and cannot be approved, edited or declined by OnMilwaukee.com. The opinions expressed in Facebook comments do not necessarily reflect those of OnMilwaukee.com or its staff.