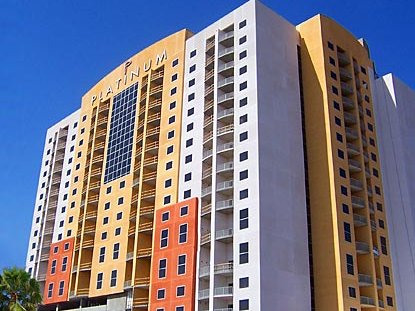 OnMilwaukee.com Recommends: Sept. 9
A new television show that bucks the usual formula, an island in the desert when it comes to Vegas hotels and a good read are just of few of the thing's we're suggesting this week.
"The Glades" -- Most TV crime drams do little more than put me to sleep. "CSI?" Yeah, because criminal investigators often do their work to funky music montages. "Criminal Minds" is tolerable when there's little else on during the weekends and "Law and Order" never did it for me. I took a chance on "The Glades" (Sunday, 9 p.m., A&E) and couldn't be more pleased. "The Glades" stars Matt Passmore as Jim Longworth, an excellent homicide detective forced out of his job in Chicago and now working in Palm Glade, Fla. He's teamed on-screen with a talented group of supporting stars, none more impressive than the obligatory love interest, Callie, played by Kiele Sanchez. Yeah, Longworth's whole "I don't play by the rules" attitude has been done before but it works. And his on-screen chemistry with Sanchez is a wonderful side story. Give it a shot; if nothing else, you'll get an hour of entertainment. -- Andrew Wagner
The Platinum Hotel in Las Vegas -- You could call this an oasis in the desert. But, that would be too easy. This all-suite property, which is operated by Milwaukee's Marcus Corporation, offers sweet relief for people who like visiting Vegas, but don't like schlepping their bags through slot machines and blackjack tables to get to their rooms. There is no casino at the Platinum, but it's located on Flamingo Road, an easy walk to the strip. The suites range from 900 to 2,200 square feet and feature full kitchens, whirlpool baths, plasma TVs, Bose Wave radios and balconies. The decor is tasteful, the pool and fitness center are well-appointed and there is a Well Spa and Kil@wat Restaurant, which makes you feel at home. -- Drew Olson
The Good Soldiers by David Finkel -- I'm taking a bit of a risk here since I'm only about 30 pages into this book, but already it's gripping, unique, personal and very, very well written. Want to learn more about war, the 2007 "surge" in Iraq and soliders who fight for our country each and every day? Then, you need to pick up or download this book today. -- Jeff Sherman
Getting to know the candidate(s) you want to vote for -- This is a time sensitive recommendation and admittedly a bit of an "odd" one. But, with election day next week (Tuesday, Sept. 14), I highly recommend attempting to "get to know" those candidtates you expect to vote for. How? It's easy. Call, e-mail or Tweet them. Ask a personal question, see how he/she responds to your request. Attempt to find out what kind of person he/she is? You have this right, they will be working for you! -- J.S.
OxyClean -- So I'll admit, I'm a sucker for TV informercials. I switched from bleach to this Billy Mays-approved product a few years ago and am glad I did. A big bucket goes a long way and works on trash clans, carpets, exterior decks, windows, walls and bathrooms as well as with laundry. A little pricier than a jug of bleach, but better smelling and a lot tougher at fighting stains without the bleach scent. -- A.W.
Facebook Comments
Disclaimer: Please note that Facebook comments are posted through Facebook and cannot be approved, edited or declined by OnMilwaukee.com. The opinions expressed in Facebook comments do not necessarily reflect those of OnMilwaukee.com or its staff.