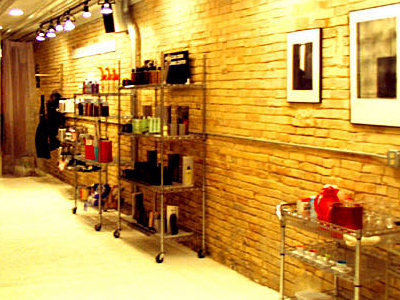 DiCarlo Salon transforms empty underground into basement of beauty
Jason DeCarlo has hair styling in his bloodline. As the fourth generation of stylists in his family, he says that opening his own salon in downtown Milwaukee last November didn't feel so much like a dream come true, but more like, "It's about time!"
DiCarlo Salon, 767 N. Water St., is nestled just below street level in a cozy space that DeCarlo and crew converted by hand from an abandoned basement to an aesthetically pleasing place of beauty.
Restoring the walls of original cream city brick, the salon possesses an artistically modern feel with a vintage edge. It's small -- limiting itself to its four re-upholstered vintage barber chairs -- and that's exactly how DeCarlo wants it to stay.
"We're a small salon with big ideas," he says. "I've always thought that less is more."
After getting permission from his great-grandfather in Sicily to use the original spelling of his last name for the salon -- it was "Americanized" to DeCarlo when his family moved to the States -- DeCarlo sought to start a business that would contribute to the positive, design-savvy direction in which he sees Milwaukee moving.
As the first commercial business to occupy the 2,200-sq. ft. space, the salon retains bits and pieces of the building's old form -- tops of original brick windowsills, for example, are now at waist level due to structure sinkage over the decades. The modern perks DeCarlo's added -- track lighting, new floors, art installations, tasty snacks and an espresso machine -- create a perfectly balanced image of classic Milwaukee history and the Milwaukee that is now on the rebound.
"I wanted to do something that would set me apart from others in the industry," he says. And he should know the industry. Not only does he stem from four generations of hair stylists, he's also got a decade's worth of cutting and styling experience under his belt -- and that's not even counting the years he spent hanging around his dad's barber shop as a kid.
For now, DeCarlo and general manager and color specialist Abby Pollpeter pretty much run the show, offering creative departments for women and men. Women's cuts start at $30, styling starts at $25, and coloring starts at $55. Men's cuts start at $15, coloring starts at $40 and shaving starts at $10, with another service. The salon also offers a variety of multi-purpose packages for both men and women, ranging from the $34 "Men's Clean Me Up" to the $131 "Women's Color Package."
Having spent some time in London, DeCarlo said he was inspired to give Milwaukee a taste of something new -- something with a slightly European vibe. But at the same time, the Milwaukee native was looking to emphasize the new fashion-forward attitude the city's adopted.
"The vision I had for this place was to be fully integrated into the local art scene," he says. "Eventually, we're looking to work with dancers, actors and models in the area to do hair and make up for productions."
For now, DeCarlo is doing what he can to personally support the arts. Staring a program he's calling "Save the Starving Artists," DeCarlo has invited artists from MIAD and UWM to display their work in his salon for free, as an alternative to the gallery scene. The installments change monthly.
"Milwaukee is back, so to speak," he says. "We are on the rebound, and I want to be apart of that vibe." Downtown might be the hot spot to get your haircut these days, but what about the parking problem?
DiCarlo's got you covered. Collaborating with the CPS parking tower on the southeast corner of Water and Mason Streets, the salon offers free valet parking service with validation.
DiCarlo Salon is open 8 a.m. to 8 p.m., Tuesday, Wednesday and Thursday; 8 a.m. to 10 p.m. Friday and 8 a.m. to 6 p.m. on Saturday. The Web site is dicarlosalon.com.
Facebook Comments
Disclaimer: Please note that Facebook comments are posted through Facebook and cannot be approved, edited or declined by OnMilwaukee.com. The opinions expressed in Facebook comments do not necessarily reflect those of OnMilwaukee.com or its staff.