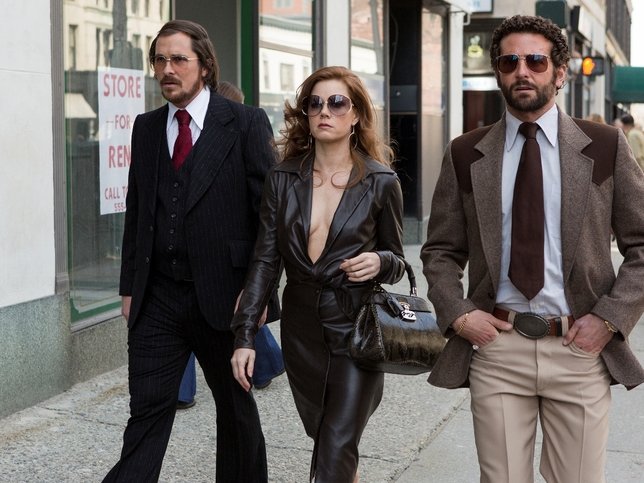 Star-studded "American Hustle" is a successful con
In a career so far defined by unhinged behavior, whether it be his characters (the family dysfunction of "The Fighter" and "Silver Linings Playbook") or himself (notorious on-set freak-outs on "Three Kings" and "I Heart Huckabees"), "American Hustle" might be writer-director David O. Russell's most enjoyably unhinged film yet.
The (vaguely) true-life tale of professional liars hoping to fake it 'til they make it is goofy haired, flamboyantly costumed mania. It bounds from tone to tone and narrator to narrator on a dime, and the plot resembles one of Jennifer Lawrence's hairdos in the movie, put together and styled into a fascinatingly elaborate jumble.
The film, however, is its own best swindle, selling its story with such energy and charisma that the audience can't help getting suckered into its wild, chaotic ride. It may be a con, but when it's this entertaining, it's a victimless crime.
The movie opens on its lead schemer Irving Rosenfeld (Christian Bale), introduced potbelly and comb-over toupee first. He makes a comfortable living running a couple of dry cleaning stores and, on the side, runs some fake loan scams with his lover Sydney (who poses at a Brit during their gambits). She's played by Amy Adams, who's terrific while rocking out the most garish, cleavage-baring outfits the costume designer could find.
The two are happy with their life of sleazy glamor, even if it's a lie built upon a foundation of deceptions and half-truths. He's still married to his shrill but enticing younger wife, a "Picasso of passive aggressive karate" named Rosalyn (Jennifer Lawrence) who has a habit of almost burning the house down. Sydney knows about the marriage – and their pawn of a child – but their side relationship allows Syd and Irving both to have the confident, prosperous lives (or at least the appearance of those things) they've desperately wanted.
That gets derailed, however, when FBI agent Richie DiMaso (Bradley Cooper) comes in and busts the duo. Facing time, they instead agree on a deal with the ferociously aggressive and ambitious agent: They'll help him take down some corrupt politicians if he'll let them off. What starts as a couple of politicians, namely the charismatic and idealistic New Jersey major Carmine Polito (Jeremy Renner), soon grows into a job involving a massive chunk of Congress and even the mafia.
While their plot unravels, so does Sydney and Irving's professional relationship. Rosalyn accidentally works her way into their complicated scam, making it hard for Irving to distance his real life from his fake one and determining which one is which.
At the same time, Sydney, tired of being the other woman, soon finds herself cozying up to fiercely motivated Richie, who isn't the hot shot his cocky demeanor (and his intricately curled hair) would imply. He's merely an FBI underling, living in his parents' shabby apartment and having to continually report to his mopey square of a boss (Louis C.K.).
The plot, loosely based on the FBI's ABSCAM investigation of the '70s and '80s (the opening title card coyly notes "some of this actually happened"), soon becomes an unwieldy pile of scams, deceptions and motivations. Irving and Sydney are hooked on the lies and deceit until they find themselves over their heads in their own mess.
The audience relates because we're hooked on their drama, as well. Most con movies, after all, require a little gullibility from the audience, as well as a hefty dose of trickery from their creators.
"American Hustle" has plenty of that. Russell isn't a particularly focused storyteller (in case last year's "Silver Linings Playbook," which dropped its real issues and turned into a dance movie in the third act, didn't solidify that point), but he's a great cinematic con man. He manages to sell the audience not only into buying into this tangled and mangled web of indulgent comedy-drama sleaze (with a fair dash of Scorsese), but doing so happily.
The film moves with a propulsive energy, flinging itself from plot thread to plot thread. Even his camera always seems to be moving around, hustling and zooming around from character to character. Meanwhile, the script from Russell and Eric Warren Singer keeps pleasingly mixing the drama and comedy into a riveting kinetic blur.
As any good robbery or con movie will tell you, you also need to assemble a good team to pull off the gig. Russell has that in his cast, a band of a few familiar faces (minus Renner, they've all worked with Russell before) who miraculously find themselves at ease with both the constantly fluctuating comedy and drama.
Bale is his usually immersive self, transforming into a desperate, chubby man trying to sell everyone – including himself – about his own place in the world. Early on, there's a moment where a frustrated DiMaso ruins Irv's meticulously crafted (but still clearly fake) comb-over, and the simmering look of anger, embarrassment and disappointment on Bale is killer.
Adams is also marvelous as the film's conflicted heart, bouncing back and forth between loyalties, trying to find the best play in a bad scenario in her hopes of making it to a better life. Between the two, they impressively find the real people – tragic folks, really, desperate to fake their way to happiness, even if the happiness is in a way fake – under the over-the-top retro wardrobes and 'dos. And they have some fun too.
Meanwhile, Cooper is a comedic standout, a hurly-burly ball of manic smug desperation. Cooper has always had a bit of a hint of jerk to his on-screen persona, and here, he uses that to its comedic best, playing a guy who has everything and nothing figured out all at once. He's a delightful hurricane on the screen, and the office banter between him and Louis C.K., who's trying to teach a lesson to DiMaso with a fishing story that DiMaso doesn't have the patience to hear out, is a riot.
Renner is almost heartbreakingly good as well in one of the film's smaller roles as the seemingly lone earnest man about to be ensnared in the con. The only performer who seems a bit off oddly is Lawrence, who seems a bit much in the role. It's the only character that hues more cartoon than complete. However, she's still entertainingly snappy, giving a few scenes – and the scenery, namely an unfortunate first-generation microwave hilariously dubbed a "science oven" – a little bonus fire.
"American Hustle" isn't a masterfully put-together work, but it's extravagant A-grade entertainment. Some movies are exquisitely made, carefully finessed dishes. This is more like an inelegant buffet spread, haphazardly filled end-to-end with absolutely scrumptious parts. It satisfies, and in a way, its inglorious sprawl is a part of its fun.
Theaters and showtimes for
American Hustle

OnMilwaukee.com Rating:
Facebook Comments
Disclaimer: Please note that Facebook comments are posted through Facebook and cannot be approved, edited or declined by OnMilwaukee.com. The opinions expressed in Facebook comments do not necessarily reflect those of OnMilwaukee.com or its staff.