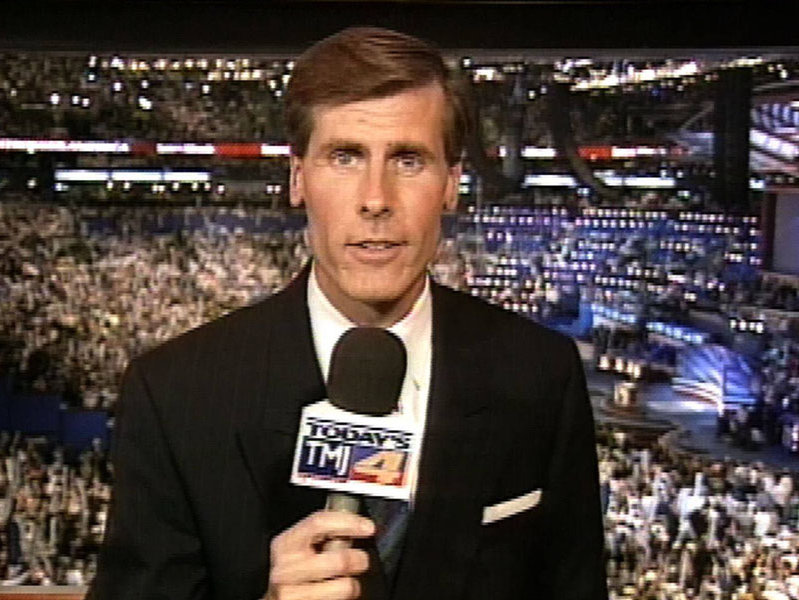 Benson looks back, then moves forward with Silver Circle
The National Academy of Television Arts and Sciences, which awards the national and regional Emmy Awards, established the Silver Circle to recognize and honor outstanding individuals who have devoted 25 years or more to the television industry and who have either made significant contributions to broadcasting or who have spent the formative years of their career in in the area. On Sunday, the 2013 Milwaukee Silver Circle honorees were presented the award, placing them among the most influential industry leaders in the market. This week, OnMilwaukee.com will profile this year's inductees.
Working the phone.
For journalists putting together a story, the phone is a well-used tool of the trade. Charles Benson, now known for his time reporting and anchoring at WTMJ-TV Ch. 4, has been lovingly accused of growing an extra appendage – a cell phone attached to his ear.
"To take from a sports phrase, the game is just faster," Benson said of the differences he's experienced in broadcasting since his early days, including coming to WITI-TV in 1986.
"With smart phones and computers … I have to Tweet something out early and then get ready for the 3, 4, 5, 6 and 10 o'clock news."
Being in the trenches, and out on the street, Benson has become good at getting information from a contact and bringing it to air quickly. We talked about that years ago he would be able to break some news and report it at 10 p.m. and then the newspaper would have it covered the next day.
"Now, that's not the case," he said.
Last Sunday, Benson was honored by being inducted into the Silver Circle, acknowledging the time spent at WITI from 1986 to 2001 and then at WTMJ from 2004 to the present. He had a three-year stop in Madison in between.
When brought into this fraternity of some of the most influential people in the Milwaukee TV industry, Benson was tasked with looking back upon his career. We talked about his love of covering big, ongoing stories filled with multiple individuals and politics.
"The longest story … was the Chrysler plant. And there were multiple stories with the building of Miller Park, not just the building of it, but the fight to get it," Benson said, mentioning the early days when then team owner Bud Selig was talking about the need for a new stadium and the politics involved to get the project rolling. "There was the state legislature, the stadium board … it was my last day at WITI when it was done, it was opening day at Miller Park."
Benson said that his love of politics started early in his childhood. He once considered working as a White House correspondent in Washington D.C. would be the job he wanted.
"Then I found out that I could cover it while being a reporter at a local station," he said. Benson called it pretty lucky that he chose to work in Wisconsin, especially with how important the state is on the national political stage.
"2014 will be a very important year … growing fierce and big on a grand stage. 2014 will have it with the governor's race in contention," Benson said, explaining that just last week he spoke with Gov. Scott Walker who is excited about the election season.
Benson was the first to ask Rep. Paul Ryan about a potential run in 2016, and at that time Ryan basically laughed it off, telling Benson that he just got done with the previous election where he lost the bid to be vice president under Mitt Romney.
Whether it's the possibility of covering Walker and Ryan as presidential candidates in 2016, or the continued coverage of Act 10, Benson is poised to take on more years of broadcast journalism as he does the training for the Ironman competitions he participates in – to keep moving forward.
"Some times I'm stopped at the grocery store when I'm sent for one or two things and my wife asks me where I've been as it has taken and hour and a half," Benson said.
Benson said he enjoys making the connections with viewers when he gets the opportunity to talk to people who trust him to tell the story and pour out what has happened to them. Like most journalists, it is where fulfillment is found.
"It is something you take with you … when something you did provides change," he said.
You can read more about inductees Sally Severson, Kent Wainscott and the other 2013 Silver Circle honorees here.
Facebook Comments
Disclaimer: Please note that Facebook comments are posted through Facebook and cannot be approved, edited or declined by OnMilwaukee.com. The opinions expressed in Facebook comments do not necessarily reflect those of OnMilwaukee.com or its staff.