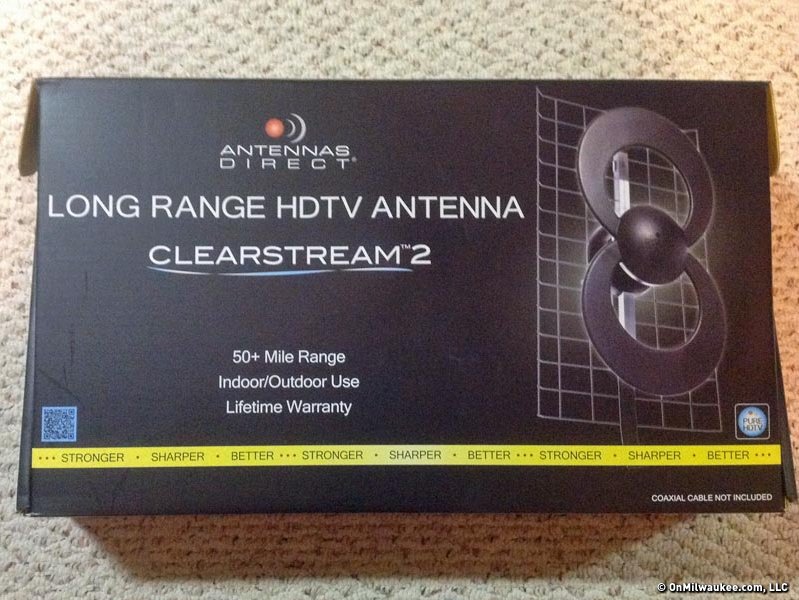 New antennas easy to set up, offer TV viewing choices
When taking the time to assess home television habits, and monthly budgeting, viewers may find that they are paying for a number of channels they are not watching.
What many people don't realize is that they have options – some that were not available even 5 years ago.
Beyond the regular satellite, internet and cable packages for home entertainment, technological advances have made an old-school antenna a viable option. In Milwaukee, with the new digital tier options that broadcasters have launched in the last few years, there are more than 30 channels worth checking out.
"What we are finding is that some viewers are going with an antenna and an internet subscription to Netflix or Hulu Plus for their television viewing," said Richard Schneider of Antennas Direct. "People are saving hundreds of dollars a year."
Schneider brought his bus tour to Milwaukee in October, demonstrating what antennas can do for viewers who are struggling financially, looking for ways to trim spending. At that time he said that the antennas that his business makes available online and at area retailers like Best Buy are easy to install and start using right away.
I took his challenge to heart, and set up a ClearStream 2 on Milwaukee's west end.
My aunt has a pay service on the main level of her home, but had an older TV set in the basement. I wanted to make sure she could check weather updates when storms send her to seek shelter. Because of the build of her home, and distance to the broadcast towers in our market, I knew I needed a powerful, long-range antenna option.
Let's put it this way, I have terrible balance. So, putting me on a ladder to install a roof-top antenna just wasn't an option. With the digital TV antenna that was a little bit bigger than my iPad, I was able to install the ClearStream 2 just behind the TV set in the basement.
The technology has advanced so far, that it is amazing that something so small could receive the signals so well. I wish these were available when my dad sent me to the set to move the bunny ears and change the dial when he'd get sick of Howard Cosell on "Monday Night Football."
First, I had to hook up a digital converter to her set, which was an older model without a digital tuner. I mean, this was an old, large set made before flat screens were the norm.
Then, we unpacked the pieces from the box, and only needed a coaxial cord and a single screwdriver to put everything together. It was easy, and took less than 5 minutes.
Then, we did a channel scan on the digital converter box, and we had more than 30 channels to watch. I left the set on 4.2, WTMJ-TV's all-weather channel.
The next time a storm sends my aunt into her basement, I know that she'll be able to flip away at the channels to get all the updates as they happen.
If I was installing this antenna – that retails for $99 – further out in other counties in the market, I'd probably place it in the attic. There, it would have better reception picking up the stations that are now on the UHF band after the FCC-mandated digital transition in 2009.
NEW SHOW: Fox Business Network will debut "The Independents" on Monday at 8 p.m. The new prime-time program is hosted by Lisa Kennedy Montgomery, who joined FBN as a contributor and special correspondent for "Stossel" in 2012.
FBN executive vice president Kevin Magee said the new weekday show will feature a roundtable discussion on the news of the day with a special emphasis on the protection of economic and civil liberties.
Airing Monday through Wednesday and Friday nights, Kennedy will be joined on the show by her co-hosts, Reason magazine's Matt Welch and America's Future Foundation's Kmele Foster. FBN's "Stossel," hosted by John Stossel, will continue to appear at 8 p.m. on Thursdays.
Kennedy is the author of two books, "The Kennedy Chronicles: The Golden Age of MTV Through Rose-Colored Glasses" and "Hey Ladies! Tales and Tips for Curious Girls." She is also the host of "Music in the Morning w/ Kennedy" on 98.7FM Los Angeles Alternative radio and serves as a contributor to Reason.com. A graduate of UCLA, Kennedy got her start in television as an MTV video jockey (VJ) in 1992.
Facebook Comments
Disclaimer: Please note that Facebook comments are posted through Facebook and cannot be approved, edited or declined by OnMilwaukee.com. The opinions expressed in Facebook comments do not necessarily reflect those of OnMilwaukee.com or its staff.