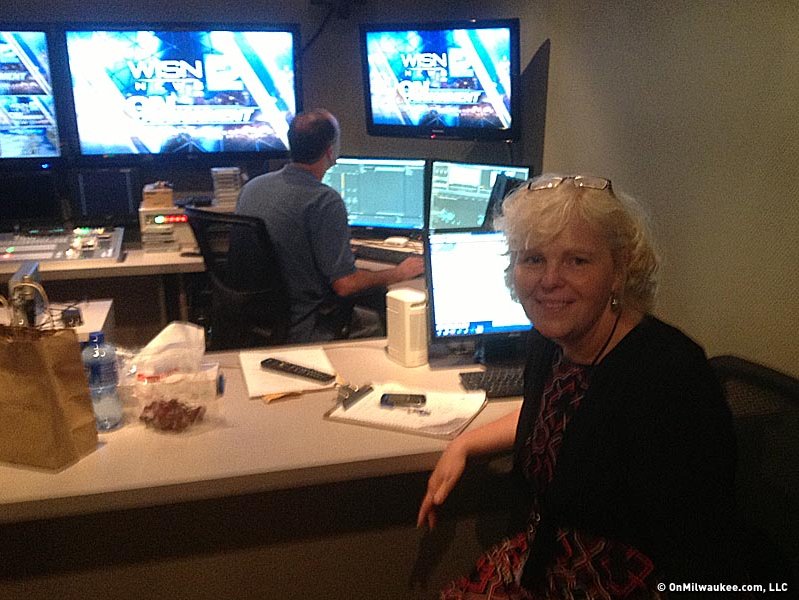 Cronkite pep talk led to Aleman's TV career and Silver Circle honor
The National Academy of Television Arts and Sciences, which awards the national and regional Emmy Awards, established the Silver Circle to recognize and honor outstanding individuals who have devoted 25 years or more to the television industry and who have either made significant contributions to broadcasting or who have spent the formative years of their career in in the area. On Sunday, the 2013 Milwaukee Silver Circle honorees were presented the award, placing them among the most influential industry leaders in the market. This week, OnMilwaukee.com will profile this year's inductees.
Most of the television staffers we get to know are the ones who are usually in front of the camera.
But there is a team of people behind the lens that works doggedly to make sure reporters, engineers and camera operators are where they need to be. There are newsroom managers, editors and producers that package the information together and a director and control room crew that make a newscast flow together.
Rita Hagen Aleman has the experience on both sides of the camera, and through the years has held almost every post in a working newsroom.
"In the early 80s, I came to 12 out of grad school," Aleman said, finding the time to chat while putting the finishing touches on WISN-TV Ch. 12's prime time news special "On Assignment."
"I've been interested in news … I was watching news constantly, it was time to figure out the next step."
That right path meant shifts on the assignment desk, reporting, serving as a weekend anchor fill in and a number of different roles until becoming a special projects producer.
She was inducted into the Silver Circle last Sunday for her contributions, especially with launching and producing efforts like "On Assignment," WISN's holiday show "Season to Celebrate," the "Big Bang" fireworks at Summerfest, election town hall coverage across the state with "UPFRONT with Mike Gousha" and "Big 12 Sports" with Drew Olson and Dan Needles.
Aleman walked me through a time when she was the acting news director in the newsroom when a former colleague took a position at a Hearst sister station, WCVB-TV in Boston.
"'Do us a favor?'" Aleman said the GM at the time asked her. "So, they wanted to do the search and take the time to figure it out. I ended up working through two books (sweeps periods) and had to work with the budget."
She even worked for three weeks with the new news director in a transition period. After that, then GM Frank Biancuzzo asked Aleman what she wanted to do.
What she knew was she wanted to produce big shows and loved being in the field.
"Special projects took off and the second part of my career bloomed," she said. "I continued to field produce major events and trips."
Aleman also played a big part in the long-form reports that aired on the new one-hour newscast at 10 p.m. on Sunday nights. Those special projects may have changed and evolved over the years, and her role may have changed, but at this time she is back at it, probably working on the final touches of "Season to Celebrate" as I'm writing this profile story.
In our wide-ranging discussion, there was one moment that stood out, where the producer tapped her story-telling skills to share a moment of a trip to Arizona.
"I went to ASU (Arizona State University) and Walter Cronkite was there and I stood in line and wanted to meet him," Aleman said. "This ends up being a lengthy discussion to the dismay of his handlers."
Aleman was considering a career in business at the time, and she asked Cronkite about finding a job in journalism. She said it was a blessing that she talked with him, that the discussion had turned around where she was with her life.
"He said don't go into business, that we need people like you who were long-time viewers … (people that were) more veteran sounding," she said.
"He gave me a pep talk. He was extraordinarily kind."
That pep talk lead to a career in television, and induction into the Silver Circle, putting Aleman among the most influential people in the industry working in Milwaukee.
You can read more about inductees Charles Benson, Jim Paschke, Sally Severson, Kent Wainscott and the other 2013 Silver Circle honorees here.
Facebook Comments
Disclaimer: Please note that Facebook comments are posted through Facebook and cannot be approved, edited or declined by OnMilwaukee.com. The opinions expressed in Facebook comments do not necessarily reflect those of OnMilwaukee.com or its staff.