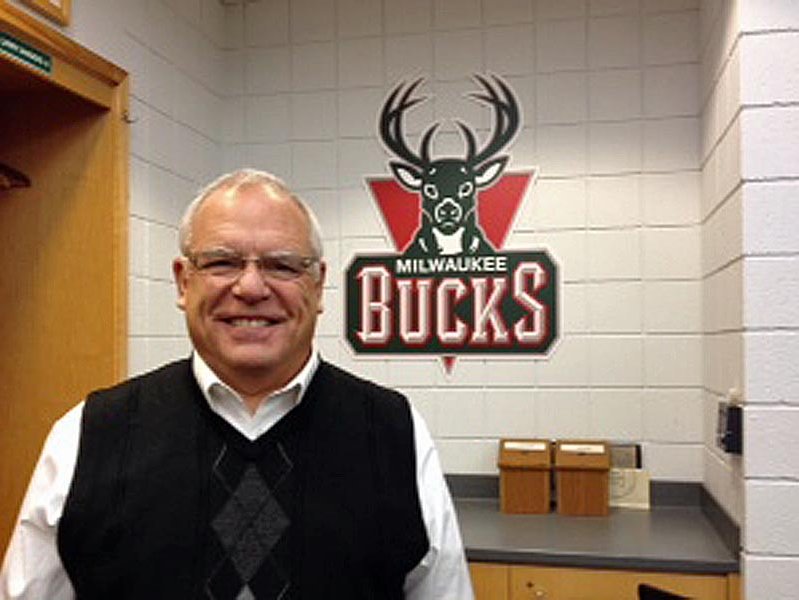 Paschke inducted into Silver Circle for contribution to local TV sports
The National Academy of Television Arts and Sciences, which awards the national and regional Emmy Awards, established the Silver Circle to recognize and honor outstanding individuals who have devoted 25 years or more to the television industry and who have either made significant contributions to broadcasting or who have spent the formative years of their career in in the area. On Sunday, the 2013 Milwaukee Silver Circle honorees were presented the award, placing them among the most influential industry leaders in the market. This week, OnMilwaukee.com will profile this year's inductees.
One thing that hasn't changed is how to tell a story.
For Jim Paschke, the bug of creating news packages and weaving stories into TV broadcasts or play-by-play announcing came early in his career.
"Every game I do, every telecast, the story is for complimenting action on the court," the current Broadcast Director and TV Play-By-Play Announcer of the Milwaukee Bucks said.
Paschke said the story has to work together with the game, whether he got the information from checking on coverage by media of the team's opponents or was something he got because of the special access he has with the team.
"It has to weave together to sound as good as possible when completed," he said.
Paschke was inducted into the Silver Circle on Sunday, marking his contributions to TV broadcasting in the Milwaukee market. Paschke came to the city in 1980 and worked at WITI-TV Ch. 6 in a couple of capacities at different times. He started in the sports department and later returned to the station to host "Talking Sports" in 1992.
Brewers fans will remember Paschke for his work as the TV play-by-play announcer for the baseball team in the late 1980s and 1990s. And he's done game-day work with Marquette University, the Milwaukee Admirals , races at the State Fair, and NCAA Div. III baseball games and Wisconsin Timber Rattlers games in Appleton.
When we talked earlier this week Paschke was traveling with the Bucks in Memphis as part of the preseason. He's gearing up for his 28th season with the NBA team, doing web reports and his homework on the other teams in the league.
"Before I used to have to get the newspapers that would cover the opponents to get information," he said of how his game research changed over the years. "Now on the internet it is much different. You have to wade through so much information, and just because it is out there, doesn't mean it's true."
Paschke said, that looking back, that he really enjoys the research side of getting ready for game … and in his career he witnessed some memorable ones.
"There was the Brewers no hitter (with Juan Nieves) in 1987 … as for the Bucks I was there for Michael Red's 57 points, and for opponents (Michael) Jordan's 20,000th point I was fortunate to play a part," he said of the big events where he was on the call.
Paschke said he was happy he decided to stay in Milwaukee and has a great love for the city and all that it offers. We talked about some of the athletes he interacts with and the word that some of them complain that they have to come play here as opposed to a larger city with a professional basketball team.
"One thing I've found is if they stay here for more than a year, they come to find that they like it here," he said.
And looking at Paschke's tenure in Milwaukee, he likes it here too.
You can read more about inductees Charles Benson, Sally Severson, Kent Wainscott and the other 2013 Silver Circle honorees here.
Facebook Comments
Disclaimer: Please note that Facebook comments are posted through Facebook and cannot be approved, edited or declined by OnMilwaukee.com. The opinions expressed in Facebook comments do not necessarily reflect those of OnMilwaukee.com or its staff.