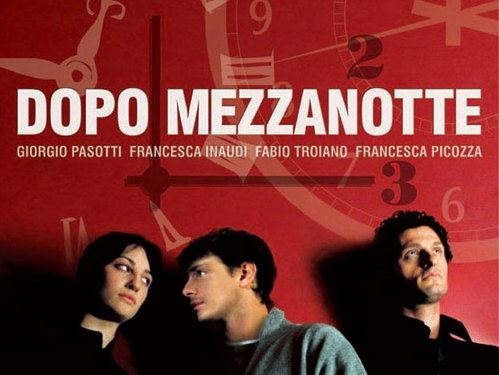 Discovery World hosts Piemonte Cinema Italian film event
Discovery World, 500 W. Harbor Dr., will host Piemonte Cinema this week, a free three-film festival featuring movies from Piemonte, a region in northwestern Italy.
The event takes place Thursday, Nov. 11 and Friday, Nov. 12. On Thursday, an opening reception starts at 6:30 p.m. A complete schedule is below.
Two of the three films make their Milwaukee premiere -- and "Zoe" makes its U.S. debut -- at the event. "Dopo Mezzanotte" screened once previously in Milwaukee.
La Città del Cinema organized the event in conjunction with the regional government of Piemonte, Monferrini in America and Discovery World. Founded in 2001, La Città del Cinema is based in Torino and seeks to promote cinema in Italy's Piemonte region in all its forms and to put the region back on the map of interesting cinema culture.
La Città del Cinema's Domenico Gargale, who travels to Milwaukee for the event, will introduce the films. Giuseppe Varlotta, the director of "Zoe," will also make the trip from Piemonte for the event.
The films are in Italian with English subtitles. All of them were shot in the Piemontese capital of Torino and in the Monferrato area to the east. Also, a short documentary explores the National Museum of Cinema, located in Torino, and the Piemonte region.
"Attendees will learn about a different kind of cinematography, where words are sometimes less important than images. Magical settings and touching stories are present in these theree beautiful movies," says Claudia Pessarelli, who co-organized the event with Domenico Gargale and OnMilwaukee.com's Bobby Tanzilo.
"The idea for the event was born in 1997 when I met Domenico at a conference in Italy three years ago," says Tanzilo. "The most recent city to host the event was Shanghai and the only other U.S. city to ever host it was San Francisco a few years ago. Both of those had different films. So it's a pretty cool event for Milwaukee."
Here is a run-down of the two-day, three-film Piemonte Cinema, as provided by organizers:

Thursday, Nov. 11
6:30 p.m. -- Opening reception, including a tasting of a Piemontese wine -- courtesy of Purple Feet Wines -- and hors d'oeuvres from Bartolotta Restaurants.
7 p.m.-- Introduction to National Museum of Cinema-Torino First Movie Capital
7:30 p.m. -- Introduction and discussion of "Dopo Mezzanotte" by Domenico Gargale
7:45 p.m. -- "Dopo Mezzanotte" screening
Friday, Nov. 12
6:30 p.m. -- Introduction and discussion of "Zoè" by Domenico Gargale and Giuseppe Varlotta
6:45 p.m. -- "Zoè" screening
8:30 p.m. -- Introduction and discussion of "Tutti Giù Per Terra" by Domenico Gargale
8:45 p.m. -- "Tutti Giù Per Terra" screening
More information on the films:
Dopo Mezzanotte
("After Midnight")
(Davide Ferrario, 2004, 92 minutes)
Martino (Giorgio Pasotti) is an avid movie enthusiast whose greatest passion is the silent cinema. Martino's both works and lives in Italy's National Museum of Cinema, located in Torino's fabled Mole Antonelliana, where he keeps the place clean and indulges himself by caring for the aging equipment and souvenirs. Martino also has a crush on Amanda (Francesca Inaudi), an attractive woman who works as a cook at a nearby diner. One day, after Amanda gets in a screaming match with her abusive boss, she throws a pot of boiling oil at him, and finds herself wanted by the police. While the cops, her car-thief boyfriend (Fabio Troiano), and her best friend (Francesca Picozza) all look for Amanda, she hides out in the museum. So when Martino finds her, she asks him to help hide her. As Martino's idealized love for the cinema collides with the real-life desire he feels for Amanda, he introduces her to his secret world of silent movies and the special meaning they hold for him. Ironically, given the love and care its characters display for vintage celluloid, "After Midnight" was primarily shot on digital videotape. -- Mark Deming, All Movie Guide
Zoè
(Giuseppe Varlotta, 2008, 92 minutes)
"The film is the result of the union between the imagination of the authors and actual events that occured toward the end of the Second World War in the Monferrato. The litle girl's journey to find her father will remind viewers of "Alice in Wonderland"; it is a race to salvation, against the inequality of men, the sloth, the poverty, the solitude, the fear and other woes of a word that man today has still not erased from its dictionary: war." – Director Giuseppe Varlotta, giuseppevarlotta.com
Tutti Giù Per Terra
("We All Fall Down")
(Davide Ferrario, 1997, 98 minutes)
Like many other Italian slackers, 22-year-old Walter would be an angry young man if it didn't take so much effort; he feels the same about his prolonged virginity. Instead of diving into life, he prefers to keep his distance and drift aimlessly along the edges while living at home in Torino with his volatile but hard-working father and his flighty mother. In some ways, he has given up before even trying. Based on a best-selling semi-autobiographical novel by Giuseppe Culicchia, this fast-paced, slightly cynical comedy chronicles the dubious adventures of Walter as he tries to cope with his own growing sense of alienation and hopelessness while dealing with mandatory induction into the military, corrupt government bureaucracy, and his various friends. -- Sandra Brennan, All Movie Guide
Facebook Comments
Disclaimer: Please note that Facebook comments are posted through Facebook and cannot be approved, edited or declined by OnMilwaukee.com. The opinions expressed in Facebook comments do not necessarily reflect those of OnMilwaukee.com or its staff.