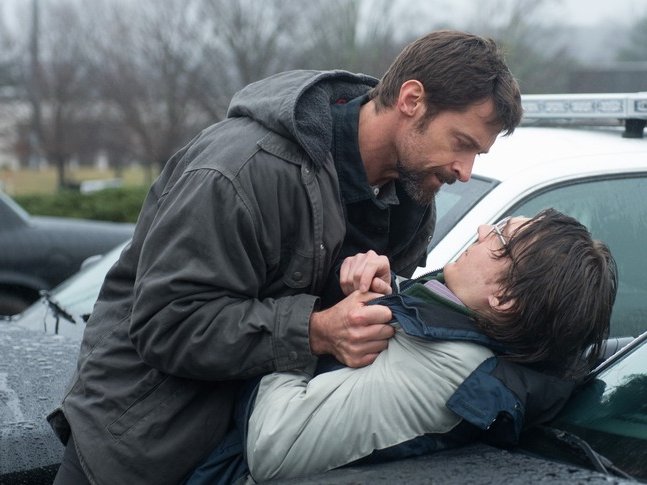 "Prisoners" an exquisitely made, exhausting emptiness
The first shot of Canadian director Denis Villeneuve's "Prisoners" is quite literally that. A deer carefully walks through a snowy forest, and the camera slowly pulls back from the animal, revealing the barrel of a gun and two men. The hunter – a teenage boy – pulls the trigger under the watchful eye of his father. It's a bullseye. While all of this is going on, the dad solemnly prays.
From just those opening moments, "Prisoners" is clearly a movie with a desperate need to be taken seriously. It wants its themes to inspire challenging and passionate discussion. It wants to force you to look at yourself and your morality. It wants to haunt your dreams. It wants to be these things – and it's artfully crafted enough to almost convince you it is – but as my parents once told me during middle school basketball try-outs, there's something to be said about knowing your limitations.
The father in that opening scene is the impossibly named Keller Dover (Hugh Jackman). It's Thanksgiving, and he and the rest of his family – including wife Maria Bello – are celebrating the occasion at their neighbors' (Terrence Howard and Viola Davis). During the post-meal relaxation, the families' youngest daughters go out to play … and never come back.
After several panicked hours of searching, they call the police. Detective Loki (a tattooed Jake Gyllenhaal) is assigned to the case, but the girls' disappearance is a riddle with seemingly no answer. The most promising lead involves Alex Jones (Paul Dano), a disturbed local with the mental capabilities of a 10-year-old. His RV was parked where the girls were last seen, but like all the other leads, it quickly dries up.
Keller, however, refuses to believe the quiet young man is innocent. Convinced he knows something, he kidnaps Alex and begins to torture him in an old, broken-down apartment complex. While Keller violently obsesses on Alex to the point of no return, Det. Loki – who's never let a case go unsolved – continues to exhaust himself and every lead in the increasingly futile hunt for the two girls. You almost say the two men are captives to their obsession or … some other word for captives. Nothing's coming to mind right now.
As merely a moody mystery/detective thriller, "Prisoners" actually often works quite well. The cast is universally great, all heartbreaking in their various levels of tired, shocked-into-submission grief. Jackman is chilling as he lets his increasingly self-destructive obsession take over, while Gyllenhaal is a gripping center, half cocksure and half trying to hide his weariness and simmering desperation. Bello, Howard and Davis are also terrific – Davis especially so – even though they're left on the sidelines for much of the film.
For the first half to two-thirds of the movie, writer Aaron Guzikowski's story moves with a somber, slow-burn emotional tension. It helps that I've always had a sweet spot for procedural thrillers, watching the gears churn and the characters slowly gather the pieces and methodically put them together.
Villeneuve – making his American debut after his last film "Incendies" was nominated for Best Foreign Film – has the eerie, cold-drenched vibe of a David Fincher, namely his brilliant "Zodiac," another meticulously crafted detective tale about an obsessed Gyllenhaal.
Having legendary cinematographer Roger Deakins ("Skyfall," pretty much every Coen Brothers film) helping behind the camera certainly doesn't hurt either. Slushy, grimy winter in small town America has never quite looked so beautifully captivating. Very few have an eye for texture, and the way light and darkness naturally play together like Deakins.
It's hard to pinpoint exactly where exactly where it began to happen (maybe around the time another suspect, pulled from a casting director's binder of creepers, showed up), but at some point, I felt "Prisoners" and its 153-minute running time beginning to weigh on me.
The detective story that once felt natural and carefully paced begins to feel labored by a morality play, drenched in grave seriousness, complexity and meaning that never actually evolves into anything complex or meaningful.
Faith, for instance, would seem to play a big thematic role. Crucifixes and moments of sober prayer (combined with Gyllenhaal's rings and tattoos of various beliefs) are scattered throughout the film. Little comes of it. There's not much depth to Jackman's kidnapping and torture of Alex either, other than the escalating brutality.
The movie becomes exhausting, but not because of a shared emotional connection with the characters or story. Villeneuve takes care of that, with his calm, chilly direction eventually turning cold and clinical. Instead, it's the wearying realization that the film is all gussied up with gorgeous cinematography and strong performances, but with nowhere to go and nothing to say.
The mystery at the heart of "Prisoners" is still intense and intriguing underneath all of that undeserved import. Unfortunately, when the last act pulls out its big twists and reveals, it shifts toward ridiculousness, and the script's true nature is confirmed. It really is just a simple, dark, lurid murder mystery tale. Nothing else. It's just pulp dressed up in prestige clothes.
As simply that, it's admirably well-crafted and chilling. But Villeneuve and company refuse to accept that they're making just a morbid little thriller. They want it to mean so much more. And in that quixotic quest to be more, "Prisoners" keeps proving just the opposite: how empty it is.
Theaters and showtimes for
Prisoners

OnMilwaukee.com Rating:
Facebook Comments
Disclaimer: Please note that Facebook comments are posted through Facebook and cannot be approved, edited or declined by OnMilwaukee.com. The opinions expressed in Facebook comments do not necessarily reflect those of OnMilwaukee.com or its staff.