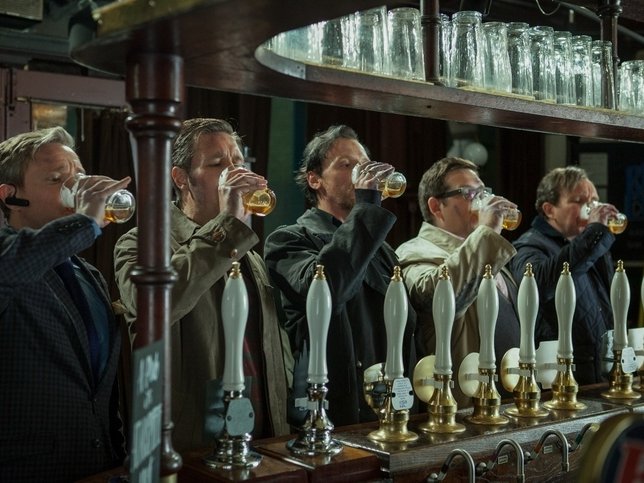 Cheers to "The World's End," a hilarious cinematic brew
The big question hovering ominously over "The World's End" like a pack of vultures is simple enough: After "This Is The End" turned out so surprisingly good barely two months ago, does the world need another movie this summer starring a band of famous friends battling strange supernatural baddies during the end of days while learning about life and themselves?
Absolutely.
As the final course in the Three Flavors Cornetto trilogy (the first two films being "Shaun of the Dead" and "Hot Fuzz"), "The World's End" satisfies. And even if you have no idea what I'm talking about when I say the Cornetto trilogy – which, to be fair, is quite possible considering neither of the first two films did particularly well box office wise – director Edgar Wright's latest is a blissfully entertaining delight, a nutty brew with some fascinating character notes that linger on the tongue.
Simon Pegg, who also serves as Wright's co-writer for the trilogy, stars as Gary King, a childishly charismatic 40-year-old alcoholic struggling to pull himself out of the rut that is his life. For him, life never got any better than the time he and his childhood mates attempted the Golden Mile, a legendary bar crawl across twelve pubs in their hometown of Newton Haven. The only problem? They never made it to the end – the World's End that is, the final pub on their magnificent journey of malt beverages.
Eager to try again, Gary rounds up his four old friends – Andy (Nick Frost), Oliver (Martin Freeman), Steven (Paddy Considine) and Peter (Eddie Marsan) – and convinces them to head back to Newton Haven to give the Mile another go.
Things get off to a rocky start. The often thoughtlessly giddy Gary sparks some conflict with his now grown-up and settled-down old chums, especially Andy, who quit drinking after a vaguely discussed accident from the past involving Gary.
The rest of the posse is just amazed how little Gary's changed since their school days, driving the same busted car, celebrating the same immature antics and even wearing the same late '80s punk rocker all-black get-up. He even still competes with Steven for the affections of Oliver's sister Sam (Rosamund Pike), who's also in Newton Haven for a visit.
While Gary is exactly the same, the town's changed a great deal. The bars have all been "Starbucked" into charmless, generic, copy-and-paste duplicates, and the locals don't recognize the former hometown legends. In fact, the way the residents of Newton Haven stiffly walk around, you could almost say the town has been taken over by robots. And you'd be right (though the blue-filled humanoids would be quick to tell you the word "robot" actually means "slave," and they are most certainly not slaves).
The crew wants to get out of town, but considering they don't know how far the robot invasion goes (plus, they're hammered), they decide their best plan is their original plan: make it to the World's End.
The plot may be filled with drunken meandering (it only occasionally feels that way), but the comedy is just as sharp as in Wright's other three entries and the lone outlier, the cinematic lightning bolt "Scott Pilgrim vs. the World." Wright and Pegg have a gifted ear for snappy dialogue exchanges that can turn something as simple as a debate about pronouns into something hilarious.
As the focal point of the ensemble, Pegg gets most of the script's funniest moments. But it's also one of Pegg's most complex roles. Gary is an amusingly compulsive character, and his energy is infectious for both his friends and the viewer.
At the same time, he's also deeply wounded, suicidal and stuck in the past because he feels he's got nowhere else to go from there. It's a similar "learning to grow up and let go" arc to Shaun from "Shaun of the Dead," but with a deeper emotional bruise from the beginning. He's stuck in a circle, and AA (normally a cure-all in most movies about alcohol abuse) was just another circle of self-loathing and regret. It's a role that supplies belly laughs and genuine bitterness, and Pegg nails both.
Pegg gets more of the spotlight than usual, but the rest of the ensemble is both parts hilarious and human as well. They're the straight men to Gary's crazed routine, but as the drinks and robots start piling up, they get to have a ton of fun. Pegg's usual on-screen bromantic partner Frost and Marsan, a newcomer to Wright's work, are the two stand-outs, striking a great balance between physical comedy and their character's deep, unhealed wounds.
Perhaps the real star of the show, however, is actually behind the camera. Edgar Wright's films fizz and pop with a buoyant energy that's completely contagious, and "The World's End" is no different. The writer-director is so gleefully eager to fill his movies with as many jokes of as many varieties as possible, a breath of fresh air considering most comedies ("Identity Thief," two-thirds of "The Hangover" franchise) don't seem to care much for jokes at all.
He brings the same effervescent energy and inventiveness to the action, zipping the camera around and letting the audience take in the crafty choreography, the slick moves and the little jokes instead of chopping it to death. The result is a lot of damn fun, namely a frantic bathroom brawl that would make "The Warriors" proud and a fight with a robot with legs where its arms should be. Sid from "Toy Story" would be pleased.
Every line, every scene and even every frame get so much attention to detail. Sometimes they're just little jokes, such as the number of each bar on the Mile being found in each bar. Sometimes it's little plot details, like the school disco posters scattered everywhere around town, a newspaper in the beginning hinting at Britain's increased happiness or the opening montage that quickly hints at everything that will happen later in the film.
Nothing seems wasted in an Edgar Wright film. Take the audio for instance. Occasionally, it's used to just add cute little sound cues (anything for an extra laugh). At other times, the soundtrack picks up brief interference when robots come around. Every element is used to its full potential.
Then there's all the references packed into "The World's End." The story is like the combined culmination of all three of his previous major works while the movie has the paranoid feel of "Invasion of the Body Snatchers," with soulless eyes and stiff bodies watching our heroes travel from pub to pub. That's just to name a few.
Wright makes movies for movie lovers, but he doesn't just recycle these references and inspirations (unlike a certain director now in charge of a beloved sci-fi franchise set in a galaxy far, far away). He turns them into something original, fresh and thrilling to watch.
"The World's End" combines this vigorous energy for filmmaking and entertainment, but somehow still retains control of the movie's tone, characters and themes. It does feel a bit long near the end with two climactic moments and a long end coda. That's a small price to pay, however, for a flick that combines awesome robot-human bar brawls with blue robo-blood splattering all over like a neon Pollock painting with resonant points about nostalgia, friendship, society's commercialized dulling, our reliance on technology and the complicated flaws that make us human, for better or worse.
And once again, Wright uses everything to make these points stick, such as the reoccurring use of circles for Gary's – and all of humanity's – cycles of past mistakes and regret. What's Newton Haven's big landmark after all? A roundabout. One that must be cut across in the climax.
Oh, there's certainly plenty to find in "The World's End." But the best, most satisfying thing you'll find here is a damn good time (and probably a strong desire to head to the local watering hole).
Theaters and showtimes for
The World's End

OnMilwaukee.com Rating:
Facebook Comments
Disclaimer: Please note that Facebook comments are posted through Facebook and cannot be approved, edited or declined by OnMilwaukee.com. The opinions expressed in Facebook comments do not necessarily reflect those of OnMilwaukee.com or its staff.