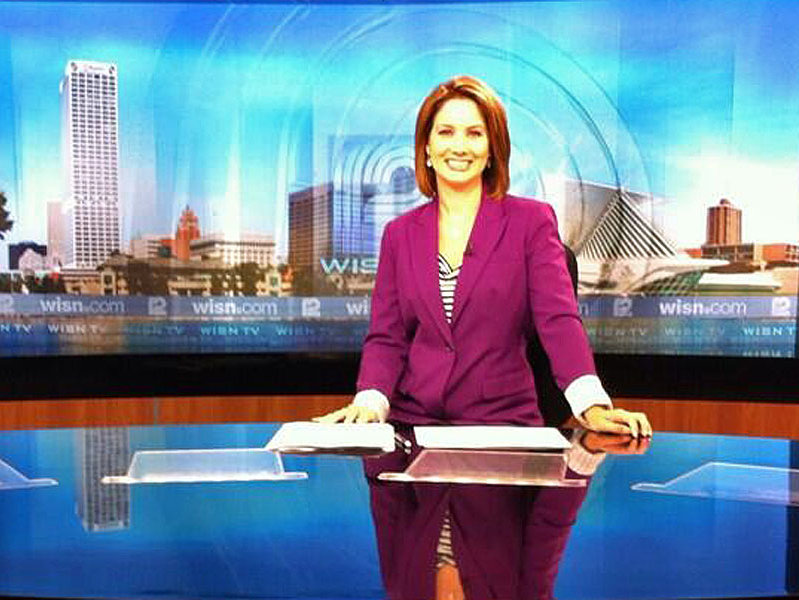 Valliere joins weekend crew at WISN-TV
As a kid, on holidays and at get-togethers she would interview her family members, and get little, mini reactions.
Now, Toni Valliere, the new weekend evening anchor at WISN-TV Ch. 12, gets to interview people for a living. She started her run at the ABC affiliate last weekend.
"I was 5 years old when I realized what I wanted to do," Valliere said. "I'd turn the news on and it was always something … I watched the news a lot."
Valliere and I chatted while she was still working at KSN-TV, an NBC affiliate in Joplin, Mo. At that time, the California native still had to make the move with her husband, son and daughter to Wisconsin. But when she came to Milwaukee for the audition and interview, she had a little knowledge of what to expect.
"My best friend in California is originally from Milwaukee and has family in the Milwaukeng the area," she said, saying she has a second family through her friend.
"I was blown away by how beautiful and how clean the city was," Valliere said of when she traveled here for the audition. She said that she came in the day before the job interview and had the opportunity to check out the lakefront and the river walk downtown.
She said that her family enjoys being around the water, and that it was great to see people out and active, doing things in the area.
"My husband is a surfer too, and he was saying that there are guys in the state that surf on the lake," she said.
I said that the waves in Lake Michigan don't usually compare to the large ones they get in the Pacific, but Valliere said that they enjoy the smaller ones, too, and having the lake nearby would make them feel right at home.
Valliere will be anchoring the evening newscasts, and will be working as a reporter on other weekdays. She says she welcomes the balance between the two, and likes to be out interacting with people in the community.
EMBARKING ON THE FUTURE: Two years ago, Fox News Channel's Chairman and CEO Roger Ailes launched an effort to develop the next generation of television reporters and producers. This summer, the first class of five participants are ready to move on and out into the field.
"I created this program with the hope of developing young and promising talent," Ailes said in a press release surrounding the announcement.
"I am greatly encouraged by the successful results of the previous two years and look forward to cultivating our next group of junior reporters."
The Ailes Junior Reporters Program gave the participants an opportunity to learn aspects of news gathering including shooting, producing and editing stories, as well as on-camera reporting.
Fox News Channel managers and journalists Shepard Smith, Bill Hemmer and Harris Faulkner provided some hands-on guidance during each step of the process.
"Mr. Ailes' vision for the program is to provide the junior reporters with an enriching journalistic experience that would help launch them in the next stage of their careers. We are proud of their accomplishments and eager for the next crop of promising talent to begin," Sharri Berg, the senior vice president of news operations and services, said in the release.
The program's participants are Garrett Tenney, who now serves as a correspondent for Fox News in Chicago; Mary Quinn O'Connor, a digital reporter for a locally-owned Fox station in Charlotte, N.C.; Michelle Macaluso, a Fox News correspondent in Washington; Patrick Manning, associate producer at Fox News Channel's New York bureau; and Pete Griffin, a reporter at the ABC affiliate KNXV-TV in Phoenix, Ariz.
Talkbacks
Jeff | Aug. 29, 2013 at 8:36 a.m. (report)
Channel 12, please update your backdrop photo. It's missing buildings (University Club and Kilbourn towers) that have been up for eight years. What does that say about the attention to detail in your news coverage?
Facebook Comments
Disclaimer: Please note that Facebook comments are posted through Facebook and cannot be approved, edited or declined by OnMilwaukee.com. The opinions expressed in Facebook comments do not necessarily reflect those of OnMilwaukee.com or its staff.