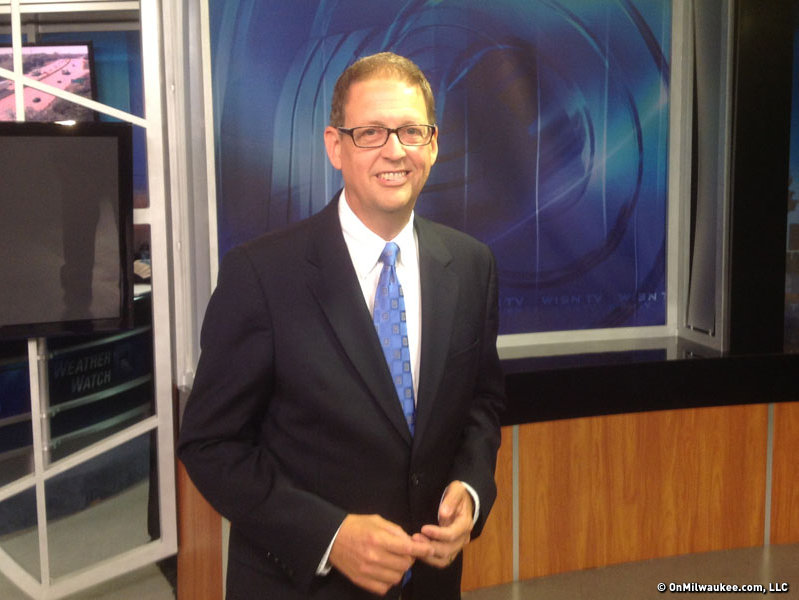 Silver Circle marks quarter of a century for Wainscott at WISN-TV
The National Academy of Television Arts and Sciences, which awards the national and regional Emmy Awards, established the Silver Circle to recognize and honor outstanding individuals who have devoted 25 years or more to the television industry and who have either made significant contributions to broadcasting or who have spent the formative years of their career in in the area. On Sunday, the 2013 Milwaukee Silver Circle honorees were presented the award, placing them among the most influential industry leaders in the market. This week, OnMilwaukee.com will profile this year's inductees.
When Kent Wainscott started his time in Milwaukee television, it was when stations across the country were taking a proactive tone, working with the viewers and protecting their role as consumers. Each station launched a new franchise -- a special branded segment that could be promoted -- to get more people to watch.
"We tried to do bigger, all-encompassing stories as opposed to individual trouble shooting," Wainscott said of the Action 12 department that he led at WISN-TV Ch. 12.
Wainscott was inducted into the Silver Circle on Sunday, recognizing his reporting efforts in consumer journalism, political coverage and work on other general news assignments.
"We covered I.D. theft, the Dumpster diving with information stolen, and credit card numbers on personal receipts. We worked with lawmakers to get laws changed to protect consumers," Wainscott said of the stories he worked on with the Action 12 team.
Before coming to the ABC affiliate, Wainscott worked at another Hearst TV station in Dayton, Ohio.
"I was working in the company in Dayton with my sights set on Milwaukee. My family was in the Chicago area," he said. It helped that the new news director at WISN was his old news director at WDTN-TV in Dayton. He was brought in to start Action 12.
As more of the consumer-driven reports have worked its way into the regular newscasts, Wainscott continued his enterprise reporting in that area, while also covering politics. The seven-time regional Emmy winner has also earned recognition with a Peabody, Edward R. Murrow and Clarion awards.
I asked Wainscott what he considered to be the most major changes he has seen in TV news in the last few decades.
"There is more of it. (It is) much more of a 24 hour news cycle," Wainscott said of what it takes to get the attention of a changing news consumer. "With mobile devices, it allows us to sort of be in more places."
Being inducted into the Silver Circle, Wainscott was humbled that the nomination team gave him the consideration.
"I was floored. It is a remarkable honor," he said. "I immediately started to think, to look back on a career that led to this point … that I was able to have this level of experience."
Wainscott said that the move he made back then has proven to be a perfect fit.
"(Milwaukee) is a great city that I've come to love, to make our home. It has big events, professional sports … a small and expanding community that values local news.
"I love what I do. I think people look and say to me that I've had the same job for 25 years … but it is a different job every day. And I've got to experience it here at Ch. 12 for a quarter of a century."
You can read more about inductee Sally Severson, and the other 2013 Silver Circle honorees here.
Facebook Comments
Disclaimer: Please note that Facebook comments are posted through Facebook and cannot be approved, edited or declined by OnMilwaukee.com. The opinions expressed in Facebook comments do not necessarily reflect those of OnMilwaukee.com or its staff.