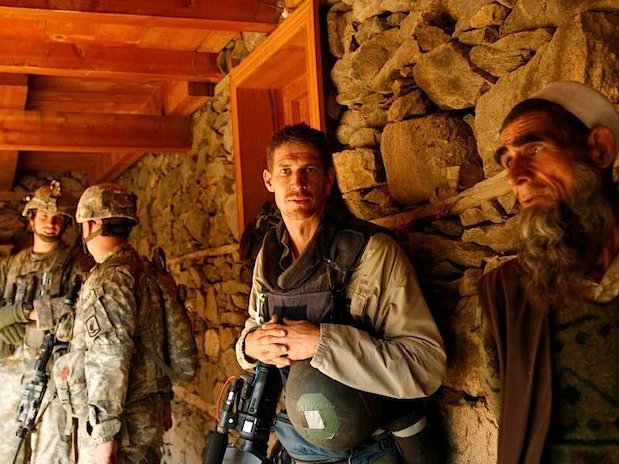 The best of the festival: "Which Way Is the Front Line From Here?"
The Milwaukee Film Festival has reached its tragic end. Thus, it's awards time. The festival's jury named what they believe to be the finest features of the past two weeks, their selections being "War Witch" and "12 O'Clock Boys." The record number of filmgoers spoke as well, voting George Tillman's "The Inevitable Defeat of Mister and Pete" the winner of the Allen H. (Bud) and Suzanne L. Selig Audience Award.
So I guess that means I should probably name my favorite of the festival as well. Considering I didn't see a single bad movie during the entire two weeks ("Break Up Man" was likely the worst, but it's still watchable), it's not an easy pick. "A Hijacking" was probably my favorite narrative film, and Lucy Walker's "The Crash Reel" certainly stuck with me.
If I had to pick the overall best of the fest, though, I would have to go to "Which Way Is the Front Line From Here? The Life and Time of Tim Hetherington," a small documentary with a big name and even bigger humanity.
A few years back, Tim Hetherington was one of the brightest stars of the photojournalism field. He was handsome, effortlessly charming and seemingly fearless, taking his acute camera lens and daringly diving into the bloody, bullet-riddled front lines of multiple conflicts.
He covered civil wars in West Africa and spent a year entrenched with a platoon of American soldiers in Afghanistan, in both cases attempting to find truth, humanity and understanding in these high-tension experiences and showing them to the world. His bold work in Afghanistan was turned into the documentary "Restrepo," which earned him an Oscar nomination alongside his co-director Sebastian Junger (who serves as the director of "Which Way Is the Front Line" as well).
Sadly, while covering the civil war in Libya in 2011, Hetherington – as well as fellow photojournalist Chris Hondros – was killed by shrapnel. He was 40 years old, a dangerous age for a photojournalist due to a combination of experience-earned confidence and aged, not quite as highly tuned physical reflexes.
At its most basic level, Junger's documentary functions as a tribute to a lost colleague and friend. As such, it's a touching and powerful eulogy, combining interviews, archived footage and Hetherington's photographs to tell his life story. Seeing the harrowing footage from the front lines – with the camera rolling and ducking into high grass, and the sound of gunfire popping from all directions – it's almost impossible not to have respect for Hetherington's intrepid spirit.
He didn't dive into the crossfire for the fame. He did because that's where the true stories and experiences of combat were to be found. It was something he hunted without letting supposed objectivity get in the way of basic empathy and humanity. At one point, the film shows him intervening on a person's execution. These people clearly weren't just his subjects; he felt invested in these conflicts and in the people involved in them.
A simple, heartfelt goodbye would've certainly done the job and powerfully so, but Junger spends just as much time looking at his dear collaborator's art, finding and discussing the meaning of the captivating wartime images. In the process, the film becomes not just the story of one photographer, but also of the many soldiers captured by his lens, their mindsets and the utterly unique brotherhoods – inherently brittle yet unbreakable – they form in the midst of adrenaline, death and violence.
Hetherington – and, with this film, Junger – end up capturing an incredibly insightful, real-life "Hurt Locker"-esque psychological journey into the true human experience of war. Considering Hetherington's usual empathy for his subjects, it should come as no surprise that he ended up feeling just as lost when he returned to regular life, feeling out-of-place and a bit of guilt while walking the glamorous red carpet for "Restrepo." He even made a short film in 2010 called "Diary," which attempted to reflect his struggle meshing his high-anxiety, often grim wartime experiences with the ordinary real world.
Junger's film is one of both intimate and massive scope, combining all of the aspects of Hetherington's all-too-short time in this world – his personal life, his art, his topic of choice and his subjects – and giving them equal time, insight and impact. By doing so, it goes beyond just telling the story of a man. It tells the story of a complete life.
"Which Way Is the Front Line From Here? The Life and Time of Tim Hetherington": ****
"Which Way Is the Front Line From Here? The Life and Time of Tim Hetherington" is currently available to HBO GO subscribers.
Facebook Comments
Disclaimer: Please note that Facebook comments are posted through Facebook and cannot be approved, edited or declined by OnMilwaukee.com. The opinions expressed in Facebook comments do not necessarily reflect those of OnMilwaukee.com or its staff.