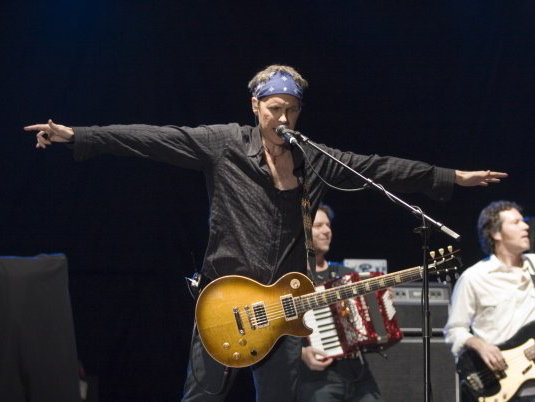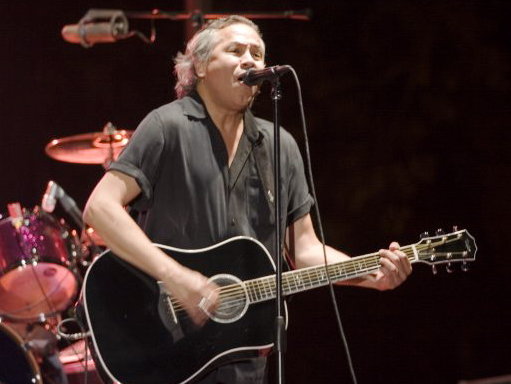 BoDeans will mark CD release with special show May 28 at Marcus Center
When music lovers enter The Marcus Center for the Performing Arts, they usually count on experiencing Beethoven, Bach, the ballet or a Broadway-style show.
In a couple months, they can add another "B" to the list ...
BoDeans.
One of Milwaukee's more popular and enduring bands, BoDeans celebrates its ninth studio effort, "Mr. Sad Clown," with a special CD release concert on Friday, May 28 inside the Marcus Center's Uihlein Hall.
OnMilwaukee.com is the presenting sponsor of this show, which marks the BoDeans' only Milwaukee-area appearance in 2010.
Reserved tickets to this special performance, priced at $50, $45 and $40, go on sale at 11:30 a.m. Monday, March 1 at the Marcus Center Box Office and through Ticketmaster outlets.
BoDeans founding members Kurt Neumann and Sam Llanas will join bandmates Bukka Allen, Ryan Bowman (bass) and Mike Meadows (drums) to perform songs from the upcoming CD, which hits stores April 6, as well as favorites from the group's 25-year career.
Though much of the music will be familiar, particularly to hardcore fans, the show promises to have a different feel than many of the band's recent concerts. The superior sight lines and acoustics afforded by playing at the elegant home of the Milwaukee Symphony Orchestra represent only part of the equation.
"It's very different than a Summerfest type of show, where we're outdoors and people want to get a little rowdy and they like the music loud," Neumann said from his home near Austin, Texas.
"When we go indoors like this, it's a very different mentality. It's more of a 'Storytellers' type of thing where we sit down and talk to the audience about where the song comes from or tell stories surrounding the song.
"It's much quieter. You get to a little more of the beauty of the song instead of just the energy of the song."
Playing in a symphony hall isn't unusual for the group. BoDeans played the Marcus Center in the late 1980s, in a show that was recorded for a Showtime special. The group has played "soft seat" theaters in other markets in recent years.
"I think as we played more and more in theaters, it became more obvious that the loud stuff doesn't translate as well (as) it does in a sweaty club when you are playing to people who are very drunk and everyone kind of gets together in the heat of the moment," Neumann said.
"Those shows are great, too, but the more we got in theaters and the older our audience got, it seemed like breaking it down a little bit more translated better for people.
"I think people who grew up with our music and have seen 20 or 30 of energy shows really like this because it's the same material but it's in very different presentation.
"A lot of times, you can hear a pin drop when we're playing some of this stuff in these beautiful places. It's just kind of been growing more and more in popularity. We like to do it because it's different than what we've done over the years and we like to see if we can maintain the same energy."
Though touring can be a physically (not to mention financially) draining endeavor in the current economic climate, BoDeans will hit the road to support "Mr. Sad Clown," beginning with shows at South by Southwest festival next month and extending through the summer.
The "homecoming" show, produced by Alternative Concert Group, promises to be special.
"It's definitely going to be more relaxed," Neumann said. "It's going to be fun."
Be sure to check OnMilwaukee.com for updates on "Mr. Sad Clown" and complete BoDeans coverage as the Marcus Center concert approaches.
Talkbacks
Gargamel | Feb. 22, 2010 at 10:52 p.m. (report)
This is the best we can do in this town for a "major" concert announcement?
High_Life_Man | Feb. 22, 2010 at 3:17 p.m. (report)
Was this the big, important concert announcement? Ladies and gentlemen, can I please have your attention? I've just been handed an urgent and horrifying news story. I need all of you to stop what you're doing and listen. Cannonball!
LegallyBlonde | Feb. 22, 2010 at 11:50 a.m. (report)
Looking forward to seeing the BoDeans in such an intimate venue
Facebook Comments
Disclaimer: Please note that Facebook comments are posted through Facebook and cannot be approved, edited or declined by OnMilwaukee.com. The opinions expressed in Facebook comments do not necessarily reflect those of OnMilwaukee.com or its staff.