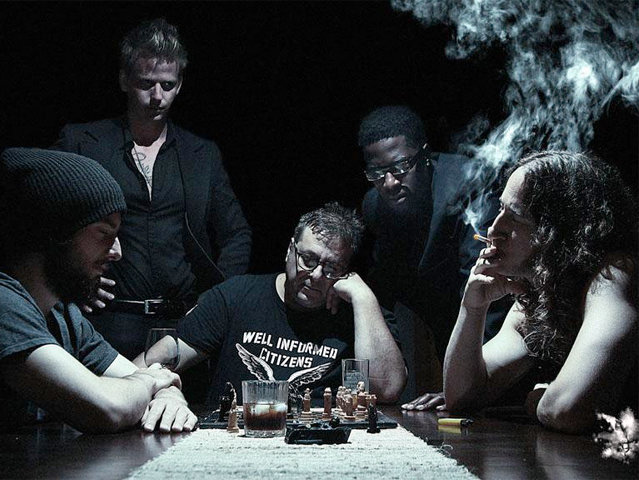 Five questions for Well Informed Citizens
Two years after the release of their self-titled debut, Milwaukee's Well Informed Citizens are back.
"Leaders of the Revolution" was released this week and was produced by Jack LeTourneau, who helped the band connect with musicians like drummer Brian Nolan (American Hi-Fi, The Lemonheads), guitarist Bobby Messano (Steve Winwood) and keyboardist Jimmy Voegli.
The disc – populated with riff-driven hard rock that laced with melodies and grit – also includes a slate of great local talent, including Kevin Topel (The Ragadors, Delta Routine), Kris Crow (The Prince Experience, 52nd St.) and others.
We caught up with front man Daniel Nathan to talk about the new record, as well as the band's recent exposure on MMA's TV show, "WI MMA Today."
OnMilwaukee.com: You've got a pretty talented lineup on the new record. Tell us a bit about the musicians.
Daniel Nathan: The concept of the record was to go into the studio with song ideas, and bring in some talented "Citizens" to collaborate with. We experimented a lot in the studio. So if we were stuck on words, we'd call someone who liked to write. If we needed an organ, guitar, backing vocals, etc. we'd just pick up the phone and get someone into the studio. Nobody had a chance to rehearse, and it was great to see what comes out when you don't have a chance to think first. If you look at the album credits, you see all the players are first call. All we had to do was throw up a softball, and they hit home runs.
OMC: How did you hook up with Bobby Messano and Brian Nolan?
DN: Both of those guys were recording mates of our producer Jack LeTourneau. He recorded albums with them in the past. Brian's drumming is outstanding, and he's a stand up guy to boot. He was fresh off a Lemonheads tour, and had some great Dando stories. I remember Bobby was also on tour when we were recording, so we had to snag him and Jimmy Voegeli after they did a gig at Potowatami. They were both exhausted, but being the true professionals they are, they waltzed right into the Exchange Recording Complex and nailed it. Bobby came up with a great hook, on the spot, to "Triclops," and the slide solo he did on that song was the first take.
OMC: The first song on the record is "Leaders of the Revolution," which was used by the MMA on its TV show, "WI MMA Today." What did that exposure do for the band?
DN: It was great for the band! It was really cool going to the premiere party for the show and hanging out with all the fight fans. It's a crowd I used to hang out with in the past when I was training at Duke Roufus Academy and everyone was pretty jacked to hear that I wrote the main song they used. It was pretty cool to get reconnected with everybody. Big ups to Scott Joffe and Roufusport for making that happen.
OMC: Tell me a bit about making the record. I hear your approach differed from the one used on previous discs.
DN: In the past we would go into the studio with the songs we had been playing out, and just lay them down like we play 'em live. For this one, we just went right back into the studio after we released the last CD. I had a lot of riffs and grooves, but most of the songs were incomplete.
Jack was very involved as a producer and he really helped a lot making the songs all they could be. He wanted to get back to his favorite British blues band period of the late sixties, so we recorded "Homework" a combination of blues master Otis Rush and Fleetwood Mac.
OMC: What's the band's gigging schedule look like these days?
DN: CD release party is Sept 14 at Linneman's, baby! We'll probably hit Madison, Chicago, Minneapolis and anywhere else where they are spinning our songs on the radio.
Facebook Comments
Disclaimer: Please note that Facebook comments are posted through Facebook and cannot be approved, edited or declined by OnMilwaukee.com. The opinions expressed in Facebook comments do not necessarily reflect those of OnMilwaukee.com or its staff.