It hasn't been a good month for the Stars and Bars. Only 150 years after it should've disappeared for good, national online and brick and mortar retailers have yanked the Confederate battle flag from their shelves and their sites.
In other words, you will no longer find Confederate beach towels, belt buckles or even the General Lee (I'm bummed about that, actually) at Wal-Mart, Amazon, Etsy, eBay or many other stores around America.
Fortunately, you won't find them at Summerfest, either, in the state that lost 12,216 men to the Civil War.
I asked John Boler, Summerfest's chief marketing officer, if the festival sold anything emblazoned with that controversial flag.
"We currently have 91 merchandise vendors at Henry Maier Festival Park," he replied. "To the very best of our knowledge, there are no items that feature the Confederate flag designs or imagery."
On my first three visits to Summerfest, I couldn't find anything, either. I looked all over, although it's possible I missed a few nooks and crannies. Lots of tacky displays of the American flag, but the "Stainless Banner" was nowhere to be found. Actually, I was a little surprised … but relieved, too.
You can find buy just about anything, classy or tacky, at Summerfest. Want an airbrushed painting of Vince Lombardi? Check. Jonesing for an e-hookah? Look near the Briggs Backyard. Lusting for a toe ring that says Jimmy? You're in luck.
But if you crave a thong that, at best, celebrates "Southern Pride," and at worst, slavery … you'll be whistling Dixie.
I expect to have this same discussion with State Fair next month.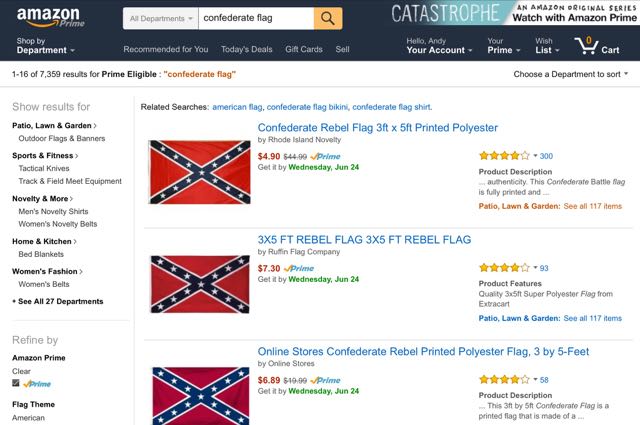 A search for "Confederate Flag" on Amazon.com, the night before it removed all listings.