This morning I posted a look back at some of Milwaukee's dead and gone Downtown rock and roll clubs. I never had the chance to visit some of them, which pre-dated not only my time in Milwaukee, but, in some cases, also my birth.
The effect of having missed some of these is one of a mysterious, almost difficult to imagine time in the city, which has changed so much since the likes of The Scene, The Attic and The Penthouse existed. Not only are the clubs long gone but the buildings they occupied also vanished decades ago. The views you see in the other post – like the one at 5th and Wisconsin with a direct line of sight up to the Arena – simply don't exist anymore.
And the thought of Jimi Hendrix on the streets of Downtown, frankly, seems surreal.
But I got here in the early '80s, which despite what you might read elsewhere, was, in fact, an exciting time in Milwaukee music. The first wave of punk and new wave bands like The Haskels was wrapping up and the hardcore scene was on the rise. You could also still see some fine transitional era bands like The Oil Tasters, Einstein's Riceboys, The Honest Disgrace and Modern Values.
The Palms was still open and new places, like The Underground, Cafe Voltaire and Irene J's, were beginning to emerge.
One of my earliest gigs in Milwaukee was at Tony Selig's subterranean Underground and I remember Tony asking my age. When I told him I was underage, he told me just to head unobtrusively toward the back exit if I saw any uniforms descending the stairs.
Other than the crowds and the low ceilings, my abiding memory of the original Underground is having patrons slip past my drum kit to get to the bathroom (and having to do the same when others were playing).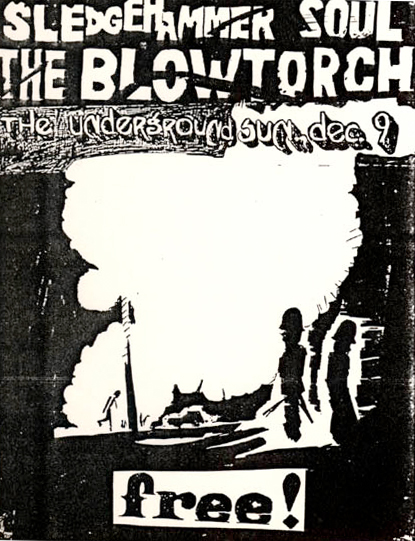 (Poster by Eric Blowtorch)
When he moved over to the old Papagaio's, everything was topsy turvy. Here the ceilings soared, the room was huge and the ample stage loomed perhaps five feet above the dancefloor.
We made friends with The Jazz Butcher and The Neighborhoods …
Read more...