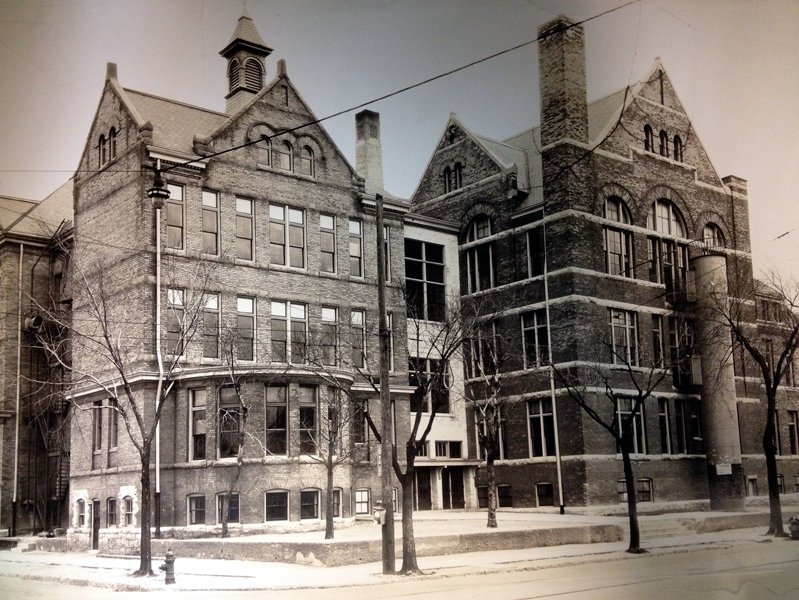 I'm honored to work with the good folks at Milwaukee Public Library's Central Library, 814 W. Wisconsin Ave., on a small exhibit and panel discussion that look into Milwaukee's historic public schoolhouses.
In recent weeks, I teamed with librarians in the library's Art, Music & Recreation and Frank P. Zeidler Humanities Room -- as well as with staff from the Wisconsin Architectural Archive housed at Central -- to put together a small look at some of the schools that have meant so much to so many Milwaukeeans.
There are original architectural drawings and vintage photographs of five schools: 21st Street School (razed), Walnut Street School (razed), McKinley School (vacant), Maryland Avenue School (still in use) and the old Gaenslen School building (razed).
These can be seen in glass cases in the main corridor outside the Zeidler Room on the second floor of the Central Library from today until Dec. 18.
A related event, "Milwaukee Public School Buildings: Past, Present & Future, A Discussion," is a panel discussion slated for Monday, Dec. 8 from 6:30 until 8 p.m. in the Loos Room in Centennial Hall, 733 N. 8th St. Admission is free and all are invited.
We've tapped veteran education reporter Alan Borsuk -- who is now Senior Fellow in Law and Public Policy at Marquette University Law School -- to moderate the discussion about the history of Milwaukee's vintage schoolhouses, their architectural significance, their ongoing educational efficacy, efforts to landmark and preserve some of them and more.
The panel consists of District 4 Ald. Robert Bauman, who was recently a key figure in the city's historic designation of McKinley School, Historic Milwaukee Inc. director Stacy Swadish, MPS' Director of Facilities and Maintenance Gina Spang
Read more...