OK, I admit that I've led you here under (potentially) false pretenses. What I really want is for you, dear readers, to tell me about the best pizzerias in Kenosha.
After a day of battling insane crowds at the outlet mall this weekend, we had a yen for pizza, and knowing that Kenosha is nearly as Italian as Cosenza, we figured there must be some insanely good pizza joints.
We'd been to Mangia fairly recently and we'd been to Infusino's, though that was eons ago. So, we flipped an imaginary coin and selected Luigi's over Villa d'Carlo, because we really don't know who has the best pizza in K-Town.
That's why I said "potentially" up there in the first paragraph. Because, it's possible that Luigi's, 7531 39th Ave., is the apex.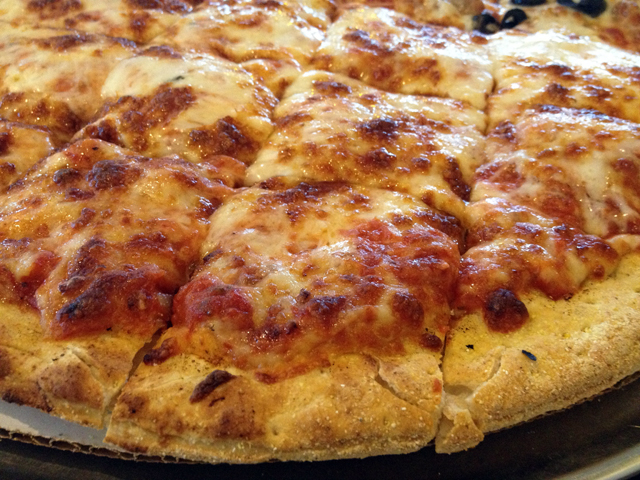 In a pretty unassuming building, with a pretty modest dining room, Luigi's dishes up really good thin crust pizza, with a wide variety of toppings. The cheese is just salty enough, the sauce is sweet and tangy, and the sausage has a bit of spice.
A two-topping large (16-inch) runs $16.50. There's also a "Gutbomb," with a slew of toppings that runs $25 for a large.
The dough seemed a tad overworked and chewy, which prevents me saying the pizza was absolutely amazing, but it was otherwise top-notch.
The same could be said about the odd peanut butter and jelly pizza, at which we initially scoffed. But we decided to try it and when it came, piping hot, we found it to be sacrilicious. Our kids, perhaps surprisingly, refused to touch it. Warning: if you order it, go slowly, as the hot jelly can wreak havoc on the roof of your mouth if you dive in too quickly.
One of us is a big fan of gnocchi (well, more than one of us, but one is on a gnocchi jag lately) and opted for the gnocchi on the kids menu, which comes at a kids menu price (a steal at $3) but in an adult serving with a big plate of gnocchi, topped with a large tasty meatball and red sauce.
The problem with gnocchi is that so few places make a really, really good example – pillowly…
Read more...