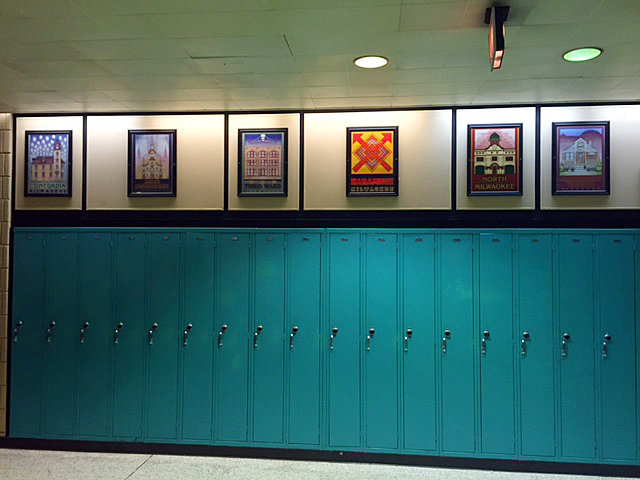 Thanks to a donation from Historic Milwaukee Inc., students walking the halls on the third floor at Milwaukee Public Schools' South Division High School now can take a mini-tour of Milwaukee neighborhoods.
Early last month, Robert Lang, social studies department chair at South, wrote to HMI director Stacy Swadish, asking for a set of the 15x22-inch neighborhood posters that have become so beloved in Milwaukee to be displayed to be displayed in the school's 9th Grade Academy area.
"We have wonderful artwork and displays in most areas of the first and second floors," Lang wrote. "I'd love to be able to decorate the hallways (of the third floor) in a way that celebrates the culture and diversity of the neighborhoods of Milwaukee."
Lang also told Swadish that he always encourages students to attend HMI's annual Doors Open Milwaukee event, which allows visitors inside a wide range of historic and interesting buildings and sites all across the city.
Swadish was quick to honor the request, donating a complete set of 39 posters to the school.
"I can't tell you just how much of a difference the posters have made for our building in the short time period they have been displayed," Lang says. "It is no secret that Milwaukee has faced some challenging events over the past few years. With the protests in Sherman Park this past summer and some of the crime that impacts our city, I felt that our students needed a reminder of just how great the City of Milwaukee is. Despite some of the challenges, our city offers a level of diversity that often goes unnoticed. Our neighborhoods have rich histories and each offer their unique story of Milwaukee history and culture."
Lang adds, "The posters that Historic Milwaukee Incorporated donated last month are now a daily reminder for our students that Milwaukee is a city that is truly great. Each neighborhood – from Sherman Park to Bay View – offers a unique culture and community. It is this sense of community that we hope to insti…
Read more...