If, like me, your trips to the hardware store are extremely focused as you attempt to cut down the number of trips you'll need to make for even the simplest project, you might not notice the firehouse that forms part of Downtown's National Ace Hardware, 1303 N. 4th St., despite the fact that its Romanesque facade is painted red.
The three-story, two-bay fire station, was the second home for Engine Co. 2, which was organized Nov. 6, 1862 and first took up residence in the the former volunteer fire house no. 3 at 422 3rd St.
Despite having been rebuilt in 1873, Engine Co. 2 needed a new home, apparently because as fires started to become more frequent (annual fire alarms doubled from 1873 to 1882) more and larger equipment was required. Company 2's three-man 600-foot-hose cart was replaced with equipment carrying twice as much hose in 1885.
So, MFD spent $21,760 constructing this station, which originally had a 55-foot tower set atop the middle of the facade.
Enter through the hardware store two doors south and you can wend your back into the firehouse, through what one employee told me was the former stable – a single-story skylit building connecting the station to the three-story brick building erected around 1910 for Chas. H. Stehling Co., which manufactured machinery for tanneries.
In the old space, you'll spy some gilt capitals atop the posts supporting the center beam.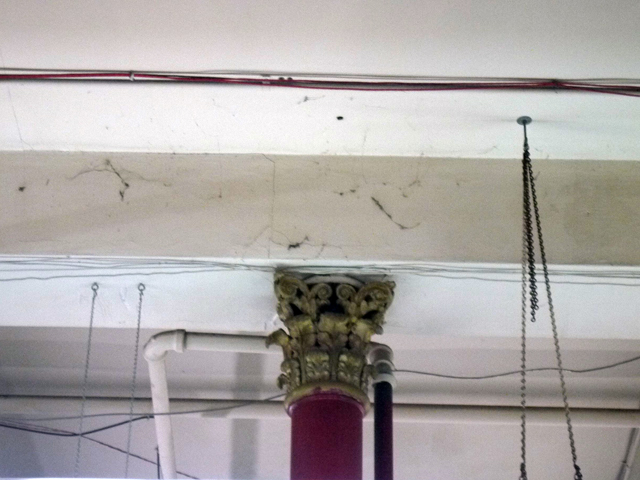 There are also a couple of these round holes in the ceiling. These are also evident at the old firehouse on Bartlett Avenue. Some have suggested these were to accommodate fire poles (though they seem a tad small for that and the poles weren't yet invented when the Bartlett station was erected in 1886). Others have averred that they were to drop hay from second-floor lofts to the horses below.
The National employee I spoke with said that he and his colleagues believe a first-floor space in the corner was a kitchen, because of its floor drain and terrazzo floor and wainscoting. Howeve…
Read more...