On Friday morning, April 16, 1981, Milwaukee Sentinel readers were treated to a series of album reviews in writer Lennox Samuels' Sound Ideas column in the paper's weekly Let's Go section of entertainment news and features.
One of them dissected "Boy," the debut LP by a young Irish band called U2.
Samuels rated the LP 3.5 out of 5 stars, saying the youthful band – which Samuels noted comprised four boys 21 and under – had "precocity, fresh-faced brashness and originality." They also "boast lively harmonies and catchy guitar lines."
U2, he added, "shows talent and promise." But, he noted, as he shaved off stars, they "seem to lose sight of some of the ideas amid all the talk of shadows and following and general wandering about."
One thing Samuels neglected to mention – and that the paper failed to acknowledge in general – was the fact that Bono, The Edge, Larry Mullen Jr. and Adam Clayton made their Milwaukee debut two nights earlier – Wednesday, April 15 – at The Palms nightclub, 2616 W. State St., as part of their first American tour.
I visited the long-shuttered venue for an urban spelunking feature this week.
Interestingly? Coincidentally? The very next page of the Let's Go section had a lengthy feature on The Tense Experts, a Milwaukee-based band of Rockford natives. Not noted in this article – which was surely a media coup for a local band – was the fact that they opened for U2 at The Palms two nights previous.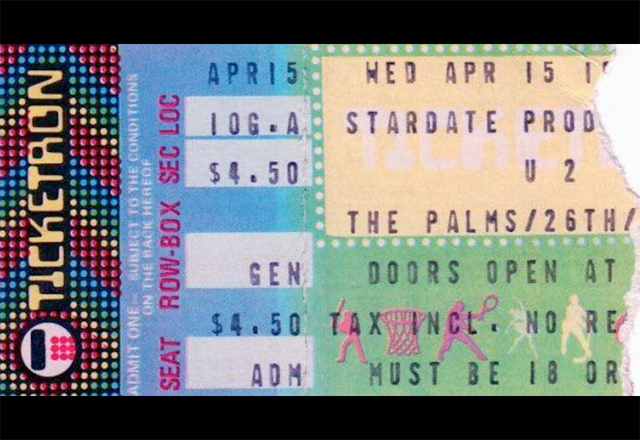 (Photo: Jeff Menz/Facebook)
Across the alley, the Milwaukee Journal was a tad more up on the concert scene, perhaps, as it offered Divina Infusino's brief review of the gig on April 16.
"The sound off The Palms nightclub stage Wednesday night collected the frayed edges of many types of music," she began. "The faded reflection of psychedelia, the emotionally outspoken attitude of punk, the melody and virtues of pop. None paused long enough to completely color U2's performance before a crowd of 500. Instead, the four-year…
Read more...