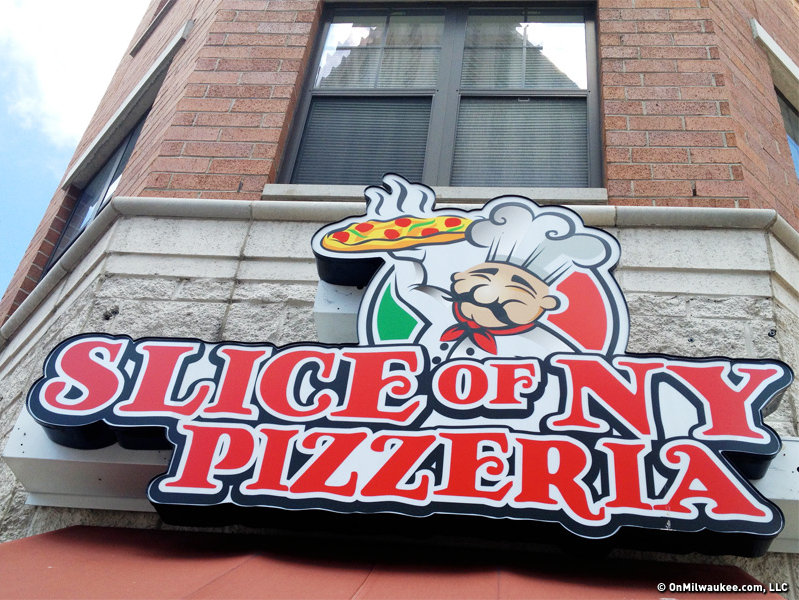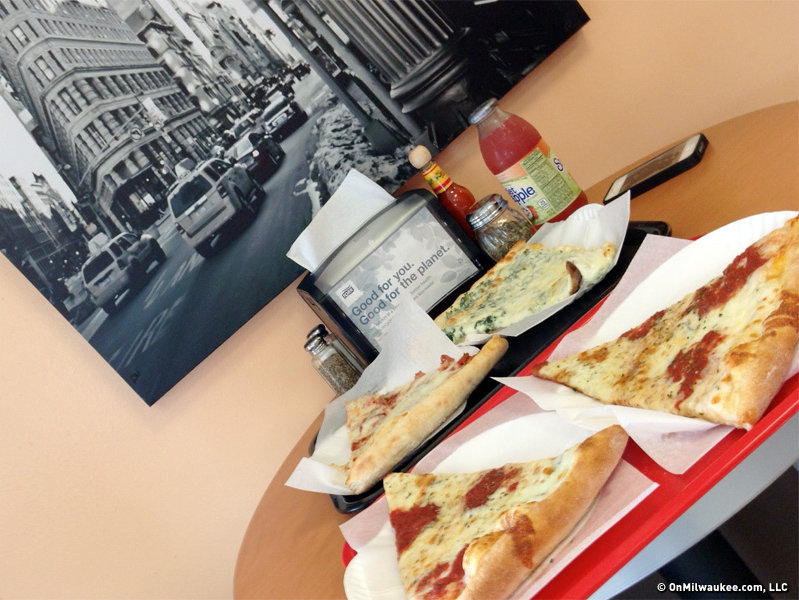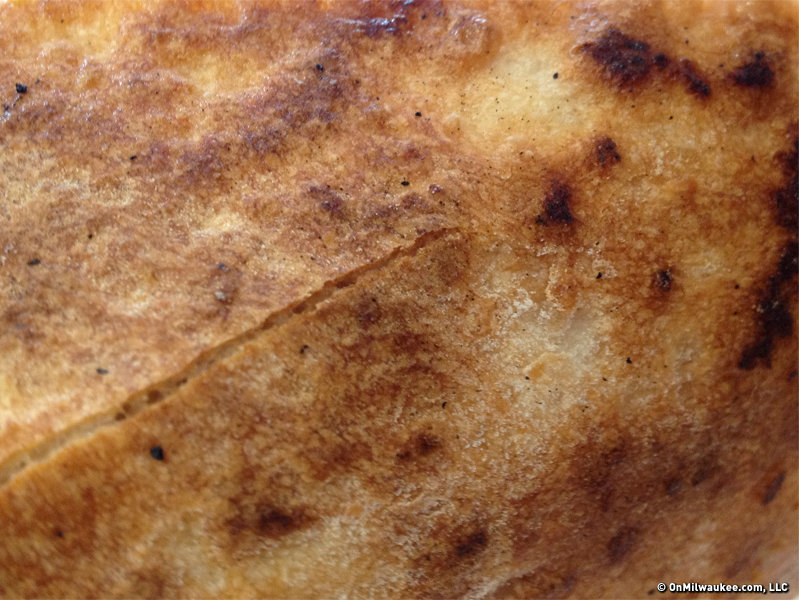 When Slice of NY Pizzeria opened at 700 W. Wisconsin Ave. in June, a fellow expat New Yorker visited and posted on Facebook that the pizzeria was his new favorite in town.
OK, so it took me a while to get there, but I did stop in this week to check it out.
Located in the easternmost retail space at Library Hill Apartments, the place faces directly onto the corner of 7th and Wisconsin. Inside, the decor is as you'd expect: lots of images of the New York City and otherwise spartan and clean, with some tables for dining in.
The place is the second location of a Kenosha pizzeria and has been open, as I say, since June.
There is a variety of slices on offer most days and they range in price from $3 for plain cheese to $4 for stuffed pizza slices. A pepperoni and sausage slice and a sausage and mushroom option run $3.50, while specialty stuff like Hawaiian pizza, barbecue chicken, and "Grandma's" – which has seven, count 'em, seven cheeses – are $3.75.
The slices are big enough that most people that aren't me may be satisfied with just one. I tried a Grandma's, which was good and cheesy, though, perhaps ironically, less so than the white spinach slice which was delicious, with a heaping mound of melted cheese atop spinach and a white sauce.
The crust was nice and thin with a bit of chewiness and good crunch on the underside (see the photo above).
You can also order pies – 14" and 18" – that range from $9.95 to $21.95, and the menu includes wings, salads, garlic bread, calzones, stromboli and some sandwiches (Philly cheese steak, hot beef, etc.), too.
I always yearn for more pizza by the slice places around town, and especially – of course – good ones. So, I'm happy this one is here.
Slice of NY is open Sunday-Thursday, 11 a.m. until midnight; Friday-Saturday, 11 a.m. until 2 a.m. Delivery is available during the same hours and until 3 a.m. on Saturday (well, technically, Sunday, right?). I suspect they'll do a bang-up delivery with all those dorms as close as a block away.
Facebook comments
Disclaimer: Please note that Facebook comments are posted through Facebook and cannot be approved, edited or declined by OnMilwaukee.com. The opinions expressed in Facebook comments do not necessarily reflect those of OnMilwaukee.com or its staff.
Recent Articles & Blogs by Bobby Tanzilo