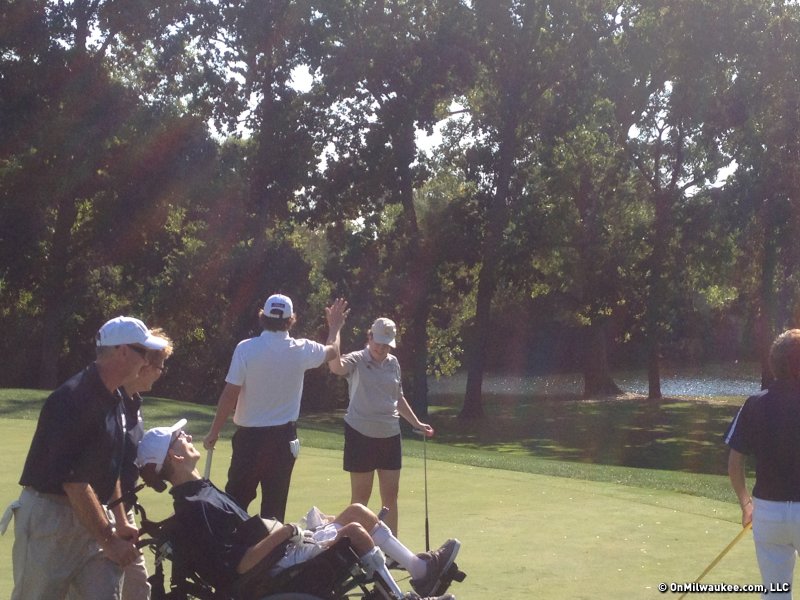 LAKE FOREST, Ill. – Jason Dufner arrived in Chicago on Monday night and figured he'd take a quick detour on his way to practice on Tuesday morning at Conway Farms Golf Club, host site of the BMW Championship, in north suburban Chicago. D.A. Points hit the course first, then had other things to work on, but decided to cut the afternoon short. Chris Smith, a PGA Tour pro not participating in this week's penultimate FedEx Cup tournament, made sure to pit stop before heading home to Indiana.
The destination was Knollwood Golf Club, an 88-year-old private facility located minutes from Conway Farms. The reason? Two holes of play with golfers that humble even the finest players in the world.
Each pro played two holes with members of the Sunshine Through Golf Foundation, an Illinois-based charity that introduces golf to people who might not otherwise have access to the sport.
I was invited to tag along by the Chicago District Golf Association for this very small, private event the foundation puts on whenever the BMW Championship (formerly the Western Open) is held in the Chicago area. All three players have participated in the past, but this year is slightly different for Points and certainly for Dufner.
Points, who many in Wisconsin will recognize as the golfer promoting the Grand Slam line of clothing exclusive to Menomonee Falls-based retailer Kohl's, won for the second time on PGA Tour this year and has a chance to advance to the Tour Championship with a strong finish this week. And, the BMW Championship is in his home state of Illinois, so he's a player "in demand" so to speak.
Then there's Dufner, who won his first major at the PGA Championship a month ago. He's a fan and media favorite, and his free time has definitely shrunk.
What was so great about it was how happy everyone was to be there – trust me, I've seen professional athletes make appearances their hearts weren't in to – and see the true joy on the faces of the Sunshine golfers as these players provided tips on grips and swing paths, reads on putts, or even grabbing and throwing a ball out of a bunker onto a green.
"It's really just 40 minutes out of my personal time," Dufner said. "I'd be practicing or whatever. I can take that time to be out here for a couple holes and help these guys enjoy the day."
If you watch golf, you hear a lot about all of the money the tour and its sponsors raise for charity. You may hear stories about the personal causes for players. That is all to be commended – but something like what I saw Tuesday afternoon is really, really special. It's watching memories be made, and friendships formed.
For example: One player on Tuesday, Paul, played with Madison resident Steve Stricker in one of these small events several years ago. Later in the week, during tournament play, Stricker saw them outside the ropes watching. He walked over, said hello, and thanked them for coming to see him play.
Points perhaps said it best: "It's an honor to hang out with these guys."
It was my honor to witness it.
Facebook comments
Disclaimer: Please note that Facebook comments are posted through Facebook and cannot be approved, edited or declined by OnMilwaukee.com. The opinions expressed in Facebook comments do not necessarily reflect those of OnMilwaukee.com or its staff.
Recent Articles & Blogs by Jim Owczarski