When's the last time you had your heart ripped out by a Yelp review?
Think it might be therapeutic to read that review onstage in front of a supportive group of peers?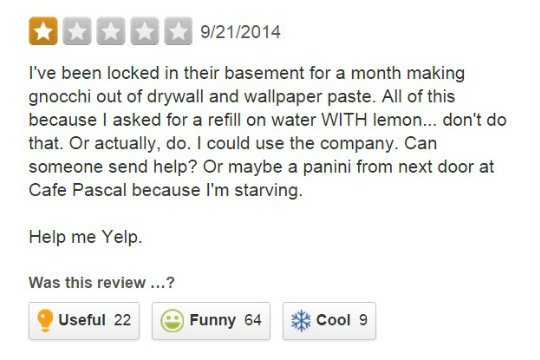 Black Sheep has an event built just for you. And it all started with a trip to Chicago.
"[On our trip]... my girlfriend went down the Yelp rabbit hole reading the greatest hits of a gentleman," says DJ Thompson, bartender at Black Sheep.  "After he blasted one of our favorite establishments, he went on to write a scathing review for a fertility clinic. It was like mining gold, the deeper she dug the more treasures poured."
The experience sparked an epiphany.
"We both looked at each other and felt like those of us in the business need to stop internalizing the pain of these reviews and start screaming them from the rooftops," Thompson says, and he returned to work inspired to create an event that was both fun, collegial and restorative.
On Tuesday, June 23, Black Sheep, 216 S. 2nd St., will be hosting a "Pity Party" for any and all establishments who've been harboring pent-up aggression towards reviews they've read on Yelp.
During the event, which will be MC'd by veteran bartender Jim Carney, members of the service industry can "perform" their establishment's worst Yelp review on a soapbox stage from 9 p.m. to midnight. Anyone who signs up to read ahead of time will receive two free drink tickets and a swag bag. Sign up online.
And, lest you think the event is mean-spirited, Thompson says it's all in good fun.
"In all seriousness, I use Yelp," he says. "It's a great tool and it can be helpful for businesses. This is just a great way for us to poke fun at ourselves."
Read more...