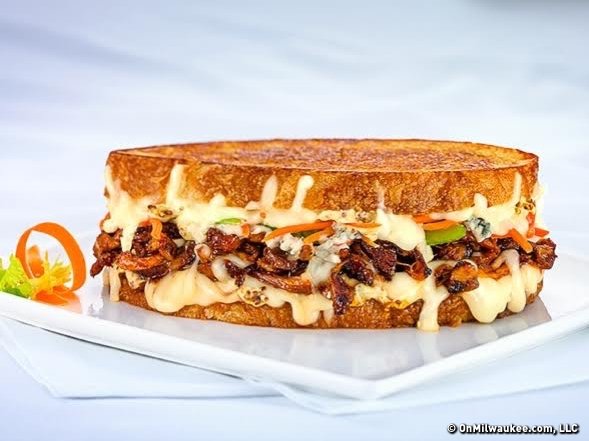 I must admit I drooled a little when I saw the results of the 2015 Grilled Cheese Academy Recipe Showdown hosted by the Wisconsin Milk Marketing Board and Wisconsin Cheese.
And I immediately put the recipe for the winning sandwich on my list of things to make for my next football extravaganza.
The winning sandwich is called "The Sports Bar." And it was created by Stefanie Abi-Rached and Chris Schaldenbrand of Santa Ana, Calif.
The Sports Bar is an amazing looking marriage between two sports bar favorites:

shredded chicken smothered in a zesty BBQ sauce 

creamy gorgonzola fondue with gooey mozzarella
Matchstick carrots and celery add a crunchy texture, and crispy slices of mustard-coated bread add a final show-stopping element.
"The bar had gourmet hot wings to die for, and so after discussing a million ideas, protein options, cheeses and sauces, we decided nothing would be more true to ourselves than paying homage to football season and our favorite bar's chicken wings," said Abi-Rached and Schaldenbrand.
A record-breaking 1,732 entries were submitted for the contest, which invited contestants from around the country to create the tastiest, most unique grilled Wisconsin Cheese sandwich. Entries were judged based on taste, creativity and sandwich photography, three top prizes were awarded, with the winning sandwich taking home a grand prize of $15,000.  
Get the Recipe
Full recipes for all winning sandwiches are available for download in the Grilled Cheese Academy's 2015 Grilled Cheese Recipe Showdown Book of Champions.
Read more...