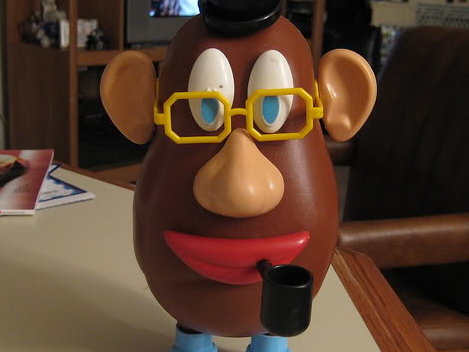 Recently, I dated myself without even realizing it. My son told me he wanted to make magic wands, and among other supplies, I suggested that we buy some "pipe cleaners." He tipped his head to the side and looked at me like I was speaking blobby alien blab, so I showed him one that he used to make the antennae on an egg carton caterpillar project.

"Oh," he said. "Chenille sticks."

Chenille sticks! Of course. Smoking utensil references don't exist in kids' worlds anymore. Mr. Potato Head got off the pipe in the '80s and one was airbrushed right out of Margaret Wise Brown's classic children's book, "Goodnight, Moon." Even Popeye's without his pipe these days.
However, I believe Frosty still sports his corn cob smoking vessel. So how far should we take this? Do classic song lyrics need to be changed? Maybe we could sing "with a corn cob bike and a button nose" even though that makes entirely no sense at all.
For the record, Santa seems to be on and off the wagon with his pipe smoking. Occasionally, I see images of the jolly ol' fella puffing away, but most of the time, he appears to have kicked the habit. Or he's resorted to chewing Nicorette. Hard to tell.