My first introduction to Coach's Pub & Grill, 5356 S. 13th St., was over 10 years ago, when I managed a Little League baseball team for Wilson Park Youth Baseball. The league ordered pizzas from Coach's for some of the Christmas parties or other special events and meetings.
I remembered that I enjoyed the pizza, but it had been at least 7 or 8 years since I last tried the pizza, so I went back recently.
Coach's Pub & Grill is currently owned by Corne' Hanssen, who acquired the business in March 1999. Hanssen visited Coach's Pub under the prior ownership and learned they were interested in selling. Hanssen previously owned The Newport in Bay View, so he had experience as an entrepreneur, and felt he could run Coach's Pub & Grill successfully, starting with more effective use of the kitchen.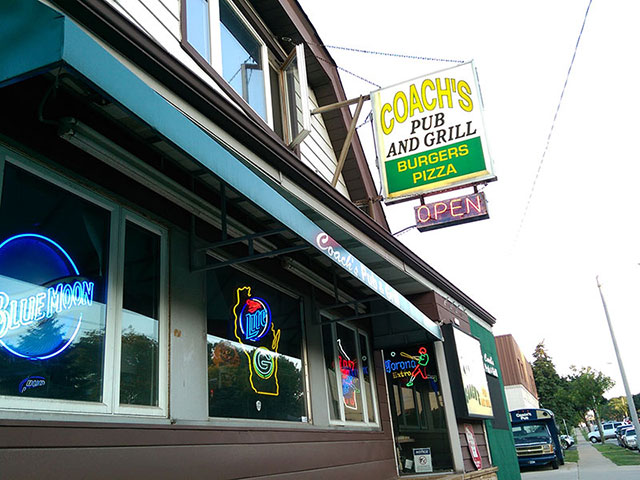 Initially, Hanssen's focus was on improving the Friday Fish Fry, which was altered to begin serving homemade potato pancakes and coleslaw. He also added a large pizza oven which can bake up to four 16 inch pizzas simultaneously. The menu has evolved to include more sandwiches, wraps, appetizers, and salads.
 Coach's Pub & Grill also features popular broasted chicken and wings which are always made with fresh chicken, never frozen. They offer the popular Big Boy Burger, like the one from the Big Boy restaurant chain. Hanssen gets the special burger bun for the sandwich from a vendor in Chicago. Milwaukee's Canfora Bakery supplies the bread served with the remaining menu items, such as the crispy and delicious Garlic Cheese Bread appetizer, served with their sweet marinara sauce.
 Hanssen kept most of the bar and restaurant staff initially, but there have been changes over the years. One big change has been the addition of his sister, Sue Sowlles, whom he hired as the kitchen manager 10 years ago. Among her other responsibilities, Sowlles also makes soups and chili from scratch. Scratch cooking has been Hanssen's overall goal for the food at Coach's Pub & G…
Read more...