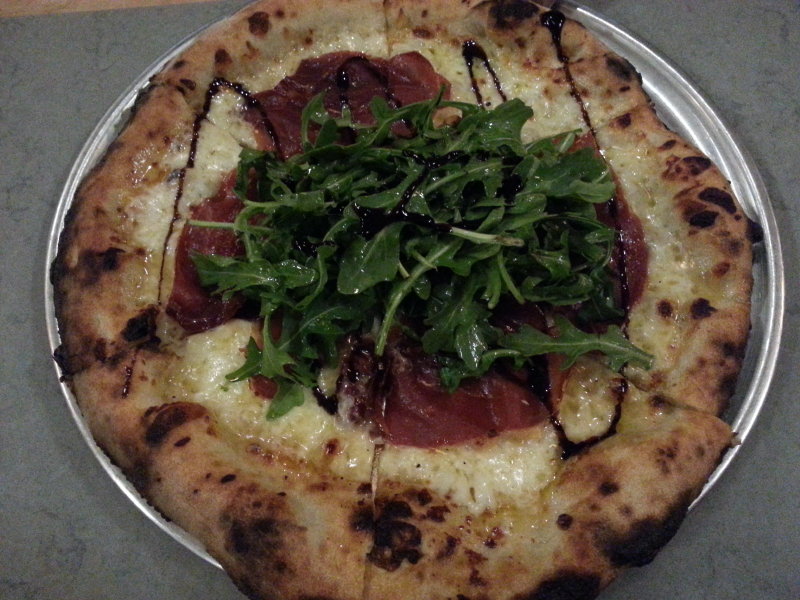 I'm sure you're familiar with Palermo's frozen pizzas. But this blog is not about frozen pizzas. Some of you have taken the Palermo's factory tour, learning the history of Palermo's – going back to the bakery opened in 1964 by Gaspare and Zina Fallucca who came to Milwaukee in 1954 – and sampling the hand-stretched pan pizza that tour guests enjoy.
However, did you know that in January last year, the Fallucca family took their company to another level by updating the café at Pizzeria 3301, 3301 W. Canal St., and installing a wood-burning oven that was made in Italy using ashes from Mount Vesuvius? It's true. Pretty cool, right?
Further, did you know that Palermo's sent two executives – Executive Chef Arturo Napoles Carrera and a food scientist – to Washington last September to take a four-day class led by a representative of the Associazione Verace Pizza Napoletana (AVPN), who was flown in from Italy so they could become certified pizzaioli, aka pizza makers?   
I hope that got your attention because I only know of one other person in southeastern Wisconsin with that distinguished designation, Transfer Pizzeria's chef and co-owner Vasyl Lemberskyy. I don't know about you, but I think it's a big deal.
It is my understanding that, according to the AVPN, there are rules and regulations covering the manufacturing of the oven that can be used to bake the pizza, the wood used in the oven, the ingredients used in the pizza such as San Marzano tomatoes for the sauce, the technique used in making the pizza including temperature of the water and amount of salt to use for the pizza dough based on the weather, etc.
It's all to protect the integrity of the true Neapolitan pizza from the fast food chains and food manufacturers that improperly call their pizzas, fresh or frozen, "original Neapolitan pizzas."
There is also an official American delegation of the AVPN, allowed by the Italian government to be "a legal entity able to give special d…
Read more...