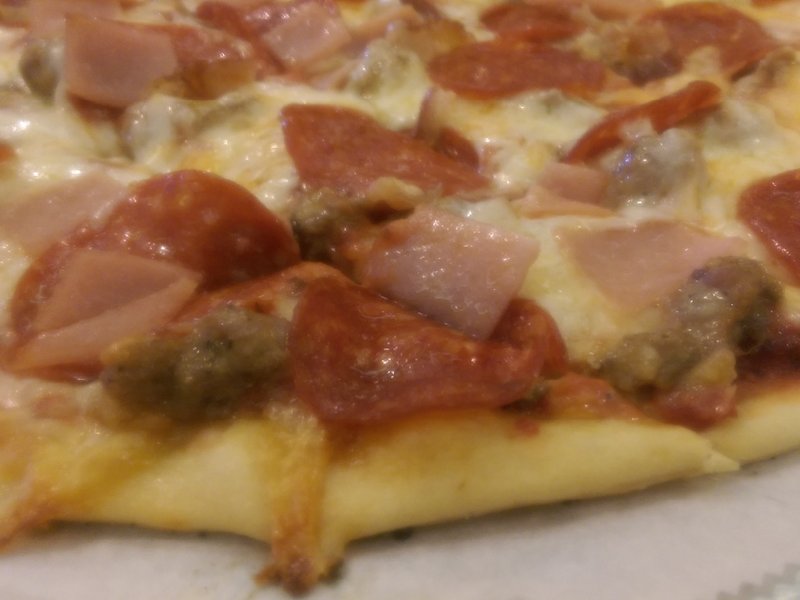 I can't recall how I heard about Brian's, located at 924 E. Rawson Ave. in Oak Creek, but I think it came up in a Google search and was highly rated by its customers.
I was told the restaurant has had several names over the years, but it became Brian's around four years ago when current owner Arian Abazi took over.
Brian's has a family restaurant feel to it with diner-style counter seating and a dining room filled with booths and tables featuring green vinyl chairs and benches, contrasted by a patterned, burgundy carpet.  
The menu provides something for everyone, including chicken, seafood, pasta, sandwiches, burgers, comfort food, pizza and breakfast – which I found interesting considering they don't open until 11 a.m. every day.
A white board next to the host stand listed the specials for the day – such as shrimp risotto, barbecue pulled pork, Ole burger, penne porcini, and chicken parmigiana – ranging from $7.50 to $8.95, plus soup and fries or garlic bread.
Brian's pizzas are available on a "thin and crispy" crust or a "thick and crispy" crust. Crust sizes include 10, 12, 14 and 16 inches, as well as a 16x32 party pizza. Cheese pizzas range from $6.50 to $20.95 for the party pizza, while additional toppings range from $1 to $3 each.
Regular toppings include broccoli, jalapenos and anchovies, in addition to the more common offerings. Specialty toppings include chicken, shrimp, bleu cheese, fresh basil, double crust and double cheese.
Specialty pizzas include the supreme, meat lovers, garden pizza, gourmet pizza, chicken alfredo and the chef's special, topped with sausage, mushrooms and onions.
We started with a side order of homemade meatballs, and I'm glad we did because we waited almost 40 minutes for our first pizza. The side of meatballs was only $1.49 and included four meatballs around an inch and a half in diameter, sprinkled with parmesan cheese and sitting in a bowl of delicious house-made marinara sauce.
Our server made i…
Read more...