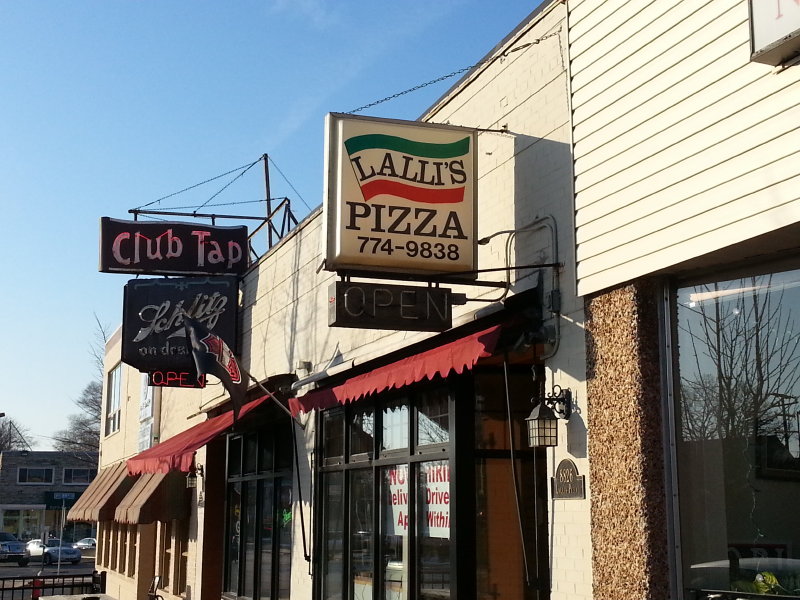 Nine years ago, an office discussion turned to favorite pizzas, and a co-worker announced that his favorite pizza was Lalli's Pizza, 8826 W. North Ave. Our manager and another team member debated him even though they never tried Lalli's, mostly just because they seemed to enjoy antagonizing him.
A couple of weeks later, I tried Lalli's pizza, and I really liked it. My co-worker was elated to have a little back-up in the office when I shared my experience with the team. 
I recently visited Lalli's Pizza again, and I enjoyed the pizza as much as I did on my first visit, which speaks to their consistency. The lobby was busy with carry-out customers, so I wasn't the only one who appreciated their commitment to quality.
Lalli's Pizza was founded by Anthony "Tony" Lalli, Sr. around 1975. He wasn't satisfied with his occupation at that time and decided to start his own business, a pizzeria using recipes that he created and are still in use today.
Lalli's was originally opened on 55th and Center Streets. Later, two other locations opened, including the current location almost 20 years ago. Health issues led to Lalli's decision to consolidate operations to the current location.
Lalli's is still owned by Anthony Lalli, Sr., along with his wife Veronica, daughter Nicole Sommerfeld and son Anthony Lalli, Jr., who manages all of the day-to-day operations.
Lalli's shares a building with Club Tap. The lobby has been remodeled since my first visit. It has the appearance of a section of an Italian villa with a light cream color. There are also benches for customers waiting for their orders.
The menu consists of appetizers, hot and cold subs, sandwiches served on oven toasted French bread, pizzas, pizza bread, Italian dinners, salads and pastas using spaghetti and mostaccioli imported from Italy.
Pizzas are available in a 12-inch small, 14-inch medium and 16-inch large. Crusts are made as hand-tossed, but thin crust is also available upon request at no extra cost, and extra thick crust is available in all three sizes for only $2 more.
Cheese pizzas range from $11.50 to $14.25, and additional toppings cost $1 to $1.50 each. Extra sauce or onions can be added for 75 cents on any of the three crust sizes.
On my visit, I ordered their traditional hand-tossed crust with pepperoni and mushrooms, and a thin crust with sausage and pepperoni.
The hand-tossed crust, which is made fresh daily, is very crispy and a little chewy, similar to a New York style hand-tossed crust except thicker and crispier. The bottom of the crust is coated with cornmeal, not too much to turn me off but enough for those who prefer cornmeal on their pizza crusts.
The thin crust was very crispy around the edges, but the rest of the crust seemed less crispy than the hand-tossed crust. While I prefer thin crust, I actually prefer Lalli's hand-tossed crust. It is one of the best hand-tossed crusts I've tasted, and I really like the crispy and slightly moist texture.  
Lalli's pizza sauce is thicker than most and has a unique flavor, a little spicy with a slight tangy sweetness. Lalli's makes their sauce fresh daily using whole canned tomatoes and adding their own blend of seasoning. 
The chunks of Italian sausage were tender and a little spicy. The sausage is made here in town by a local butcher, but the pepperoni and other toppings come from a supplier out of Chicago. Lalli's mushrooms are fresh, not canned, so they earned extra points with me for that, as well.
I had a chance to speak with Tony Lalli, Jr., and I could hear the pride and passion in his voice when he talked about his family's history and the process of making pizzas.
I wish I lived closer to Lalli's because fresh pizza loses a bit the further it sits in a car on the way to its destination.
Lalli's Pizza offers delivery and carry-out service. However, they only accept cash as the form of payment, so hit the ATM before you order. 
Facebook comments
Disclaimer: Please note that Facebook comments are posted through Facebook and cannot be approved, edited or declined by OnMilwaukee.com. The opinions expressed in Facebook comments do not necessarily reflect those of OnMilwaukee.com or its staff.
Recent Articles & Blogs by Rick Rodriguez