Results tagged with 'Weekend Preview'
Articles:
Published Feb. 26, 2015
The great Milwaukee is upon us! Are you ready?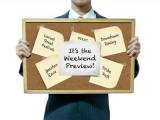 Published June 7, 2013
Brian Kramp and Colleen Jurkiewicz discuss the top 5 events to hit up this weekend in the podcast version of OnMilwaukee.com's Weekend Preview.
Published Nov. 18, 2007
Every Friday morning at 9:30 a.m., 102.1's Kramp and Adler talk with a homegrown band about its music, recordings and upcoming shows.
Reader blogs:
There are no reader blogs tagged with Weekend Preview
Write a blog now!