Results tagged with 'pepsi'
Articles:
Published Jan. 1, 2013
As we welcome in 2013, we can only hope things will get better from here.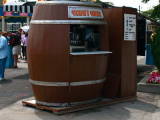 Published July 1, 2009
On Friday, July 3, at some point during the day, I'll be slinging soda from a random root beer barrel. If you find me, say hello, and I'll buy you a soda.