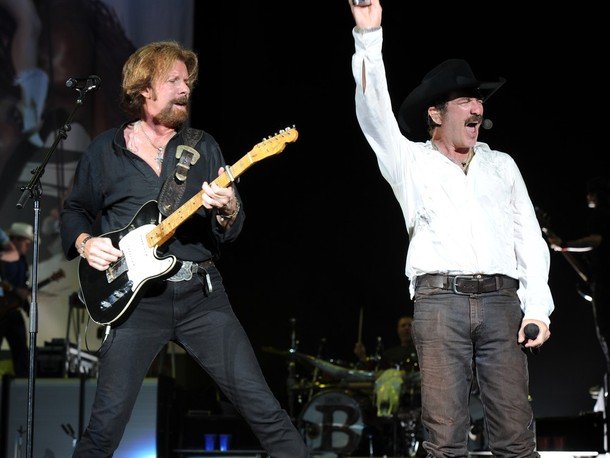 Late cancellations a headache for promoters
When country music legends Brooks & Dunn canceled the portion of their "Last Rodeo Tour" that was to stop at Summerfest tonight at the Marcus Amphitheater, it set a series of events into motion:
Hardcore fans groaned at the gut-punch.
Bob Babisch, the vice president of entertainment at the Big Gig, grabbed his Rolodex and searched for a suitable replacement.
Fans of the eventual replacement bands -- Lynryd Skynyrd and .38 Special -- rejoiced.
And, the folks who book concerts at other venues around town ... well, let's just say they bowed their heads in sympathy.
"I'm almost surprised that it hasn't happened more often," said Peter Jest, who owns Shank Hall, 1434 N. Farwell Ave., and has booked shows at other venues in town for more than 25 years.
"Everyone has family. Everyone gets sick. When you think about it, they've been pretty lucky over the years. They haven't had a lot of last-minute things come up, even on the side stages."
In a pre-festival interview a couple years ago, Babisch talked about such an instance.
"We're always changing schedules, sometimes up until opening day," he said. "We had an act, Paolo Nutini, booked for opening night at the Miller Lite Oasis. We got our brochures printed and, three weeks out, we get a call from his manager saying that Paolo can't do the date because his recording schedule won't allow it.
"So, we had to scramble to find an act. LeAnn Rimes is a country act. She's been here before. She likes playing here. And, she's out on tour with Kenny Chesney and had an open date."
These things are never easy, though.
"We got her to do the date," Babisch said. "But, Harley-Davidson was opening their new stage that night and it was a country act (Little Big Town). We didn't want to have two country acts at the same time, so we talked to the people at Miller and Harley and decided to put LeAnn Rimes on at 8 p.m. and do Little Big Town at 11 p.m., after the fireworks.
"Things worked out."
While Summerfest officials spend a lot of time worrying about the weather in terms of its impact on fan attendance, Jest and others who book shows during the winter months have to worry about the musicians showing up in the first place.
"Most touring bands today will finish a show and leave the the next city right away, especially if they are traveling by bus," Jest said. "They want to have time to get to the next show.
"We've had nights where there are blizzards and people stay home, but as long as the band is there the show still goes on. Sometimes, those nights can be pretty neat. People come out -- even if they have to walk to the club or the arena or wherever -- and they have an intimate night.
"Those shows can be memorable."
Like the weather, there are some circumstances -- like illness, deaths in the family and other things -- that are beyond a promoter's control.
Gary Witt, the executive director of The Pabst and Riverside Theaters, had that experience back in March, when he was forced to postpone a double-bill featuring The Temper Trap and The Kissaway Trail.
"The day of the show, we received an e-mail and a call from band management that the band was stuck in a service depot near Omaha," Witt said. "Their tour bus had a problem with the on-board computer and they just could not get it fixed.
"We had to cancel the show on the day of the show due to one very small computer chip on their bus. The show was almost sold out on pre-sale."
As is often the case, there was a happy ending.
"The upside ... we will soon be announcing the band's Milwaukee appearance in October at Turner Hall -- again," Witt said.
Brooks & Dunn, who had to postpone because Ronnie Dunn was having problems with his voice, have rescheduled some of the shows they are missing during a three-week window for dates in September.
Unfortunately, Summerfest only runs for 11 days.
When U2 was forced to cancel its tour because of Bono's back injury, Jest thought about local promoters and other people behind the scenes.
"When you consider the size of these tours, there is a lot of money on the line," he said. "They hire so many people for sound and lights, they hire roadies and techs (technicians). These are professional people who have given up jobs on other tours. If something gets canceled, they can lose a whole year of work. Considering the age of some of these classic rockers, that's something they have to think about."
Promoters have to be flexible, too.
"Sometimes, things can happen in streaks," said Jest, who was forced to cancel shows by Howie Day and G.B. Leighton within a couple days last winter.
"Bands can have people get sick or injured or they can cancel tours because of bad ticket sales. If you hear the words 'scheduling conflict,' that's code for slow ticket sales. I mean, outside of a TV or movie thing popping up, it's hard to imagine a band missing a show because of the schedule.
"I remember one time, I had to cancel a show and Tina Maples, a reporter from the Journal Sentinel, asked me where people could get refunds. I told her 'We haven't even sold a ticket yet.' You have to be able to laugh at yourself in this business."
When Brooks and Dunn canceled, it's safe to say that nobody in the business laughed.
"We've all been there," Jest said. "This is a tough business. You can be riding high one minute and be at the bottom of the barrel the next. It can be pretty humbling."
Talkbacks
jetkat | June 29, 2010 at 10:28 a.m. (report)
Thanks for the breaking news on the Temper Trap rescheduled show. My friends in Mpls got me an autographed tee at the Temper Traps Mpls show to ease my bruised feelings when they cancelled here. Shiny Toy Guns had to cancel a Summerfest appearance a couple of years back due to death in family.
Facebook Comments
Disclaimer: Please note that Facebook comments are posted through Facebook and cannot be approved, edited or declined by OnMilwaukee.com. The opinions expressed in Facebook comments do not necessarily reflect those of OnMilwaukee.com or its staff.