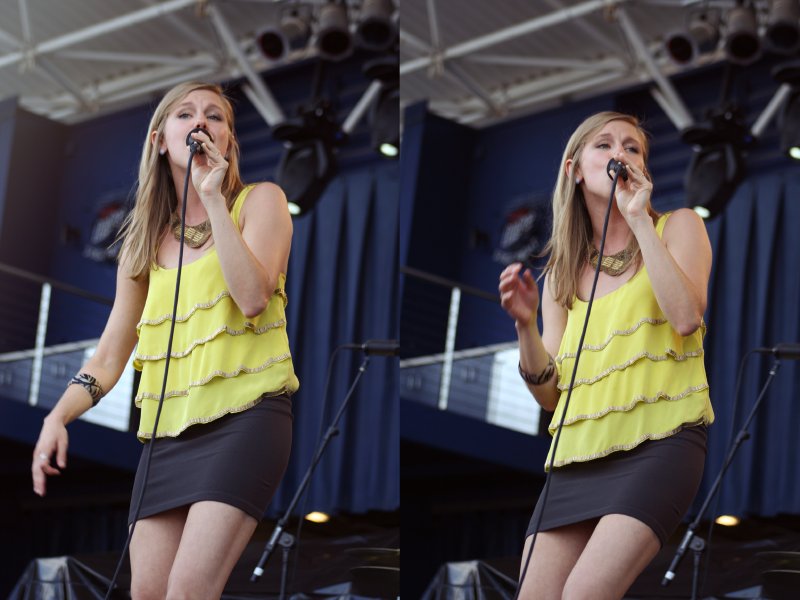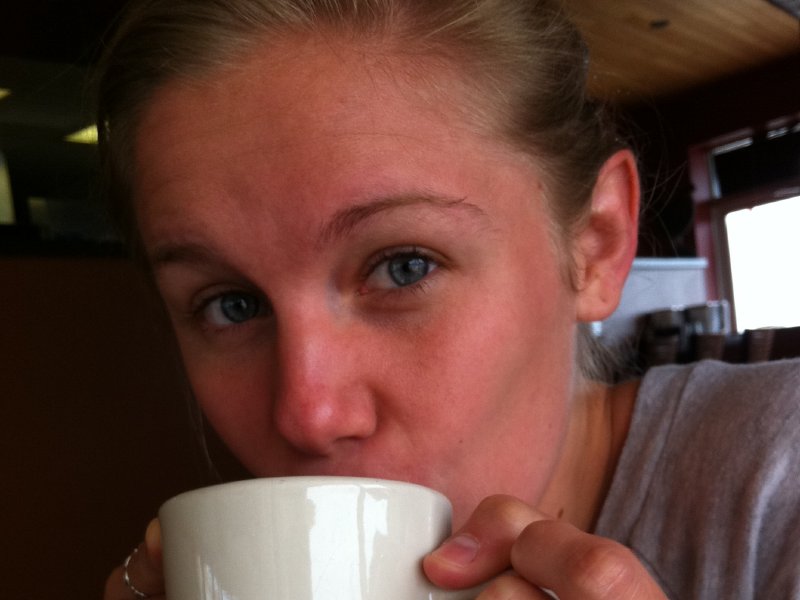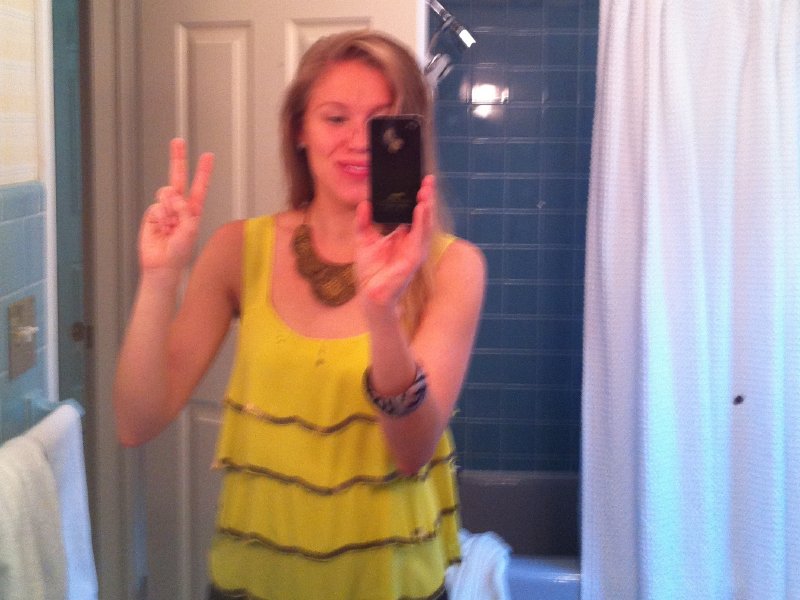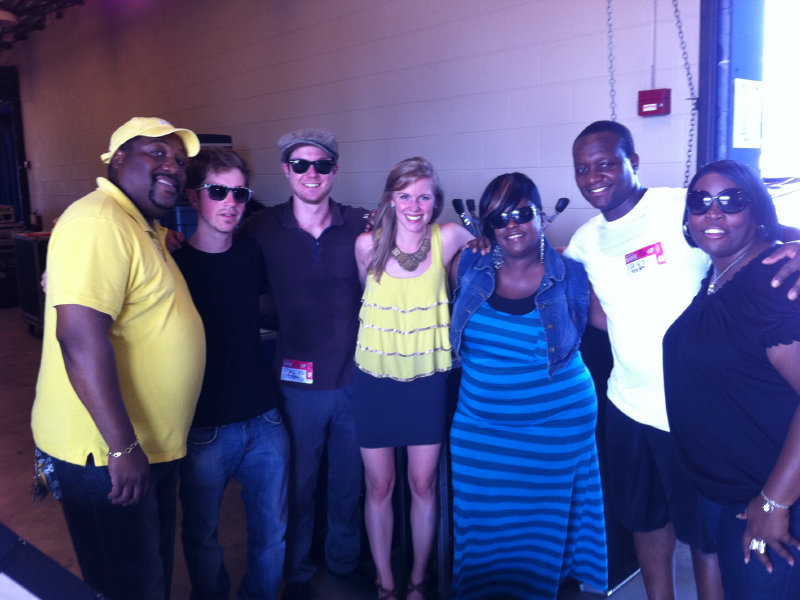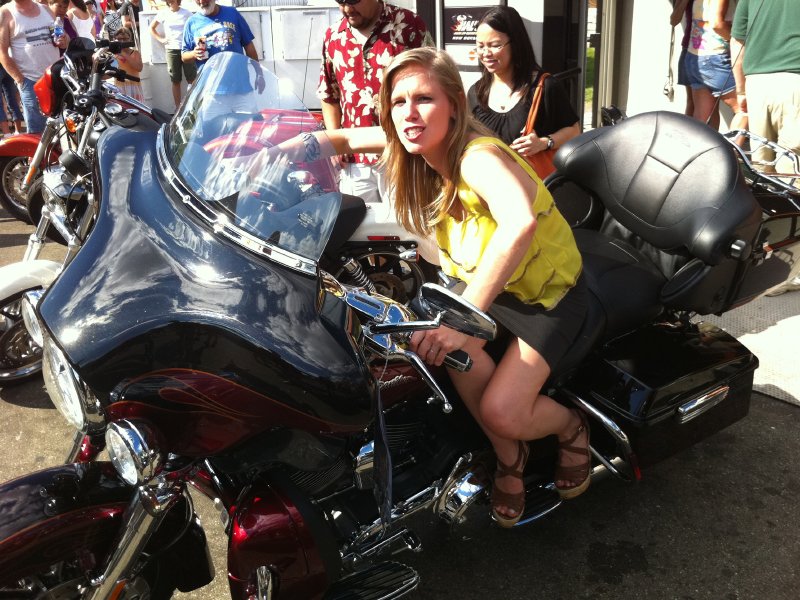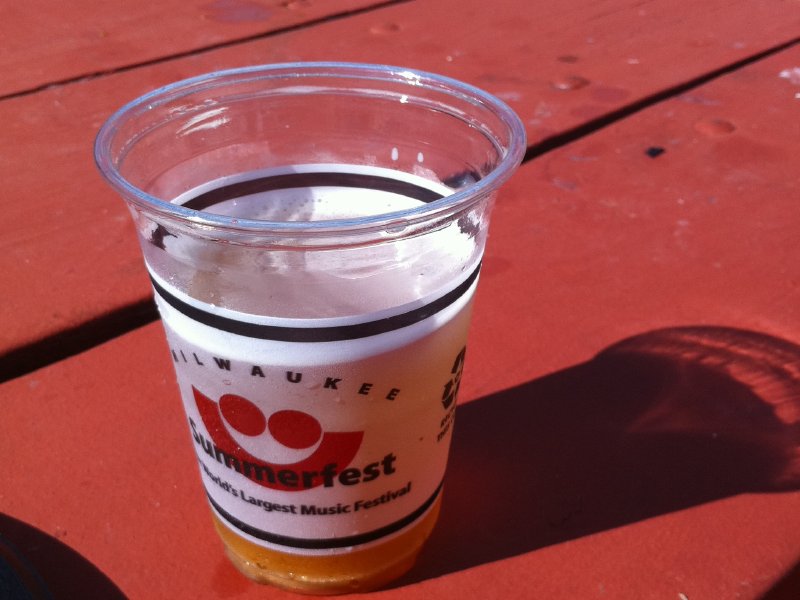 Summerfest journal: Grace Weber
Milwaukee native Grace Weber returned home Saturday, July 2 to play the Miller Lite Oasis at Summerfest. She kept a journal of her day for OnMilwaukee.com.
9 a.m. – Rise and shine! Usually I need at least five rounds of the ol' snooze button to finally roll out of bed, but today it only took three! My excitement and nerves for the show helped me plant my feet on the ground and get ready for the day. We needed to be at Summerfest at 11:30 a.m. (the rule for bands is to be there at least 2 hours before show time) so I only had a couple hours to get ready and warm up. First though, I neeeed my coffee.
9:45 a.m. – I ate a little fruit and yogurt and started to warm up my vocal chords a little bit. I don't warm up before every show (sorry, voice teacher), but on days when I have an early morning or afternoon show, I have to because my voice is pretty tired right when I wake up. I woke up today with a particularly raspy voice from all the shows we had been performing around the Midwest last week. Doing vocal warm ups is kind of like stretching out your muscles before playing sports. I do this thing called "sob sighs," it's my favorite warm up and it sort of sounds like a whimper. I know that sounds a little strange, but it's an awesome way to get your voice ready for some sangin'. I'll show you sometime.
10:30 a.m. – I spilled all my make up in the sink. Oops. I'm a klutz most days, but it gets worse on show days for some reason.
10:35 a.m. – After asking my band mates what I should wear (they're all boys and hate when I ask them for fashion advice) I decided to go with this yellow shirt for the show. Feeling comfortable and confident with what I'm wearing on stage helps me feel freer when I'm performing.
11:15 a.m. – Heading down to the Summerfest grounds! I'm feeling pretty relaxed and excited about the show. I used to get really nervous before all my shows, and I still do a little bit, but lately I've been mostly just excited to get on stage and sing. I think it's because my band mates and I have been playing together for so long that we're all totally in sync when we're on stage together. I know I can count on the guys 100 percent to perform and they know they can count on me. So what's left beyond a little nerves and excitement is just the joy of playing music together. It also helps that these guys are some of my best friends. It makes being on tour and doing these shows so fun.
Noon – Band drop off! So the way it works is you pull up into the band parking lot, unload your gear, park the car, and then you get shuttled over to the stage in a 16-passenger van. The gear gets taken separately in another van.
12:30 p.m. – Arrived backstage at the Miller Oasis Stage! Pretty cool to see my name on the Summerfest poster, especially as I look down the list and see Fitz and the Tantrums and Maroon 5 below. Someday I think I'll get in that headlining slot ... . Ah, dreams.
1 p.m. – As we wait to go on stage, we sit in our little dressing room and go over the set list and make sure we're all good to go. I have to make sure everyone in the band has a set list and knows the run down of the show. We usually quickly go over transitions between songs and how we're going to finish out the very end of the show. Just to make sure we're all on the same page.
1:15 p.m. – Soundcheck and load in on stage! The band before us has finished so now it's our turn. We load in our gear and start getting ready to sound check. Sometimes it's a little awkward to be checking the gear while everyone in the audience is watching, but I try to make it fun and be a little silly during the sound check.
1:30 p.m. – Start of the show! Oh my gosh, here goes. Time for an hour of muuusic! I feel pretty lucky that I get to be playing my original music on the Miller Stage at Summerfest, makes me feel really good. And the people in the audience are really into it! So cool.
2 p.m. – We play our original song "Sparrows." We released this song last year and I'm seeing people sing the words in the audience! Seeing people sing the words to my song feels amazing.
2:15 p.m. – We play one of the new singles off my new record called "Everything to Me." It's the first time I'm hearing it live with background singers (I had three background singers from Milwaukee come on board for this gig) and it sounds so good with the background singers. I think to myself as we start singing the bridge, "I really need to bring these background singers to all our shows from now on ..."
2:30 p.m. – We're done with the show! After all the build up, I can't believe it's already over! We played an awesome set of 12 songs, – nine originals and three covers ("The Weight," "Little Lion Man," "Price Tag") and it was so fun. I wanted to keep playing for another hour! It was really, really hot on stage though. By the end of the show, I was dripping with sweat (yummm) and was ready to wipe off my face and see all my friends and family. The craziest thing for me was that after the show, random people came up to me and wanted to take pictures with me! It was so cool that people who were just hearing my music for the first time were becoming fans. That's one of the greatest things about playing at a festival like Summerfest, you get in front of so many new people, and it's such a good way to get your music out to new ears.
3 p.m. – A quick stop at the Harley Davidson tent for a shot on one of the Harleys. Those things are so bad ass. I feel proud that those hogs come out of Milwaukee.
3:15 p.m. – And finally, the celebratory Summerfest beer! I can't wait until we come back next year! Thanks for having me, Milwaukee. Almost time to go watch Fitz and the Tantrums back at the Miller Stage!
Facebook Comments
Disclaimer: Please note that Facebook comments are posted through Facebook and cannot be approved, edited or declined by OnMilwaukee.com. The opinions expressed in Facebook comments do not necessarily reflect those of OnMilwaukee.com or its staff.