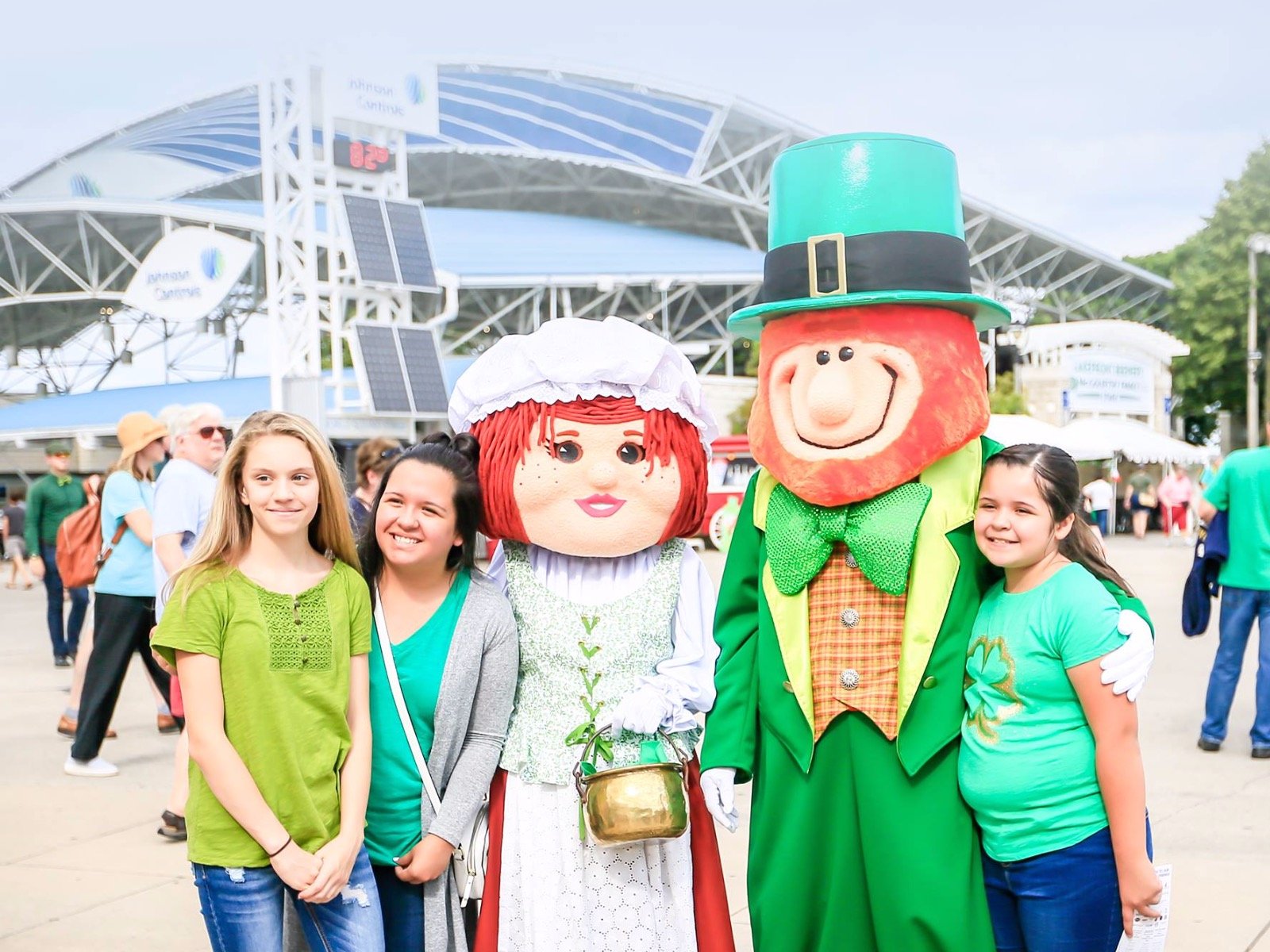 Irish Fest: Aug. 15-18
One of the best and most respected ethnic festivals in Milwaukee, Irish Fest – which runs Aug. 15-18 at Henry Maier Festival Park at the lakefront – is one of the only ones with a real international reputation. And this year, it celebrates its 33rd birthday.
For three decades, Milwaukee's Irish festival has booked the same talent you'd see at a similar event in the Emerald Isle, and there is a serious devotion to culture, with Gaelic poetry readings, theater events, historical displays, book sales and more.
This year's entertainment features more than 100 acts on 16 stages. Among them are Sprag Session, Tallymore, Makem & Spain Brothers, Cassie & Maggie MacDonald and Finbar MacCarthy, in addition to contemporary groups like Red Hot Chili Pipers, Tom Sweeney and Gaelic Storm.
Among the Irish Fest first-time performers are Barry MacNeils, Buddy MacDonald, Dave Gunning, Modern Grass, Evans & Doherty and Old Mn Luedecke. This year's festival will also host a selection of regional bands and a brand new bluegrass music showcase.
What fuels such success and such a diverse event? Martin Hintz – of the Irish American Post and author of "Celebrate the Legend: 25 Years of Milwaukee Irish Fest" – knows.
"The fest is all about people," he told OnMilwaukee.com when the book was published.
"It is an extended family, with everyone celebrating weddings, births, deaths. ... Irish Fest is a team effort brought together by hard-working friends, many of whom have spent years as volunteers.
"Some sing low, some sing high on the Irish Fest wire, to paraphrase the old song, but through it all, there is a tight bond ... and all their efforts accomplished so much. Hey, families have fun, they laugh, they cry, they moan, they goof around, they celebrate."
There's a celebratory feel to Irish Fest; one really does get the sense of being among friends; at an over-sized family picnic, perhaps. And there's a lot to see, from the exhibition of cuddly Irish dogs to the cultural and musical events. That allows visitors to mix and match and create their own experience and their own memories.
Where: Henry Maier Festival Park
Hours: Thursday, 5-10 p.m.; Friday, 4 p.m.-midnight; Saturday, noon-midnight; Sunday, 11 a.m.-10 p.m.
Admission: $5 on Thursday and from 4 until 5:30 p.m. Friday. Friday-Sunday, adults are $17, seniors (60 and up) pay $12 and kids 12 and under are free.
Highlights: Thursday is the Grand Hooley, a sort of kick-off party cum dress rehearsal and it's great fun at a steal of a price. Don't miss the Cultural Village, which has performances, art exhibitions, vendors and more.
OMC tip: There are a few ways to get in at a discount or even free. Admission is $5 on Friday from 4 to 5:30 p.m. Donate 10 original Irish-related items to the John J. Ward Irish Music Archives and get two free tickets. Details here. Donate non-perishable food items before 11 a.m. on Sunday and you can get in to the fest free AFTER the 9:30 a.m. Mass.
For more information: (414) 476-3378, irishfest.com
Facebook Comments
Disclaimer: Please note that Facebook comments are posted through Facebook and cannot be approved, edited or declined by OnMilwaukee.com. The opinions expressed in Facebook comments do not necessarily reflect those of OnMilwaukee.com or its staff.