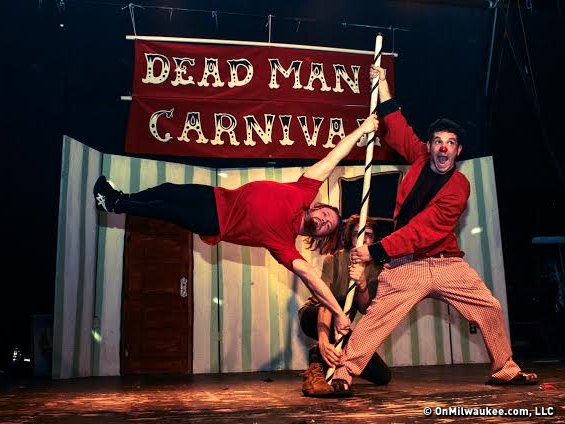 Dead Man's Carnival rings it in
For anyone looking for something other than live music or watching the big ball drop on New Year's Eve, the Dead Man's Carnival – a Milwaukee-based vaudevillian, circus and burlesque show – might be an appealing alternative.
The Dead Man's Carnival – "The Greatest Show Un-earthed" – will perform on New Year's Eve at the Oriental Theater, 2230 N. Farwell Ave. Tickets are $25. The 110-minute show starts at 10 p.m.
The Ragtime Boogie Woogie House Band will back up the performers which may or may not include strip ninjas. Yeah, you read it, right.
OnMilwaukee.com recently checked in with Prof. Pinkerton Xyloma, one of the founding members of the group, to find out more about the members and the upcoming event.
"It is the largest variety show in the Midwest and unlike anything the world has seen since the Golden Era of American entertainment," he says.
OnMilwaukee.com: How long has the carnival been around? It started in Riverwest, right?
Prof. Pinkerton Xyloma: We started performing under the "Dead Man's Carnival" name in early 2007. Yes, we are born out of Riverwest. Our first couple years we produced regular shows at Stonefly Brewery and practiced down the street at the now retired Cream City Collectives.
OMC: Who started it? How many members are there? How many are original?
PX: We started out with four core organizers: Zero the clown, Erik Bang, Gypsy Geoff and me. After the third show, I took over organizing the shows. The group bloomed quickly to include dozens of other regular performers.
Over the years we have worked with hundreds of performers. We are kind of the circus equivalent to Wu-Tang Clan. There is a "choose your own level of involvement" organizing approach inspired by our underground anarcho-punk rock beginnings.
People always come back around sooner or later. It is a big family of many larger-than-life unusual characters.
We are currently recruiting new talent for next season. Interested parties can message me at pinkertonx@gmail.com or through the Dead Man's Carnival Facebook group.
OMC: How would you describe the entertainment?
PX: We are a modern vaudeville show with live American roots musical accompaniment. Every performance is unique and ever-evolving. Regular elements include traditional circus skills, fire performance, human oddities, novelty acts, burlesque, games and magic.
There is a big emphasis on crowd interaction, showmanship and creating a sense of community. We are continuing Wisconsin's proud legacy of circus, magic and other lost arts of early American entertainment.
OMC: Do you have a season or perform all year 'round? Where else do you perform?
PX: Our main focus is producing regular shows at the Miramar Theater. They take place on the first Friday of the month from February through November. Outside of that we work year 'round doing private hire events, festivals and touring when we can.
OMC: What is most interesting or unique aspect of your performance?
PX: It is by far the most interesting thing in the city. One of the last real deal vaudeville shows in the world. On top of that we have a great live band who performs along with the wide array of unusual talents. Then again you just asked a carny to hard sell you on his show.
Facebook Comments
Disclaimer: Please note that Facebook comments are posted through Facebook and cannot be approved, edited or declined by OnMilwaukee.com. The opinions expressed in Facebook comments do not necessarily reflect those of OnMilwaukee.com or its staff.