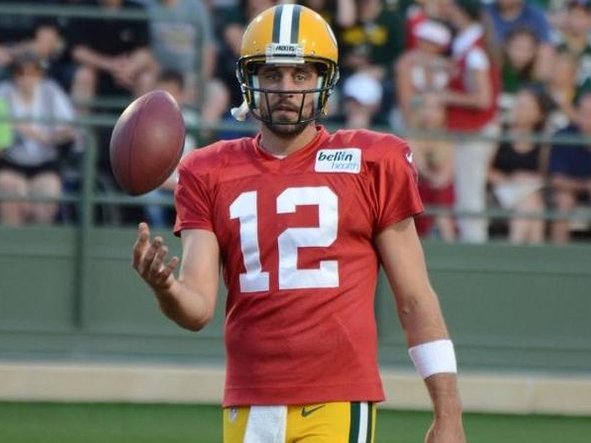 Why the Packers simply can't lose
In the modern NFL, it's all about the quarterback. We know this. We talk about it incessantly. But when a team has a quarterback that won a Most Valuable Player award, it's a near 100-percent probability that your team will never post a losing record.
Since 1990, there have been nine quarterback that have won the league's MVP – Joe Montana, Steve Young (twice), Kurt Warner (twice), Rich Gannon, Tom Brady (twice), Brett Favre (three times) Peyton Manning (three times solo, one shared), Steve McNair (one shared) and Aaron Rodgers.
In those 23 seasons after – the key word here – winning their respective MVP awards, those quarterbacks' teams have posted losing records exactly three times. Let me repeat – three.
From 1990 through 1998, the San Francisco 49ers had nine straight 10-win seasons, made the playoffs eight times and won one Super Bowl.


From 1995 through 2007, the Green Bay Packers had nine 10-win seasons, 11 seasons with eight wins or more, and went 1-1 in the Super Bowl.


From 1999 to 2001, the St. Louis Rams had three 10-win seasons and went 1-1 in the Super Bowl. Then, if you include Kurt Warner's three seasons in Arizona, the Cardinals won at least eight games all three times and went 0-1 in the Super Bowl.


From 2004 to '10, the Indianapolis Colts had seven straight 10-win seasons and playoff appearances, and went 1-1 in the Super Bowl.


In 2007, and then from 2009 to '12, the New England Patriots had five 10-win seasons, five playoff appearances, and have gone 2-3 in the Super Bowl (Brady missed all of 2008 with injury).


In 2011-12, the Packers have gone 26-6 in the regular season and have two playoff appearances.
Now, Gannon and McNair won their MVPs at the tail end of their careers with their respective teams, and two of those three losing seasons came under their watch (the Favre-led 2005 Packers were the other).
So let's extrapolate. Let's say that, "well, if they're good enough to win MVP one year, then they've been good enough to win it their entire careers." That's a fair point to make.
In that case, we'll count every year that these players were the primary quarterback (which may or may not be their rookie year):
Montana and Young: From 1980 to '98, the 49ers had one losing season, the strike-shortened 1982 season.


Favre and Rodgers: From 1995 to 2007, the Packers had one losing season (2005). From 2008 to '12, the Packers have had one losing season (2008, Rodgers' first full year at starter).


Warner: From 1999 to 2001, the Rams had zero losing seasons, and from 2008 to '10 the Cardinals had zero losing seasons.


McNair: From 1997 to 2003 and in 2005, the Tennessee Titans had two losing seasons (2001, 2005).


Manning: From 1998 to 2010, the Colts had two losing seasons (1998, Manning's rookie year, and 2001). Denver won 13 games last year.


Brady: From 2001 to '07 and 2009 to '12, the Patriots have had zero losing seasons.


Gannon: As the primary quarterback in Minnesota (1990-92) and Kansas City (1998) his teams had two losing seasons out of four. From 1999 to 2003 in Oakland, the Raiders had one losing season (2003).
So, since 1980, if you had an "MVP-caliber" quarterback that eventually took home that hardware at some point in their careeer, your team has had a losing season 10 times.
In a game that literally changes week-to-week with injury and year-to-year with its rules, this is an incredible level of consistent, high level winning.
And this doesn't include having a Hall-of-Fame quarterback, like Troy Aikman, John Elway and Jim Kelly or likely Hall of Famers like Eli Manning and Ben Roethlesberger, quarterbacks who have played in a combined 15 Super Bowls. None of those players have ever won a regular season MVP award.
Since the invention of the forward pass, football has become a quarterback's game. You may not reach, or win, the Super Bowl they are under center – but one thing is nearly certain – your team won't lose more games than it will win.
Facebook Comments
Disclaimer: Please note that Facebook comments are posted through Facebook and cannot be approved, edited or declined by OnMilwaukee.com. The opinions expressed in Facebook comments do not necessarily reflect those of OnMilwaukee.com or its staff.