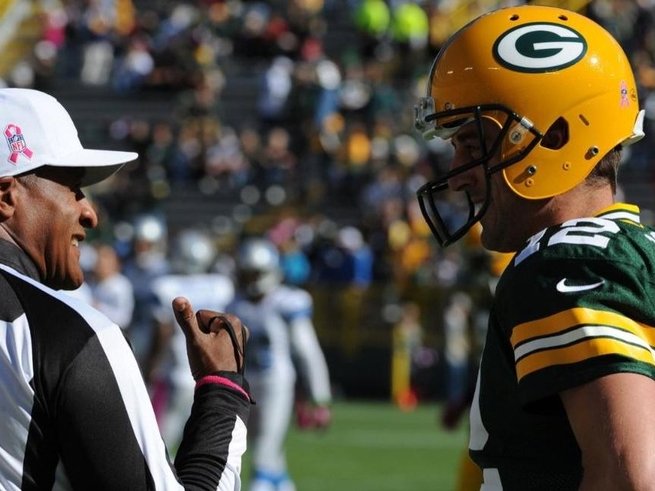 Rodgers has earned his spot at the top
You sit at home on a Sunday and watch Aaron Rodgers go about his business and I can't help but wonder just how good this guy is.
Everybody knows all about the numbers. We know how accurate he is. We know he almost never throws interceptions. We know he's mobile and can get outside the pocket.
He is the highest paid player in the NFL, making $22 million a year.
But is he the best in the league?
Let's take a look at some of Rodgers strengths and weaknesses as they compare to the other top signal callers in the NFL.
The single most important quality that a great quarterback has to have is intelligence. I don't care what his GPA was in college. I'm talking about football smart. Anyone who saw Houston's Matt Schaub throw that stupid interception late in the game against Seattle knows what I mean. Those kinds of mental errors will kill you. Brett Favre made some of those mistakes. Rodgers never does.
Rodgers ranks right near the top in quarterback smarts, along with Tom Brady, Drew Brees and Peyton Manning. You almost never see him throw into an impossible situation and he never seems confused or unsure when making decisions.
A quarterback also needs a strong arm to be able to make all the throws. Early in his career there was some question whether he could get enough juice on the ball to throw the long out pass. Part of the problem was that Packer nation had grown used to Favre, who could throw a football through a stack of phone books at 60 yards.
Joe Flacco of the Baltimore Ravens is generally believed to have the strongest arm in the league but I truly think Rodgers can match him in arm strength and has a better ability to throw off balance.
Another vital quarterback quality is leadership. I don't know Rodgers but looking at him on the field he appears to be comfortable with being the guy in charge. A reporter I know who has covered the Packers for decades says Rodgers is a great locker room guy who always takes responsibility for his own problems.
All you have to do is watch Jay Cutler of the Bears who is forever pointing fingers at players who drop passes, run wrong routes or miss blocks. Leadership that is not.
The final thing that I think is important to be a great quarterback is to have a sense of joy. You've got to show that you love playing this game.
People talk about how different Rodgers is from Favre but in this area but to me they seem they're very much alike.
Favre was like a kid in a candy shop on Sunday. The way he'd run the length of the field to jump on a receiver who just scored a touchdown is part of his legend.
Rodgers may not be as ebullient as Favre, but it's pretty clear he loves being out there. His smile and the constant interchange with opposing players show a man who is having a good time.
You can make a case for Brees or Brady or Manning, but I think Rodgers has grown into the best the NFL has to offer.
Talkbacks
Photodavie | Oct. 8, 2013 at 7:52 a.m. (report)
Rodgers is a top-teir QB. But Manning looks light-years better than Rodgers this year. Perhaps it's a case of a team just working well together, but the Broncos look invincible. A bit like the Pack when they went 15-1. Manning's QB rating is nearly 30pts higher than Rodgers. Rodgers QB rating is at it's lowest in 4 years. Glad we have a running game, but lets not forget to get the passing game going too.
Facebook Comments
Disclaimer: Please note that Facebook comments are posted through Facebook and cannot be approved, edited or declined by OnMilwaukee.com. The opinions expressed in Facebook comments do not necessarily reflect those of OnMilwaukee.com or its staff.