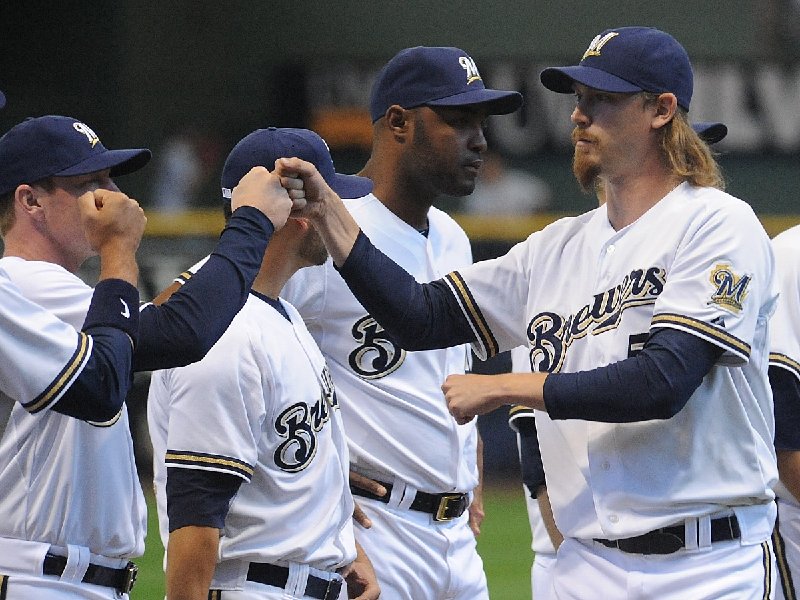 Brewers well represented in World Baseball Classic
The 2013 baseball season begins in earnest this weekend with the start of the World Baseball Classic, the global, quadrennial competition that pits international teams full of major and minor league players against one another for 18 days.
The Milwaukee Brewers are well represented in the tournament of nations, sending 13 players – including six key players – to the competition representing seven countries.
"It's actually kind of impressive to see so many guys on those rosters," said Brewers starter Marco Estrada, who will be playing for Mexico. "It shows you a little something I guess."
The big names participating are 2011 National League Most Valuable Player Ryan Braun and catcher Jonathan Lucroy for Team USA, ace Yovani Gallardo and Estrada for Team Mexico and relievers John Axford and Jim Henderson for Team Canada.
When the tournament was first introduced in 2006, there were plenty of questions about whether or not major leaguers would want to participate – or if their respective teams would allow them to - due in large part to the fear of injury.
While many big name players have opted to skip the tournament – Brewers Norchika Aoki (Japan), Nick Bucci (Canada) and Carlos Gomez (Dominican Republic) all opted out for various reasons this year – many have looked forward to participating since the event was created.
"I really wanted to do it, to participate in it," Gallardo said. "I wanted to do it the one before but unfortunately I missed five months out of the season with my ACL and it kept me away from that. I liked to have that experience for once, to experience it once at least and then we'll see."
"I'm definitely looking forward to playing for Team Canada," added Axford. "It's been 10 years. I keep telling people the last time I did it was 2003 (training with the Canadian National Team) when I was a sophomore going into my summer ball. I'm really looking forward to do it."
For Braun and Lucroy, two players who missed time last season with injuries, the chance to represent the United States was an opportunity they couldn't pass up.
"First and foremost, it's an honor," Braun said. "It's a tremendous honor to have an opportunity to represent your country. You don't know how many opportunities you'll get to do that. This tournament happens only once every four years and four years from now who knows, for all of us, what our health situation will be, where we'll be in the game, whether we'll even get an opportunity to be invited. For me, I think it was a no-brainer. I'm really excited about it. For me, as long as I was healthy, it was something I was definitely going to do."
"It's going to be a great feeling," echoed Lucroy. "You're not playing for yourself or a team, you're playing for your country and I think it's pretty exciting."
The competition begins on Saturday with pool play, though many of the major leaguers from the Brewers won't get going until March 7.
The Brewers organization didn't mind so many players jumping at the chance to play, in large part because they will be in Arizona and can be monitored by the team's staff. The brain trust also didn't feel any of the players were at any greater risk for injury, either.
"I don't have a problem with it," general manager Doug Melvin said. "I don't encourage guys, I don't discourage them. It's up to the individual, the player. I leave it up to them to decide. But I think they're playing in good competition. We do have them in spring training 10 days prior to them going to their teams, so I think it's a question for the players individually. They didn't have to go. We're OK with it. I think it's an honor as far as an organization goes."
Owner Mark Attanasio feels the same way, and hopes there is an added benefit to the Brewers once the group returns to the team in late March.
"I'm excited also that we have 13 guys playing," Attanasio said. "Am I nervous? Yeah. But as Doug pointed Corey (Hart) got injured just working out. I don't think there's any extra risk. Guys play in spring training games. Jon Lucroy, Maldonado can catch a foul tip in a spring training game same as they can in the World Baseball Classic.
"I actually think it's going to get the guys more … I'm hoping we have a faster start this year. We've had a little trouble coming out of the gates in other years with slower starts. I'm hoping with all the guys playing at a higher level it'll be a faster start this year."
Facebook Comments
Disclaimer: Please note that Facebook comments are posted through Facebook and cannot be approved, edited or declined by OnMilwaukee.com. The opinions expressed in Facebook comments do not necessarily reflect those of OnMilwaukee.com or its staff.