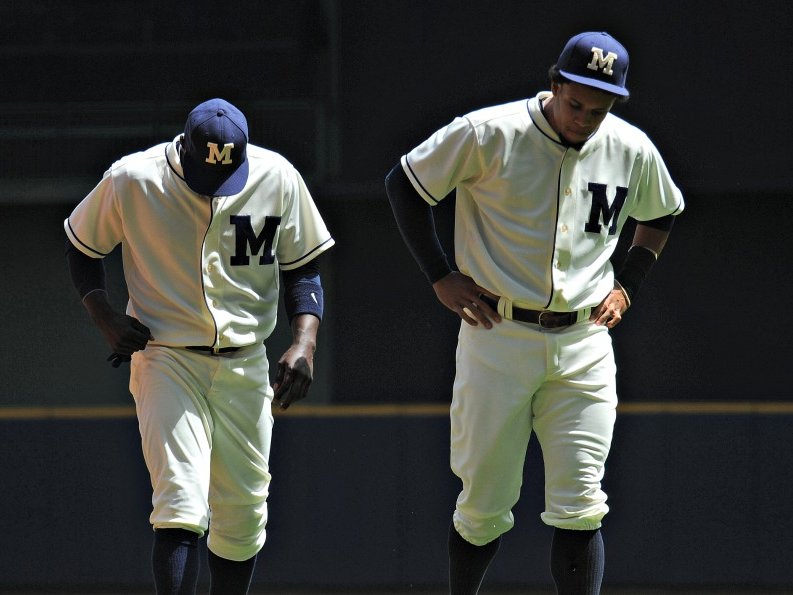 The Tao of Gomez
First, the grass. Watch how the ball rolls, feel how the spikes sink between the blades. It's different in early August than it was in late May. What's the cut?
Then, the wall and the track. How many paces from the grass to the pads, or brick? Any asymmetrical crevices or corners? How does the ball react off it?
Ah, the ball. It always comes back to the ball. But it's good only off that hard maple, or white ash, thrown, not tossed. A ball put in the air off a fungo is worthless.
Run hard, always, to the ball. Set the feet. Place the right hand, always ready for the transfer. Always. Every time.
This is the Tao of Gomez, the principles of defense Milwaukee Brewers centerfielder Carlos Gomez employs daily. It's how he makes the spectacular look inevitable. It's why he may win a Gold Glove.
And it only takes 10 minutes.
"It's not like work," he said with a shrug.
Ten minutes, or half of a batting practice group, is all it takes for him to scout an outfield – and he does it every road game. The wall and track won't change from the first to last game of a series, but the grass might. Was it cut? How was it cut? Did it rain?
"I always have to, no matter where," he said. "Even in Cincinnati where we go four, five times a year. Every time I go there I check the grass, how fast, how slow. Sometimes they cut it different. The grass that week might be more fast, or more slow. I check it. I know the fence, but the grass …"
Then, he positions himself straight away. Then he moves left, then right.
"I see every position," he continued. "Any location, you always have to take a little outfield."
But it has to be in batting practice.
"Anybody can catch a fly ball off a fungo because you know where the ball is going to be," Gomez explained. "I try to get a few rounds like normal defense. Whatever they hit, I'll move that way, so I can get a jump in and stuff like that. I'll have a better jump with every pitch and every location is where I'm supposed to be."
It's not work to Gomez, but it works.
Take his improbable catch on June 18 in Houston.
"That day I got lucky," he said. "I had three fly balls exactly the same that they hit and I caught it. I dropped two, but I caught one. That game, I had that one in my head and I caught it. It's just like that."
Just like that.
"It was kind of tailing back and it was over his head and he was going full speed up the hill – when does that ever happen in this game?," Brewers outfielder Logan Schafer said. "It's something that might happen two times in his career, and that might have been one of them. That's the no fear aspect of him and that's how he makes plays. That's, you know what, I'm catching this ball. I don't care what wall, what's in front of me, I'm catching this ball. If you have any sort of tentativeness or any hesitation, you're not catching that. He just goes all out and makes that play."
Gomez's work on knowing the walls and how deep, or shallow, the warning tracks are also contributes to his ability to make the great catch. He also makes the conscious effort to bust it to the spot he feels the ball will land – which sets up the last part of defense – the throw in.
"I think that makes you in a better position and more comfortable and more athletic position so you can decide what you're going to do," he said. "You can notice every time I catch a fly ball, I catch the fly ball the same position like I'm going to throw. Sometimes you catch the fly ball nice and easy and when you catch the fly ball and you have to throw, then you're going to rush and then you've got a bad throw. I always have my feet moving like I'm going to throw no matter what. A normal fly ball, first out, I know how to throw. I'm always ready like I'm going to throw. I practice it over and over and over so when I have to do it, it comes natural so I don't have to rush.
"I learned because before I knew I had a good arm so I tried to throw everybody out. And now, if I have a chance and I know who's running and if you're going to have minimal chance, I throw but I make sure I throw the ball really low so they can cut it or let it go and the runner's not going to advance. But, before, I just let it go."
Bill Schroeder, the Brewers television color analyst, agreed.
"The plays that he makes with his arm are just as impressive as the catches he makes," he said. "Great arm, and I think he has a very accurate arm. Up until this year you could say he had a great arm but not accurate. That's not the case now. He's a complete player."
It's only 10 minutes, but it's the difference between hits and outs, wins and losses. It's also why he continues to surprise, and impress, even those who see him most.
"Some great plays start out as maybe you don't get the greatest jump or whatever and you have to make up for it and you make a great play," Schafer said. "But, with Gomez, he makes those plays that you see him get the jump and you're like 'there's no way' – and he gets there."
"He always seems to get to everything," echoed Schroeder. "It's hard for me to say which one of Gomez's great catches is the best. It's probably going to be the next one because you anticipate him making a better one."
Facebook Comments
Disclaimer: Please note that Facebook comments are posted through Facebook and cannot be approved, edited or declined by OnMilwaukee.com. The opinions expressed in Facebook comments do not necessarily reflect those of OnMilwaukee.com or its staff.