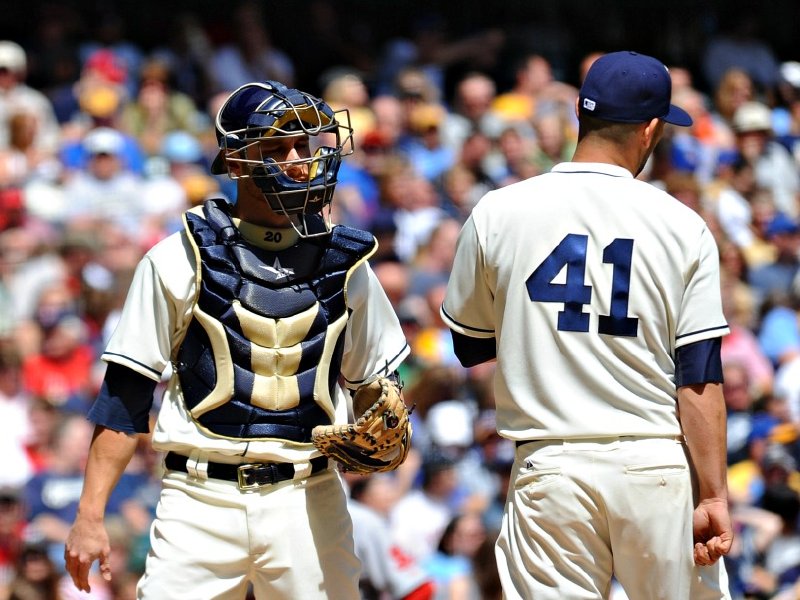 Lucroy always looking to improve
It seems like he's been wearing the number 20 with "Brewers" stitched across his chest forever, but 2013 was a different year for Jonathan Lucroy in one aspect – it was his first, true, "full" season in Milwaukee.
Called up in May of 2010 to replace an injured Gregg Zaun, Lucroy wasn't even on the 40-man roster at the time. He appeared in 75 games that year, three years after being a third round pick out of the University of Louisiana at Lafayette.
In 2011 he began the year on the disabled list with a broken right pinkie and missed 10 games. He returned and became a staple in the lineup, helping the Brewers to the National League Championship Series. For the year, Lucroy hit .265 with 12 homeruns and 59 RBI.
Lucroy seemed poised for an offensive breakthrough after hitting over .280 for the majority of that season, something general manager Doug Melvin anticipated when the club offered him a 5-year extension in May.
Lucroy proved the organization right, setting off on an All-Star pace at the plate in 2012, hitting .3345 with five homers and 30 RBI in just 43 games before breaking his hand in late May. He returned in late July and finished the year with a .320 average, 12 homers and 58 RBI in just 96 games.
"I guess you could say yeah, this is was my first legitimately full season," he said. "It's not really strange because I feel like I've been here forever."
He laughed a little, but it's true – he appeared in 147 games for the Brewers in 2013, or 32-percent of his career total (454).
As a result, he set career highs in plate appearances (580), runs (59), hits (146), doubles (25), triples (6), home runs (18), RBI (82), stolen bases (9), walks (46) and total bases (237).
"To me, I know I've always been a good hitter," he said. "I know what I'm capable of, realistically. My first couple years in the big leagues, I didn't think I was playing up to my ability at all. I never think I'm playing up to my ability. I never think I'm good enough."
He paused.
"I think it's just a matter of being realistic about yourself and what you're capable of and just working hard. It's all about working hard to me. If your talent's there and you're working hard, the results will take care of themselves."
It's why he was able to post those career highs despite a season opening slump in which he hit just .229 through May 30. That stretch did deflate the standards he set a year before in batting average, on base percentage, slugging percentage and OPS, however.
His Wins Above Replacement (WAR) also dipped from 3.6 to 2.9.
"I think there's a lot of things I can still work on," he said. "I missed out on a lot of opportunities to drive in more runs. Am I happy with my season? No. Is it good, if you step back and look at it when the year's over with? Yeah, it's OK. Is it good enough for me? No."
Because he was one of the few Brewers who remained healthy for the entire season, Lucroy was shuffled around offensively and defensively. He appeared in 123 games as a catcher and in 10 more at first base. He batted in seven different spot in the lineup, including logging 232 plate appearances in the No. 3 spot, 141 appearances in the cleanup spot and 169 appearances in the fifth spot.
"Coming up - it wasn't always at the big league level – but I've been a three or four hole hitter my whole life, whether it's little league all the way up through college all the way up to minor league ball up to now," he said. "If we're healthy, I'm a six-hole hitter, and here I am in the three-hole now. Is it a good thing? Absolutely. It gives me time to hit in that situation. When (Ryan) Brauny comes back and Corey (Hart) comes back and Rickie (Weeks) comes back I'll move down in the lineup again, understandably, and that just makes me better. I'm definitely happy for it. I enjoyed it."
Less enjoyable was the time spent at first base, a position he was pressed into late in the season due to the rising number of injuries across the clubhouse.
"At first it was stressful a little bit, but then I got used to it," he said. "I understood because they wanted me in the lineup and I needed to be in the lineup. People were hurt, people were gone, so I needed to be in the lineup.
"I just see it as I needed to help out. I still think I'm really a catcher and I think a lot of my value is in my receiving and I take a lot of pride in that. I can't do that if I'm playing first. My receiving and my experience calling a game, I really believe is what I'm most valuable at. Hitting is after that. I'm not considering any position change, but I'll help out if need be."
As the Brewers try to rebound from the organization's worst season, record-wise, in nearly a decade, Lucroy will be looking to improve on a season that was, in many ways, his best ever.
"I always feel I can do better," he said. "If you step back and look at it, it's a pretty good year but for me it's not. I feel I can do better. If I step back and believe that it was good enough then I'll never get better."
Facebook Comments
Disclaimer: Please note that Facebook comments are posted through Facebook and cannot be approved, edited or declined by OnMilwaukee.com. The opinions expressed in Facebook comments do not necessarily reflect those of OnMilwaukee.com or its staff.