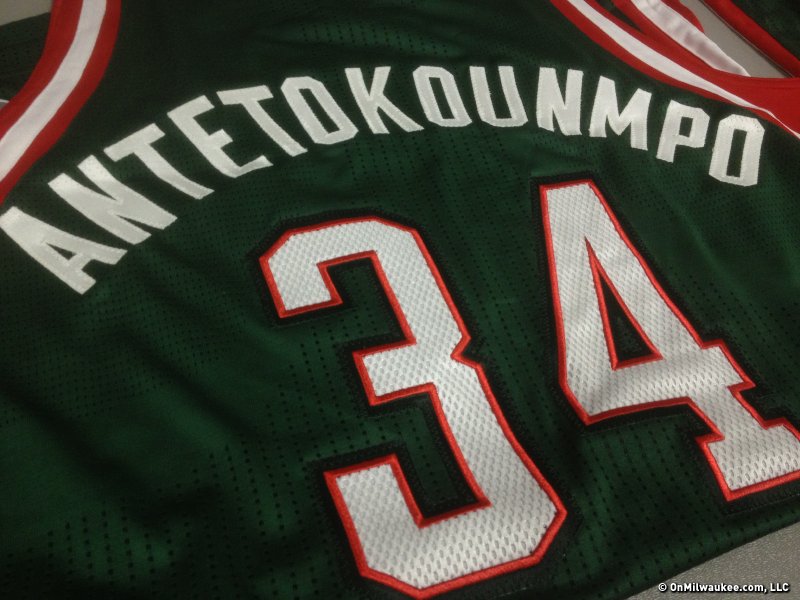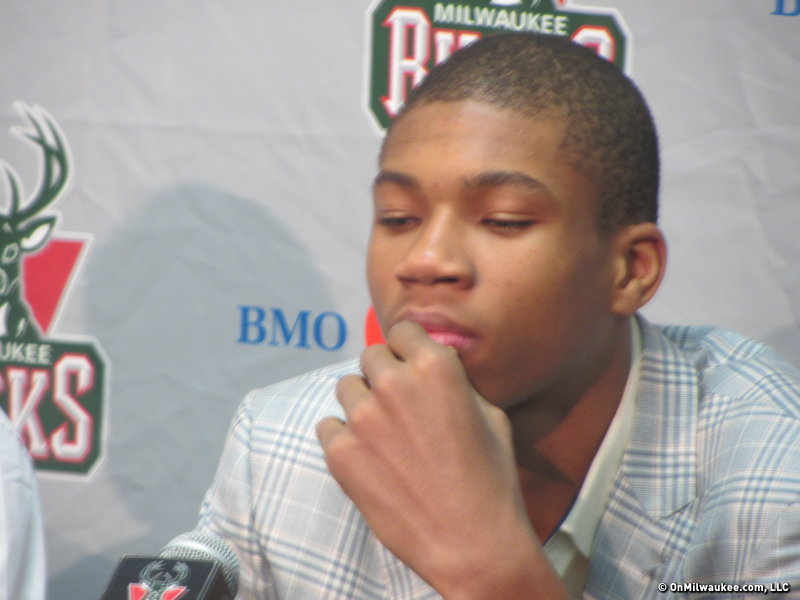 Antetokounmpo has room to grow
A year ago, when University of North Carolina forward John Henson fell to the Milwaukee Bucks in the middle of the first round of the NBA Draft and veteran Samuel Dalembert was also acquired via trade, the team suddenly had a plethora of big men – so many it was impossible to play them all. It was a well-chronicled storyline leading into, and at the start, of the 2012-13 season.
Later, with the trade-deadline acquisition of guard J.J. Redick that brought along Gustavo Ayon, the Bucks finished the season with seven "bigs" all standing 6-feet, 10-inches or taller.
In the 2013 NBA Draft, the Bucks acquired yet another player that will be listed at 6-10 in 18-year-old Giannis Antetokounmpo. Maybe.
After all, he was just 6-6 a year ago.
"Yes, I still have room to grow," Antetokounmpo admitted.
Doctors have said there is a chance he'll sprout a few more inches – a good enough chance that he can't really begin on bulking up his slight frame.
"I'll still wait a little bit to see (if I grow)," he said. "And when we see I'll go in the gym, put (on) some weight, and get ready."
It's an interesting situation for new Bucks coach Larry Drew, or likened Antetokounmpo to a "point forward" with his ball-handling ability. He already plays at 6-10 – easily taller than any table-setter in the league – and could grow even more this summer.
"The more he grows, that's a huge plus," Drew said. "This kid is very skilled. I don't think that will affect his skill level. I think it enhances his game even more. He handles the ball. He passes the ball very well. He's got to get stronger, we all know that. Hopefully we'll get him down into the post where he'll really develop a real solid post game.
Drew continued: "If he adds another two inches to where he is now, it's going to enhance his game even that much more. He's a willing passer. If he has a size advantage of somebody, he'll have the ability to pass the ball out and make plays from it. Whether he grows or not, we'll continue to develop him."
Antetokounmpo admitted that growing so quickly has impacted his development to this point. How could it not? If one year you're 6-2 and within the next two you're 6-10, that's a big adjustment in both balance and technique.
"It's very difficult," he said. "You lose your explosiveness. You lose that. It's very difficult because your bones grow and your muscles stay little. But, I lived through that. I've grown. I think it's better that I grow because I'm a point guard – 6-10 – maybe point forward as the coach says, and I think it's better."
That said, he doesn't really want to be a 7-footer.
"I don't want (that) because I'll be too tall," he said after a brief pause. "Maybe I'll go to play center."
Though he will not participate in the Bucks summer league because of his previous commitment to the Greek national team, Antetokounmpo will be focused on growing his game.
"I think I've got to work everything," he said. "If you want to be on the top, you've got to work everything, you know? I've got to work on shooting, passing the ball, dribbling, everything. I've got to learn more about basketball, more tactics. Everything."
Facebook Comments
Disclaimer: Please note that Facebook comments are posted through Facebook and cannot be approved, edited or declined by OnMilwaukee.com. The opinions expressed in Facebook comments do not necessarily reflect those of OnMilwaukee.com or its staff.