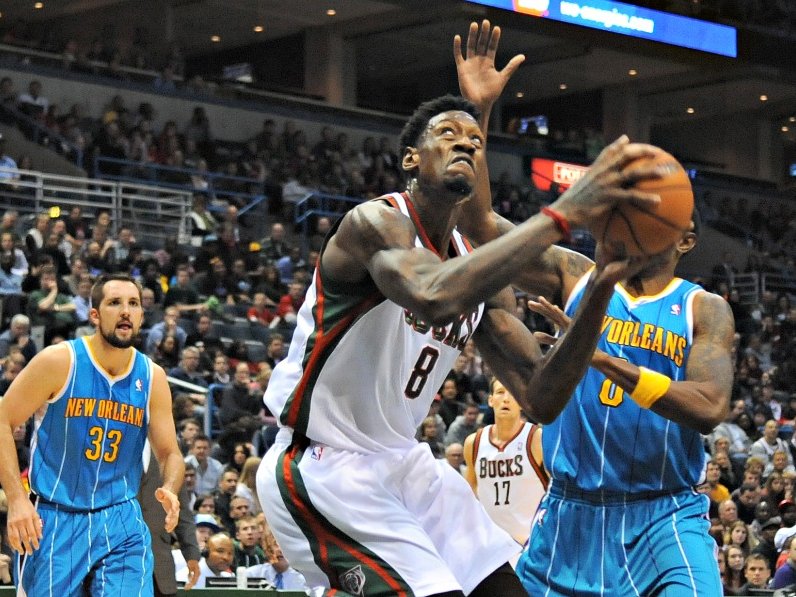 Sanders looks to fill leadership role
A year ago, as the summer ended and the NBA season inched closer, much discussion was had about the Milwaukee Bucks and general manager John Hammond coming to terms with a potential franchise-type player before the Halloween deadline for his draft class.
Others playing similar positions were on the verge of deals – maximum or otherwise – and there was great debate in, and out, of the organization as to whether it would be prudent for the team to invest four years and upwards of $12 million per year in that player.
A year later, there is little debate, and little noise. Larry Sanders and the Bucks have finalized what has been reported as a four-year, $44 million extension that could include bonuses that bump it to $48 million.
"It's awesome that they feel that way about me and they have that much trust and faith in me as a leader, as a man, as a person, as a basketball player," Sanders said before the deal was reported. "I don't want to let them down. It's definitely something I'm ready for thanks to their help. We've all been working toward this process together and now it's time to keep building, definitely."
The 24-year-old center ended the 2012-13 playoff campaign as the new face of the franchise, the player fans could attach themselves to and a talent that finally tapped into his potential.
Sanders still battled with his emotions last year, but held them in check more often. His stature around the league began to improve, as he finished third in the league's Most Improved Player voting and seventh in the league's Defensive Player of the Year voting.
Over the summer, he was one of 27 players invited to the Team USA mini-camp in Las Vegas.
Unfortunately for Sanders, a tweaked ankle kept him from playing in the team's scrimmage.
"Something I had been looking forward to since they told me (I was invited)," he said. "The whole summer, preparing for it, but unfortunately I got hurt, go down and can't play. It won't be my last chance. (Coach Mike Krzyzewski) had only really positive things to say. He liked the way I think about the game."
He also made a concerted effort to improve his leadership, both in words and in action. He was often seen sitting on the bench to watch the Bucks' summer league team in Las Vegas and also frequented the Cousins Center for individual workouts or group sessions with new draft picks or recently signed new teammates. He also wanted to make sure to work out individually with different players from around the league to see how his game stacked up and what else he needed to improve on.
It was something he picked up on during his time with Team USA.
"They talked a lot about unity, which was great," Sanders said. "How everyone kind of, not really putting their egos aside, but joining egos for the USA ego. Putting individual accolades aside to kind of just contribute to winning, how they all had the same goal in mind. The USA team just won gold and the mindset going forward, that's something we can definitely bring to the Bucks, just everyone pointing in the same direction and everyone contributing to winning the game and how much of a better team I think we could be if everyone had the same mindset.
"I would say I made strides in that direction last year and I want to keep making strides in that direction. I'm not the ultimate leader, but that's my goal. I'm going to keep working toward that and trying to learn as much as I can, stay in these young guy's ears, constantly. I remember being in that position like it was yesterday. I can definitely relate to them and get everybody on the same page."
Facebook Comments
Disclaimer: Please note that Facebook comments are posted through Facebook and cannot be approved, edited or declined by OnMilwaukee.com. The opinions expressed in Facebook comments do not necessarily reflect those of OnMilwaukee.com or its staff.