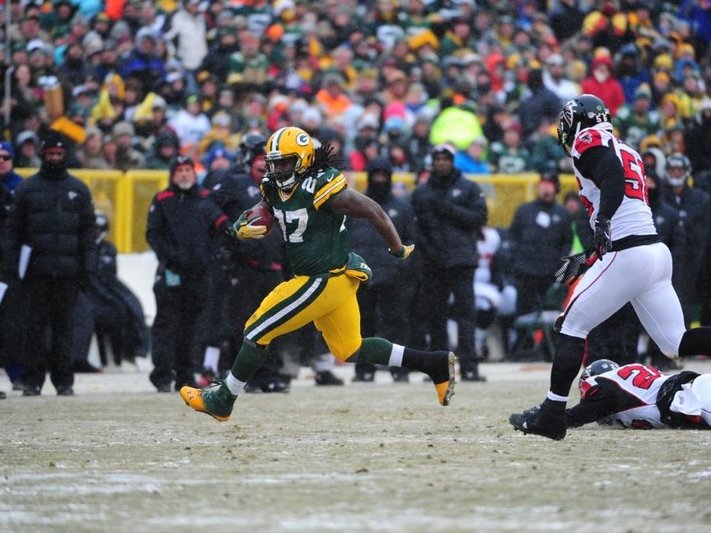 Lacy's lessons have helped Packers
GREEN BAY – It seems like eons ago, Sept. 8.
Especially for Eddie Lacy, who fumbled with 11 minutes, 24 seconds left in the first half against the San Francisco 49ers when he tried to fight through several would-be tacklers. The ball was recovered at the Green Bay Packers' 14-yard line, and two minutes later the Packers trailed, 14-7.
He didn't appear again until 9:40 remained in the third quarter, and wound up putting together a solid debut of 72 yards of total offense and his first rushing touchdown.
Leading into the Packers' home opener that next week against Washington, he admitted he learned a lesson:
"You just gotta know when to go down," he said at the time. "I had the same mentality in college, you know, try to get the extra yards, try to get the extra yards, but you just have to know when to call it quits. You learn that. I learned that early. I'm thankful for that. But next time, in the same situation, just go down."
But days later, as Lacy broke into the open field against Washington, rather than go down he hurdled a defender and noted headhunter Brandon Meriweather took aim and knocked him out with a concussion on a helmet-to-helmet strike.
The trauma forced Lacy to the sidelines in week 3 against Cincinnati, but following the Packers bye in week 4, he hasn't missed a game, and he hasn't fumbled.
Perhaps more importantly, he learned to make a simple change with his running mechanics, but not his overall style.
"It's a mind thing – even though they're trying to come in and hit me I just want to send a message that I'm not going to go down, I'm going to try my best to stay up," he said after more tough running on Sunday against the Atlanta Falcons.
"All it takes is one mistake and that was my mistake (against San Francisco) and ever since then I've been alright with that. It's just covering the ball and protecting it, for the most part. Guys are going to come from different angles and just make sure the ball is as high and tight as possible."
But, he has had some other, physical, hiccups. He couldn't (somewhat surprisingly) score on two carries from inside the Minnesota Vikings' 10-yard-line in overtime in week 12 and then left the game immediately afterward following an asthma flare up in the cold weather, explaining why he literally looked out of breath as the game stretched deeper into overtime.
Then, against Atlanta, he severely turned his ankle two plays before halftime and was noticeably affected in the second half when he didn't touch the ball until the 6:21 mark of the third quarter and then rushed for 33 yards on nine second half carries (3.7 average).
"I just had to get it taped a little tight and just play through it," Lacy said. "For me, it was just a mindset and just trying to get comfortable. I knew I could go out there and play but I was going to be limited. I wasn't going to be able to push off as much as I wanted to."
He was held to 65 yards on 20 carries against the Falcons, but nearly every run was spectacular in the way he attacked the line of scrimmage, and defenders. There were no "easy" runs.
"He is good. I like Eddie Lacy," Falcons linebacker Sean Weatherspoon said. "He is definitely a big guy and he runs tough behind his pads."
The lesson learned way back on Sept. 8 has allowed Lacy to maintain his rugged style while not putting his team at risk of a turnover, even if his body is at risk on nearly every handoff.
If Sept. 8 seems like ages ago, what about May 6?
When he was drafted, I wondered if such a running back could "get healthy" once moving to the NFL.
I concluded my column with, "Just don't expect the world out of a kid who began showing the effects of this collision sport years ago."
Well, through his first 12 NFL games, he's proven that the world can be his.
Lacy has rushed for 887 yards (73.9 per game) and seven touchdowns, while catching 27 passes for an additional 206 yards for 1,093 yards of total offense. It's the most total touches, rushing yards and yards of total offense gained by a Packers running back since Ryan Grant in 2009.
He is no longer a rookie in a lot of ways. He's been benched, injured, played in cold weather and through pain, and has dealt with the ultimate respect in seeing eight to nine defenders lined up to stop him.
He's learned his lessons while staying true to what got him to the NFL, which has the Packers in position to make the playoffs despite going five weeks without a win in November.
September 8 may feel like an age ago, and perhaps it was since so much has changed for the Packers, going from 5-2 with Aaron Rodgers to 6-6-1 with your fourth option at quarterback.
But as Lacy and the Packers' season to date has proved, it's that anything truly can happen in an "NFL lifetime," or the three games and 17 days that remain in the regular season.
Facebook Comments
Disclaimer: Please note that Facebook comments are posted through Facebook and cannot be approved, edited or declined by OnMilwaukee.com. The opinions expressed in Facebook comments do not necessarily reflect those of OnMilwaukee.com or its staff.