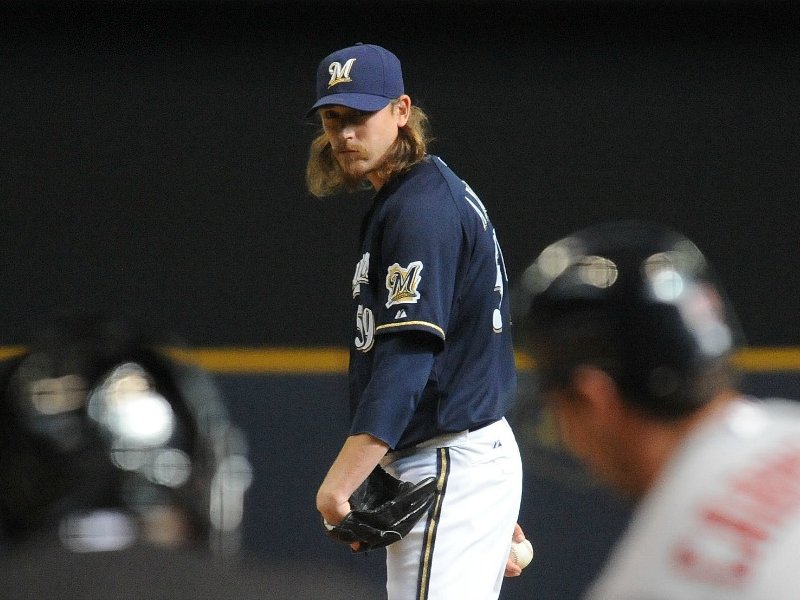 The game within the game: John Axford's mental gymnastics
On solitary runs, long exercises down streets and through neighborhoods designed to deaden the legs, stretch the lungs and exhaust key shoulder and arm muscles and ligaments, is when John Axford would go to work.
When the body is bankrupt, the mind needs to be tapped.
Simple things can prepare him for this. Like on a run, focusing on the approaching stop sign, zeroing in on the "O," visualizing not just the baseball going through it, but rehearsing the proper thought process to make that happen.
"That's kind of a mental step while I'm already physically exhausting myself," Axford said. "That's something that exists and will exist when I'm out there on the mound and because at one point you're going to have to mentally step yourself up and get your game up. So that's something small you can do when you're not really doing anything on the baseball field. You're doing something to prepare being out there."
Over three seasons and 141 games, that preparation served the 29-year-old Milwaukee Brewers reliever well. There were many self-taught lessons that were developed as he recovered from Tommy John surgery in college, was a draft-and-follow pick Cincinnati that didn't include the follow – just a "we don't want you."
There was the release by the New York Yankees after a year that saw him play for three Class A affiliates and one game in Class AAA.
The mental gymnastics began early for Axford.
"I took a different process and a different road than other people I guess have gone down," he said. "Not to try and make mine sound like it's better than anybody else's, it's just a different process than some people. You gotta fight and work just like anybody else that tries to play the game, but (when) you have certain obstacles in your way like I've had, I think I've just had more perseverance to drive a little bit extra and grab a little bit more."
While he had to prove he belonged at nearly every level, it created situations for Axford where he would find himself too "in the moment" on the mound, worrying about his mechanics, the execution of a pitch, or about the situation he was trying to get out of.
"Sometimes, for anybody, you can over-think things. I know I definitely have," he said. "It's what I always used to do when I was in college. When things were going well I never did at all and if I didn't know what I was doing all of a sudden it's a working process in my head trying to figure everything out. The same thing in the minor leagues the first couple years. Rather than just let my physical attributes take care of themselves I was worrying, mentally, more about what I was supposed to do in that particular moment and not the whole aspect."
Once Axford finally latched on with the Brewers organization, first as a starter at Class A Brevard County in 2008 and then as a closer-in-waiting to future Hall of Famer Trevor Hoffman in 2010, he had found putting in the mental work prior to an appearance that would make performing in pressurized situations easier to handle.
It also gave Axford an insight into how to comport yourself when things go awry. Following a 37-save season in 2009 with the Brewers, Hoffman blew five saves early in 2010 that led to a changing of the guard to Axford.
"As great as he was, even through those tough times in 2010, he was the same guy," Axford said. "You could go up and talk to him at any moment and he would always laugh and he would always tell jokes with you and he was the same guy. So just keeping that same mental approach and going about your business the same way is the best thing."
That is where Axford is now, going about his business in the same way while in the midst of one of the most frustrating seasons he's had as a professional.
In his 141st game as a major leaguer, he picked up his sixth save of the season and 49th straight overall – good for fourth all-time. After that, things began to unravel.
He blew his first save since early 2011 in an eventual 8-7 win over the Cubs on May 11. His next four appearances were in non-save situations, and then ended May by converting his next four save opportunities.
Then there were the back-to-back meltdowns in Kansas City in mid-June, followed by another in Toronto shortly thereafter. The breaking point came nearly a month later following his sixth blown save of the year against St. Louis. It was then that manager Ron Roenicke decided to remove him from the closer's spot.
Page 1 of 2 (view all on one page)
Next >>
Facebook Comments
Disclaimer: Please note that Facebook comments are posted through Facebook and cannot be approved, edited or declined by OnMilwaukee.com. The opinions expressed in Facebook comments do not necessarily reflect those of OnMilwaukee.com or its staff.