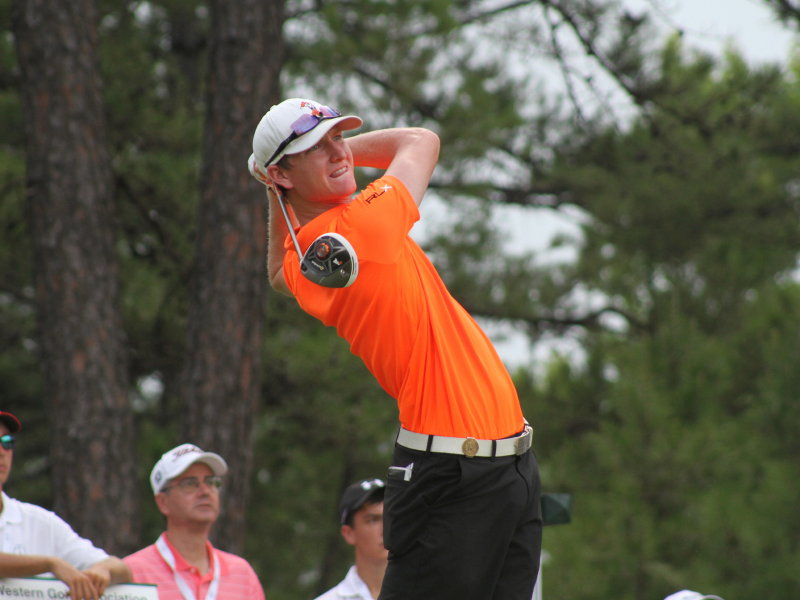 The Summer of Jordan: Mequon's Niebrugge dominating amateur golf
Three tournaments, three championships.
First, the U.S. Amateur Public Links at Laurel Hill Golf Club in Lorton, Va., on July 20. Next, the Wisconsin State Amateur at The Bog in Saukville on July 25. Then, the Western Amateur at The Alotian Club in Roland, Ark., on Aug. 5.
Over those 22 days, Mequon's Jordan Niebrugge traveled over 1,600 miles, played 10 rounds of stroke play and an additional 10 matches.
In the end, he was the one holding the trophies.
The Public Links and the Western are two of the three most prestigious amateur tournaments in the country and two of the four in the world. With the Public Links victory, he is likely to tee it up at Augusta National next spring in the 2014 Masters Tournament.
With the Western, he likely punched his ticket on to the United States Walker Cup squad in September. And the state Am? It gave him two of Wisconsin's "majors," since he won the Match Play title back in June, as well.
It's been quite the summer for the Mequon 20-year-old – and one that continues this week as he is competing in the U.S. Amateur in Massachusetts.
"Obviously you go into a tournament thinking you're going to win, but I mean, to win the three that I've won so far is just, aw, it's been so fun this month," he said. "I've just been playing really good golf and I've just been fortunate enough to get a couple breaks here and there and get the win."
Always talented – he did earn his way onto the fabled Oklahoma State University men's golf team after all – his game has jumped another level this summer thanks to practice sessions in the short game practice area at Karsten Creek Golf Club in Stillwater, Okla.
While the foundation for his success was laid early with daily rounds at Brown Deer Golf Course in Milwaukee and now at The Bull at Pinehurst Farms in Sheboygan Falls, it's the friendly competition between Cowboys – and the program's notable alumni – that have Niebrugge playing in a different atmosphere.
Now, he'll hit balls for 10 or 15 minutes before heading over to the short game area, which features three putting greens with different grasses, and three tee boxes to hit 40- to 80-yard shots.
"I rarely go hit balls. We have a lot of chipping contests. We spend all of our time back on the short game range," Niebrugge said. "We'll have a lot of games. Past Cowboys are coming back here and help all of us out a lot. It's awesome to have them there. To me, just being around them, just learning new stuff from them – that and just having fun.
"If you're not really having fun, you're not going to anything out of it I don't think. We've had a lot of fun, fun matches back there and I think it's helped a lot."
With his play this summer, and likely inclusion on the Walker Cup team, Niebrugge is quickly following in the footsteps of Oklahoma State golfing alumni such as Rickie Fowler, Charles Howell III, Hunter Mahan, Bob Tway and his son Kevin, Peter Uihlein, Bo Van Pelt, Scott Verplank and Casey Wittenberg.
The only difference is, Niebrugge insists he won't join them as a professional until he walks out of Stillwater with a degree.
"It's always been a dream of mine to make it on the PGA Tour, so I'm shooting for that, especially coming out of college," he said. "I'm going into college to get my degree in four years. My dad (Rod) is a big advocate of that. He's going to keep me in school. I understand. Like he says, a freak accident could always happen and if I never play golf again, he wants me to get the four year degree. I'm going to do that. You can always get better throughout the college season, especially with the coaches we have, the alumni we have. We have so many people to learn from. It's nothing bad to stay all four years."
He may be still furnishing his reputation in college, but he has cemented his place in amateur lore.
As a Public Links champion, Niebrugge joins the likes of Ryan Moore, Brandt Snedeker, Chez Reavie, D.J. Trahan, Trevor Immelman, Tim Clark and Billy Mayfair. Held since 1922 (with a break for World War II), the USGA decided to end the Public Links after 2014. While he may not be the last man to hoist that trophy – though there have been eight players to win the event at least twice – he is a part of golf history.
Don't believe it?
You can see some of his gear in the USGA Museum and Arnold Palmer Center for Golf History in Far Hills, N.J.
"It's an honor to win one of the USGA's championships," he said. "You're in the record books forever in the USGA. That's an honor to being there. I think I really realized it when one of the guys came up and asked me for my head cover – that was pretty much when it hit me. If you're getting anything, a towel or a head cover in the USGA museum, that's such an honor to be in there."
The Western Amateur format is arguably the toughest in all of golf – amateur or professional – with two cuts in stroke play and then a 16-man match play field. Past champions include Madison's Andy North and major champions like Tiger Woods, Phil Mickelson, Jack Nicklaus, Justin Leonard, Ben Crenshaw and Curtis Strange.
Niebrugge can truly enter rarefied air this week, as he is currently competing at the U.S. Amateur in Massachusetts. He shot an opening round 69 at the Charles River Country Club in Newton on Monday and heads less than four miles away to The Country Club in Brookline for his second round today. He's in great position to make the cut and advance to more match play, which begins with the round of 64 on Wednesday. The championship match will be held Sunday.
He is but a lock now for the 2013 Walker Cup team, which will represent the United States against the team of amateurs from Great Britain and Ireland Sept. 7-8 at the National Golf Links of America in South Hampton, N.J. Five players were named to the team on July 17 – before Niebrugge's run – and five spots remain open until the end of this week's tournament. U.S. captain Jim Holtgrieve spoke at a banquet Niebrugge attended and outlined the top tournaments he'd be watching. It was a schedule that coincided with Niebrugge's.
"I thought to myself, well, if I play well in all these tournaments, maybe I have a shot to get there," Neibrugge said. "I thought I had a good opportunity if I played well, maybe I could get there, maybe not. But I was looking forward to the summer and played a lot of really, really tough, really good events."
The fall season doesn't begin for Oklahoma State until the squad plays in the Fighting Illini Invitational at Olympia Fields Country Club in the south suburbs of Chicago Sept. 30 through Oct. 2, and Niebrugge says this past spring and summer have helped him re-evaluate his goal setting and always aim a bit higher than even he thinks is possible.
"I had pretty high goals, but not anything abnormal – if anything they were too low," he said of his freshman campaign in Stillwater. "I talked to my coaches after the fall season and winter break and they said maybe try to lift your goals a little higher, maybe that's setting you back a little bit.
"I took the advice my coaches gave me and I've been fortunate enough to play well and get a few wins. But, coming into next season for college, I'm going to have some of the same goals as I did last year but some are going to change. Obviously you just keep setting the goals higher and the sky's the limit."
Facebook Comments
Disclaimer: Please note that Facebook comments are posted through Facebook and cannot be approved, edited or declined by OnMilwaukee.com. The opinions expressed in Facebook comments do not necessarily reflect those of OnMilwaukee.com or its staff.