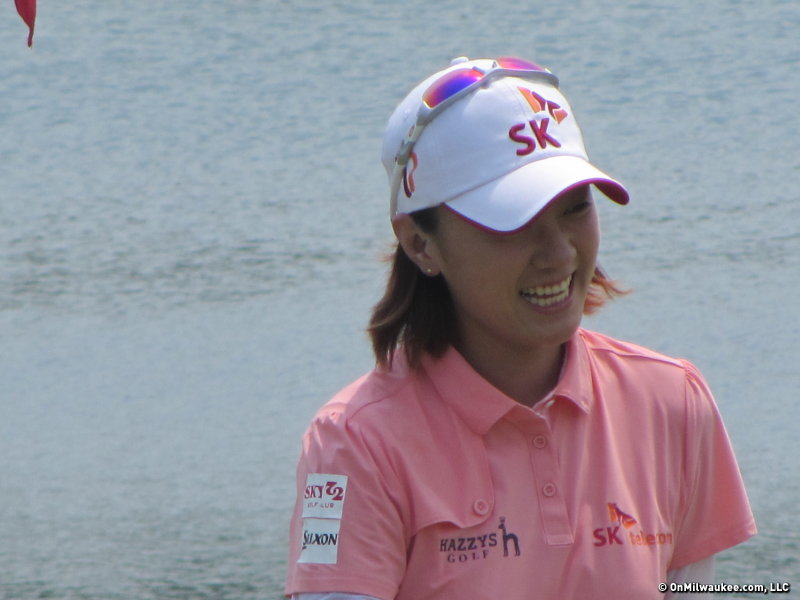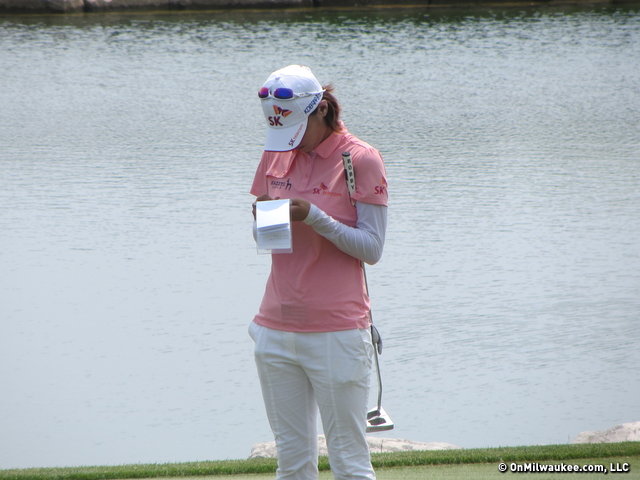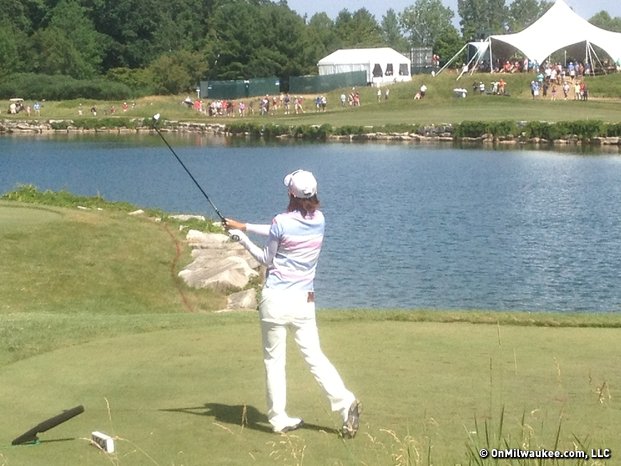 Na Yeon Choi wins U.S. Women's Open at Blackwolf Run
KOHLER – On a quiet June afternoon, Na Yeon Choi paced around the 18th green of Blackwolf Run, studying its contours. She dropped a ball, studied the line. No, that wasn't it.
She rolled it over a little.
Here? Not quite.
A slight bit of sadness fell across her face, and she finally putted out and began transferring tees and ball marks from pockets to golf bag. She had been looking for the exact line on which Se Ri Pak had holed her winning putt in the 1998 U.S. Women's Open.
Walking off Blackwolf Run however, she felt fulfilled and excited for the Open's return. The course had transported her back to South Korea, watching Pak's playoff victory on tape delay.
"I feel a little refreshed, because when I played this course today, I was thinking like I was nine years old, like where I'm watching this tournament, when I was young, how I started golf, or how I grew up," she told OnMilwaukee.com then. "All those memories through my head."
South Korean golfers have the fondest of memories of Blackwolf Run, its rolling layout, waiting hazards, and even its beastly greens. The peace – joy, even – Choi found playing it was unique to her.
Perhaps it's why the 24-year-old shot a 7-under-par 65 on a day when every other contender fell to pieces Saturday afternoon, the first day that Blackwolf Run showed this new generation of players how hard it really could play. Perhaps it's why Choi, a player who freely admits she likes to avoid pressurized situations, found herself in an odd sense of calm as she began Sunday on the precipice of duplicating her idol's championship.
"I hope to win this tournament," she said a month ago. "That was '98 – this is 14 years ago – if I (repeated) that scenario I would be really happy and honored but I don't want to try hard. That would be too much pressure on myself."
She admitted trying to duck the weight of being the world's top ranked South Korean to have not captured a major, and was thankful Pak and others blazed a trail so she wouldn't have to carry such a burden.
Knowing that, though, one could counter her five wins on the LPGA Tour with the fact she has lost in a playoff three times. She won the Vare Trophy for lowest scoring average in 2010 and won the money list the same year, but of her eight top 10 major finishes she was never truly a threat to win.
Did she perform best when the pressure was at its least? Would she be able to win a major with that mindset?
To borrow a name from the mainstream, she compared favorably with LeBron James.
Like James however, Choi's talent would be too great to forever be suppressed on the biggest stages.
Beginning Sunday with a six shot lead, Choi backed up her sparkling 65 on Saturday with a gritty 1-over 73, which included a triple bogey 8 on the par 5 10th that began with a lost tee shot. That brought playing partner and countrywoman Amy Yang back into the picture at only two shots back, but Choi rallied with a birdie at 11 and an incredible up-and-down from the fescue behind the 12th hole to save par.
She caught a break on the par 3, 13th when her tee shot hit the rocks along the water hazard and kicked the ball over the green. Choi saved par, and then birdied the 14th to stretch her lead back to four.
Despite the low of the tenth hole, the turbulence of the 12th and 13th, Choi kept her cool, walking the fairways with such placidity you were left wondering if she was as cold-blooded as her putter blade.
No, she's not reptilian, or scripted. She smiles often, and her eyes show all. The heart of a true competitor drums within – but it's just that around this golf course, this week, it beat steadily, peacefully.
"When I came to here on Monday, I just ... I think that feeling through my head or through my heart, something remind how I started playing golf," she said after winning the Open. "So I just reminded (of) what is my goal or what I can do. That special memories or special feeling makes me strong or think about basic things."
On a sunny July afternoon, Choi walked the contours of the 18th green of Blackwolf Run. She placed her ball, studied the line.
She rolled her par putt smoothly. In? Not quite.
Some sadness welled up as she tapped in to clinch her first major, knowing her parents could not be there for an embrace. Looking on however, armed with a bottle of champagne, was Se Ri Pak.
Choi's biological mother may not have been there, but Pak filled in admirably with a hug only the one called "Legend" could impart to another of her South Korean children.
"I'm really proud of you. You did a really good job," Pak told her. "You were really calm out there."
Driving away from The American Club, Choi leaves satisfied.
Out there in June, by herself, Blackwolf Run transported her back home, made her feel like the nine-year-old that began to dream about becoming a major champion. In July, surrounded by thousands, it recognized her as such.
"My dream was like I just want to be there," she said. "And 14 years later I'm here right now, and I made it. My dreams come true."
Facebook Comments
Disclaimer: Please note that Facebook comments are posted through Facebook and cannot be approved, edited or declined by OnMilwaukee.com. The opinions expressed in Facebook comments do not necessarily reflect those of OnMilwaukee.com or its staff.