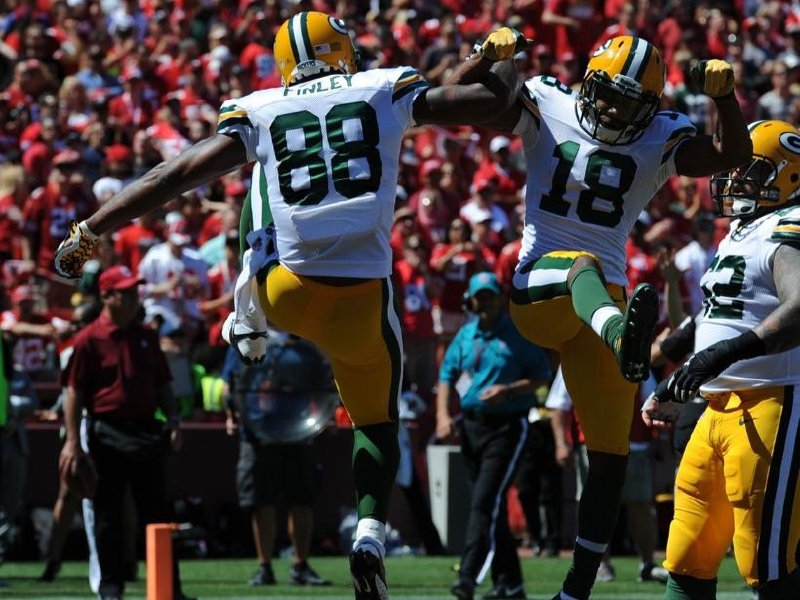 How fast can an NFL offense really go?
GREEN BAY – If the NFL can be summarized in one word, it's speed.
Teams are always looking for it out of their players – and now coaches and offensive coordinators are demanding even more of it out of their offensive systems.
The first week of the NFL season began in a blur last Thursday, with Peyton Manning leading the Denver Broncos to seven touchdowns against the Baltimore Ravens in a 49-27 victory, a show that saw the teams run 155 plays – nearly 30 more than the 2012 league average.
The week ended with a flash on Monday night as Philadelphia and new coach Chip Kelly ran 53 plays in the first half alone in a 33-27 victory over Washington.
The Eagles would run only 24 plays in the second half, but it was the pace of the first 30 minutes that seemed hectic, where quarterback Michael Vick ran a no-huddle and the ball was snapped with, on average, 17 seconds left on the play clock.
In between were the Green Bay Packers, 34-28 losers in San Francisco. The Packers ran 58 plays against the 49ers and held the ball for 21 minutes, 25 seconds.
The team scored four touchdowns, but also was forced into five, three-and-outs resulting in a punt. The game ended on a 3-play possession that resulted in a Rodgers sack.
What's interesting is that the Packers didn't really move all that slowly Sunday – and the Eagles didn't move that much more quickly.
What helped that perception were two Washington turnovers at its own 25 and 30-yard lines, resulting in two Eagles touchdowns that required just three plays and 42 seconds to do so.
Denver had possessions start at the Baltimore 24 and 10-yard lines that required just three plays and 45 seconds to score.
So let's compare the three scoring drives (one field goal, two touchdowns) of the Eagles and five of the Broncos that required a bit more effort to the Packers' four touchdown drives Rodgers directed against the 49ers:
| | | |
| --- | --- | --- |
| Broncos | Packers | Eagles |
| 9 plays, 51 yards (2:39) | 6 plays, 80 yards (1:47) | 6 plays, 80 yards (2:29) |
| 5 plays, 62 yards (2:07) | 8 plays, 62 yards (1:16) | 6 plays, 80 yards (2:30) |
| 9 plays, 44 yards (3:13) | 7 plays, 69 yards (2:48) | 9 plays, 63 yards (2:29) |
| 8 plays, 76 yards (2:30) | 5 plays, 56 yards (1:33) | |
| 3 plays, 80 yards (:59) | | |
The last touchdown for the Broncos was a big play, Demaryius Thomas' 78-yard catch and run on 3rd-and-8.
Other than that, there isn't much difference between the three teams when things were clicking.
So, is this where perception has become reality? Can NFL offenses really move that much faster?
"I don't see how. I really don't see how," Packers cornerback Davon House said with a shrug. "I guess with always going no huddle it's supposed to make the game 'faster' but it's still going to be 15 minutes a quarter, so I don't see how the game's going to be faster, really."
One of the few players in the Green Bay locker room who has seen the game evolve is defensive lineman Ryan Pickett, who broke into the league in 2001 with the St. Louis Rams and Dick Vermeil and Mike Martz's "Greatest Show on Turf" offense run by Kurt Warner.
"I'm going to tell you – I've been playing all (13 years) the same," he said with a laugh. "I can't tell. Some teams are like yeah, we snap the ball in 10 seconds. I mean that's all good for them, but you can't tell on defense. When you're tired, you're tired. It doesn't matter if they're breaking the huddle in one second, it doesn't matter."
Since the invention of the forward pass, the league and its coaches have been trying to avoid speed traps on offense. The Packers are no different.
"At the end of the day, your job is to put the ball in the end zone – I don't play keep-away," Packers head coach Mike McCarthy said. "There are two schools of thought when you're playing football. Some guys like to shorten games, play great defense, play field position, and try not to lose it. I want to play as fast as we can, throw as many punches I possibly can and beat you as bad as we can. That's the way that we play."
But perhaps the verbiage needs to change. Everyone in the NFL is fast, from the heaviest of linemen to the most toned of wide receivers.
"It's meaning fast and efficient," B.J. Raji clarified.
Pickett nodded.
"You've got certain offenses that push the tempo; they play fast, but I don't know how fast you can play," he added. "It's a tough league. If you play too fast you'll have your defense out there a lot. So it's a fine balance. If you're playing fast you better be moving the chains because if not, you're going to be in trouble. That's exactly how the defensive players look at it. You can move fast and stuff like that, but when we stop you you're defense is going to be on the field for a long time."
Several members of the Packers defense said they began working on that rapid fire approach – like what the Eagles and Chip Kelly are doing – early in camp and have been pushed to their physical limits. While there are some built in disadvantages to a defense – the call has to relayed to the field and then broadcast to the rest of the defense before the snap – the Packers have built in emergency signals to make sure they can react properly.
As some defenders wondered exactly how quickly an offense can really move, the members of the Packers offense were in lockstep with their offensive minded head coach about playing "fast" – but when pressed admitted it's not the correct adjective.
"We've evolved our no-huddle game just in the past couple years a lot," guard Josh Sitton said. "It's gotten faster and faster every year …"
He paused.
"I wouldn't say, time wise, it's two seconds faster or anything. But, the faster tempo we can get the better look Aaron can get and get us in the best play possible. That's the point of it."
Wide receiver Randall Cobb echoed that it's a tempo, a beat an offense tries to find on a drive, regardless of what the clock says. And even then, depending on each look, McCarthy and offensive coordinator Tom Clements will add layers and subtle variances to that arrangement.
"It's all about getting that tempo up – pace of play, play to play," Cobb said. "Every team has different concepts and different ways that they use (the no-huddle). We try to change. We get fast, change the protection, change the play or get us in a better situation."
In the end however, like any sort of freestyle arrangement, the beat is limited by the human element. In football, that human is often wearing black and white.
"Exactly," Pickett said with a smile. "They can only go as fast as that guy. And you're only going to have three or four shots to get a first down. So, good luck."
Sitton rolled his eyes at the mention of having to wait for referees to spot the ball while defensive back Jarrett Bush shared Pickett's affinity for their limitations.
"They sometimes stop because they're not ready," Bush said. "They've got to get to the side and get to their spot."
Aside from working on the refs in the preseason by pushing how quickly they got set – and having a member of the coaching staff work the officials on the topic prior to the game – the Packers offense tries to combat that by avoiding offensive substitutions.
If they need to change personnel, the referees will allow the defense the same courtesy, which is a large reason as to why receivers like Cobb, James Jones and Jordy Nelson can line up at any spot in the formation. It's also why it's important for rookie running back Eddie Lacy to master his third down assignments, so that offense never hiccups.
"That's why we ask a lot out of our guys," guard T.J. Lang said. "Running backs, we don't want to sub you out so we might split you out or tight ends we might have you in line or split out as well. We're asking a lot of those guys to make sure they're staying in and make sure we're keeping that defense on the field so we can play faster."
Playing "faster" may mean more total plays are run, but it doesn't mean the game is necessarily faster.
What that increased tempo (more plays) does is creates more opportunities for that one error in a sequence, resulting in a key first down or scoring play.
The defense looks for that one mistake, too – the running back who rotates to the incorrect side, resulting in a sack; the receiver who breaks his route while the quarterback throws over the middle, resulting in an interception.
The offense looks for that cornerback playing Cover 3 when the rest of the defense is in Cover 2.
"You know, 11 guys working together and one guy makes a mistake, it could be tragic," Bush admitted.
But with the more no-huddle on film, can such speed become easier to catch up with – like the major league hitter who, after seeing six 95 mile-an-hour fastballs, hits a home run on the seventh?
Cobb, on his way to a meeting when given that analogy, stopped, and grinned broadly.
"Not always."
Facebook Comments
Disclaimer: Please note that Facebook comments are posted through Facebook and cannot be approved, edited or declined by OnMilwaukee.com. The opinions expressed in Facebook comments do not necessarily reflect those of OnMilwaukee.com or its staff.