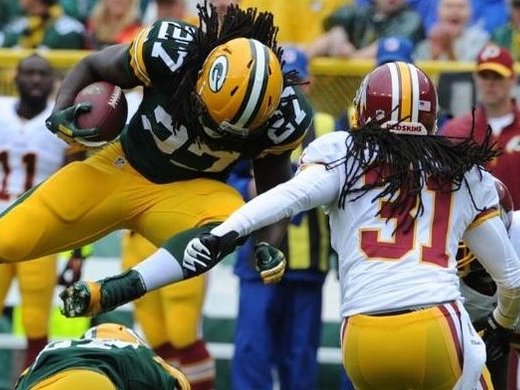 Packers must clear mental hurdles when returning from injury
GREEN BAY – "Keep Calm and Carry On."
Due to yet another wave of injuries, Green Bay Packers head coach Mike McCarthy said the team has adopted the famous motivational phrase used by the British government as it teetered on the brink of world war. Though hyperbolic, football is the only sport likened to combat, where the participants are known to suffer life-altering injuries on the field.
To win, a game or the Super Bowl, means a team won the game of attrition within those 60 minutes or 16-game regular season and playoffs.
There is a militaristic feel to the game, too. When one player is no longer able to fulfill his duty, his job requirement, the next man behind him is expected to do it just as well.
Keep calm and carry on, next man up.
In many instances however, the fallen player can return to place within the ranks of the football team. Once the injury is diagnosed, timetables are given for recovery and rehab, and then the watch begins for the return.
It's this part that often goes unnoticed, but for the players involved it's a chess game played between his mind and body.
Doctors say you are expected to return to the field at a certain time. The body may or may not agree with that timetable. The mind may agree with neither.
"You know your body the best," said defensive back Davon House, who recovered from a serious shoulder injury in 2012. "And even when you think you ready you really don't know until you go out there and do it. If my hamstring's hurting, I can go in and test it and run all by myself, but when you've got to change direction like this …
He snapped his fingers.
" … And go chase a receiver, that's when you know if you're really ready or not."
It's the final hurdle between the training table and the field.
"Mentally, it's the main thing, really," said veteran defensive back Tramon Williams. "If you can go out and feel comfortable mentally, then you can go out and do things."
Sitting at his locker, he looked down at his knee, which was injured in the preseason.
"When I hurt my knee in training camp, I was able to go out on the field and so some things in practice (but) you know you can kind of protect it a little bit at practice because it don't count," Williams admitted.
Linebacker Clay Matthews agreed.
"The final hurdle you have to overcome is mentally," he said after returning from a hamstring injury earlier in the year. "Are you comfortable with exerting one hundred percent effort or even more so?"
Often, the only way to clear the mental hurdle is to put the body through the ultimate test – game speed.
That's why it was so important that Williams see action in the otherwise meaningless preseason finale against Kansas City.
"You want to go out there and get your questions answered in the game and you're going to get them answered fast," he said. "Me, personally, when I went out in the last preseason game I wanted to land on my leg and see – OK, how would it feel? Fortunately I got a chance. I only played one play and I got a chance to land on my leg, on that one play, got up, felt good, and I was good. I felt confident about coming in the first game ready to go."
"I would say it really took a real game situation for me to tackle someone," added House. "I thudded up someone with my left side (in practice), but it took me a tackle tackle to really even feel more comfortable the situation. It's all great now though, so. It just took that one time."
Even with more serious injuries, like Eddie Lacy's concussion, it takes the knowledge gained from game contact to finally convince the rest of the mind that you're OK.
"It was a little shaky at first," Lacy admitted about coming back. "You get hit and you don't know if it's going to happen again, but after a while I got in a groove and put that behind me and just kept playing."
Keep Calm and Carry On indeed.
Facebook Comments
Disclaimer: Please note that Facebook comments are posted through Facebook and cannot be approved, edited or declined by OnMilwaukee.com. The opinions expressed in Facebook comments do not necessarily reflect those of OnMilwaukee.com or its staff.