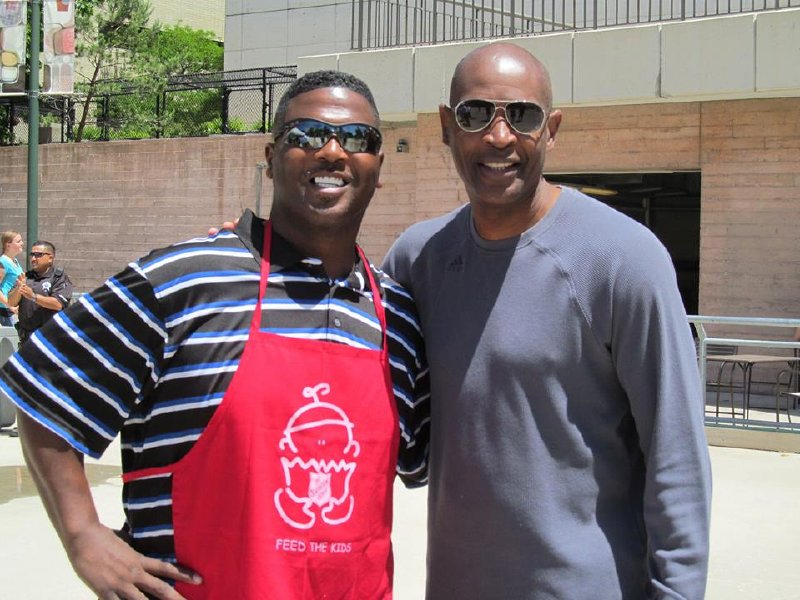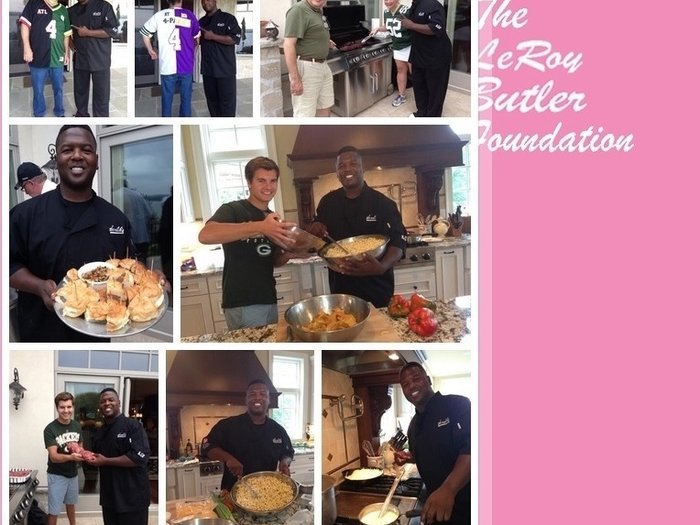 Butler cooks to put a lid on bullying
LeRoy Butler first connected with Green Bay Packers fans when he slipped on the green and gold back in 1990. He earned their hearts when he invented the "Lambeau Leap" and helped the Packers win the Super Bowl in 1996. Now, Butler has taken that relationship to another level by coming to the kitchens of fans and cooking for them during Packers games – and all for a great cause.
Fans can donate to Butler's foundation, which supports anti-bullying causes, and he will prepare an entire meal for a Packers viewing party. But book soon – there aren't many dates left.
OnMilwaukee.com caught up with Butler in Hales Corners prior to one of his regular appearances on WSSP 1250-AM's "The Big Show" talk show.
OnMilwaukee.com: How did you come up with this idea?
LeRoy Butler: I think people know me. I try to be as personable as possible. I actually get players in trouble because (fans) think they're like me and they're not. I said, if I was a company, a foundation, or just a rich guy or woman and I wanted to do something special, I could have a former Packer of my caliber come in my home and cook for my 25 friends, that would be something that's awesome.
No one is offering that. Most players don't want to mingle like that. You're basically trapped in somebody's house for three hours. But, me, my chef, and my two servers and we get the food from Sendik's. We've been doing it now for two or three years. Sometimes I'll lend it out to a foundation to help them raise money. So over and above our cost they keep that amount, and that could be a pretty big amount.
OMC: What's on the menu?
LB: I love to cook and it's not like we do brats and hamburgers. No, we don't do that. We do a real, meal. We do two huge beef tenderloins. We have salmon. We have handmade chicken cordon bleu. Then we do like a rice pilaf. And we do of course my world famous LeRoy Butler mac and cheese. The only thing we don't provide is drinks and dessert. Whoever is hosting it usually does that.
When we get there, it shocks people. That's why I put so many pictures on Twitter. People think we're catering food. They think a truck is going to come and I'm just going to sit there, drink up all the root beer. I have my chef coat on and I'm hand making stuff. They appreciate that. Now when the game starts, you just lose your mind that LeRoy Butler is in my basement! Every commercial somebody would sit next to me and they would make a donation. It's a fun way to raise money, especially when you have something that no one else is offering.
There's no way I'd be able to call, like in the offseason, hey, I want to get four active players at my house at one of my barbecues and can they do the cooking? They'd be like, dude, no.
The main thing is that it's not tailgate food. It's five star restaurant on wheels with a Packer.
OMC: Will you accommodate allergies and people who have different dietary needs or preferences?
LB: Yeah. We had a lady who doesn't eat fish, so we substitute the salmon for a different type of dish. We had another young lady who was gluten-free so we made her a bread pudding. We had a whole meal down. This one lady had three kids and she couldn't get a babysitter. She tried, because it's always adults. I said, bring 'em, we'll make a meal for the kids. So she was thrilled with that. We made it look really nice. We made it into animals and had some balloons and the kids had their little area and she was floored.
OMC: You've done a lot of fundraising, why make the effort to be this different?
LB: It's to raise money but it's tiresome. It's a pain. You've got to think of ways to raise money. People don't send out pledges in the mail anymore. If I could offer you something, that you'd be able to get something back that's tax deductible, as well as a great experience for your people, I think it's unbelievable. I think it's been working great.
OMC: Was this idea yours alone, to make such a commitment or did someone around you suggest it?
LB: It started with me because I picked everything out that I think I'm good at. I think I'm great with people. I think I'm phenomenal with that. When you start to talk to me you forget about the Packer Hall of Fame and all that. You forget about that – he's just a normal guy. Then, I love to cook. I've got two cook books. Then you throw in the brand of a former Packer. It's almost like a win-win-win. Then, to boot, you can give money to charity. Because you're going to give money to charity anyway, here's a great way to do it.
Page 1 of 2 (view all on one page)
Next >>
Facebook Comments
Disclaimer: Please note that Facebook comments are posted through Facebook and cannot be approved, edited or declined by OnMilwaukee.com. The opinions expressed in Facebook comments do not necessarily reflect those of OnMilwaukee.com or its staff.