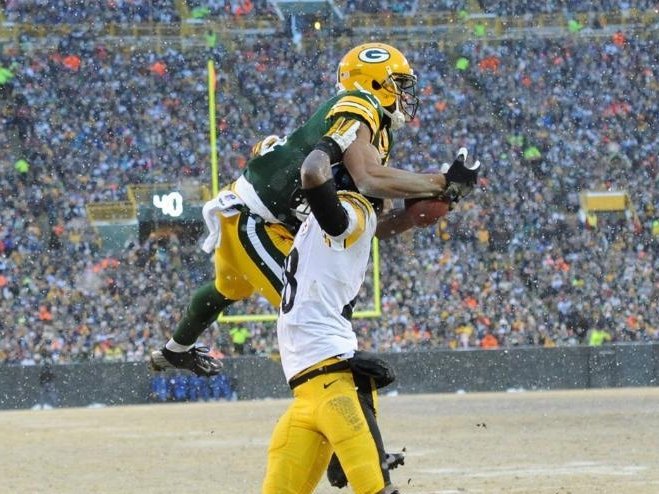 Packers rollercoaster continues with loss to Steelers
GREEN BAY – Cleats clicked on the concrete in the tunnel leading from the snowy turf of Lambeau Field up, creating a slow, uneven rhythm as a procession of players ambled their way up to the locker room. Some limped, some had their heads down, and all moved slowly.
Eddie Lacy gingerly stepped off the cement onto the carpeted ramp in the bowels of the stadium, and backup running back Khalil Bell gave him a respectful pound on his left shoulder pad. John Kuhn and T.J. Lang engaged in a focused conversation, while others remained quiet – until a single expletive echoed down the hall.
The Packers were yards away from heading to an improbable overtime in an improbable game before Matt Flynn's final pass attempt sailed high over the head of Jarrett Boykin as time expired, giving the Pittsburgh Steelers a 38-31 victory Sunday at Lambeau Field.
It was a game that featured four lead changes, a tie, a blocked kick, a batted ball out of bounds that nullified that block, an interception return for a touchdown, a near-kick return score by Packers rookie Micah Hyde, a 10-point fourth quarter Packers comeback and a hurried final seconds that left many inside the locker room shaking their heads.
The end result was a loss, dropping the Packers to 7-7-1 on the year and needing the Philadelphia Eagles to beat the Chicago Bears late on Sunday night to keep their playoff hopes alive – an Eagles victory that happened easily.
"It's frustrating that we lost and obviously that puts us in that situation," Packers receiver Jordy Nelson said. "It's part of it, especially down the stretch when we haven't taken care of business you kind of have to rely on other teams. I think we played well tonight, just didn't make enough (plays) and had a couple, too many mistakes."
All 69 points of the game were scored before Pittsburgh's (7-8) Shaun Suisham kicked off with 1 minute, 25 seconds remaining, but it seemed the game began all over again at that moment.
Hyde returned the kick 70 yards, setting up Flynn at the Steelers' 24-yard line with no timeouts and the need for a touchdown to force overtime. Flynn hit Nelson for seven yards on first down, and then Andrew Quarless up the middle for 19 on second, pushing the ball to the Steelers' 5-yard line with just 43 seconds to go.
In that moment, Flynn looked calm, cool – and in command. The offensive line settled, and James Starks was handed the ball over the right side behind Lang and Don Barclay, bulling his way to the 1-yard line before Pittsburgh linebacker Lawrence Timmons wrestled him down.
It proved to be the stop of the game, as with 22 seconds left Barclay was called for a false start as Flynn handed to Starks again out of the shotgun.
"I don't know who moved. I was set in my stance. We don't even know," Barclay said. "I don't know. I was sitting in my stance."
There was a mandatory 10-second runoff, giving Flynn and the Packers only 10 seconds to score from the Pittsburgh 6. They lined up, and center Evan Dietrich-Smith was ready to snap the ball – but couldn't. An official was between him and the Steelers defensive line.
"We were all sitting in our stance and the ref was hovering over Dietrich and wouldn't let us snap the ball, I don't know for what reason," Barclay said. "Time was just ticking and he was just sitting over there on Dietrich so I don't have an answer for that."
"I don't know what that guy was doing out there," Dietrich-Smith said.
Flynn was asked if he felt the officials did hold them up on the final play.
"I don't know what happened," he said. "The operation seemed kind of weird right there with the penalty. I think he was holding the center up and wound the clock when he was backing up, so I don't know," he said.
The official finally got out of the way, and Flynn floated a pass up to Boykin on the outside as Nelson broke open on a slant over the middle of the field. Pittsburgh safety Troy Polamalu had cheated down from his position in the middle of the field and completely misread the routes by Boykin and Nelson, leaving them in single coverage.
Flynn went to the outside and Boykin never had a chance, watching the ball sail over his head.
"I think the check he made was great and it gave us an opportunity in kind of a chaotic situation and we had a chance," Nelson said.
After the game, Barclay insisted he didn't jump before the snap (replays indicated that Lang also moved early) and Dietrich-Smith took responsibility, saying the crowd noise and hurried circumstance forced him into a delayed snap. Nelson said Flynn made the right decision to target Boykin in that instance (although replays indicated Nelson was wide open after Polamalu vacated the area).
Andrew Quarless said he wasn't sure whose fault it was when he and Flynn collided at the end of the third quarter, resulting in a 40-yard Cortez Allen interception return for a touchdown and a 31-21 Steelers lead, but conceded he may have tried to get to his man too quickly on the run-pass option.
Postgame, head coach Mike McCarthy said that interception was instead his fault, calling a play with a blocking scheme where it was "probably a little bit of an example of a guy not having a lot of reps in that particularly footwork, and it cost us. Andrew was doing his job; he's blocking the backside linebacker," the coach said. "Frankly, you can put that on me."
Every offensive player available in the locker room postgame agreed with the play calls as the final seconds ticked away, with everyone pointing the finger at themselves for lack of execution.
"We never make an excuse, for whatever situation, whether it's injuries or what not," said cornerback Tramon Williams, who recovered a Le'Veon Bell that set up a 2-yard Eddie Lacy touchdown in the third quarter that put the Packers up, briefly, 21-17. "We never make an excuse for that, so we're not going to start now. We had opportunities to win this game and we didn't."
Flynn finished the day 21-for-39 for 232 yards with one score and the one interception for a rating of just 69.2
Lacy rushed for 84 yards and two scores on just 15 carries before re-injuring his right ankle and missing the rest of the game (He also set the Packers franchise rookie record for rush yards in a season).
Clay Matthews registered a sack, but re-injured his right thumb on the play and he too missed the rest of the contest.
James Jones caught nine balls and Boykin added five catches and a touchdown while linebackers Jamari Lattimore (forced fumble) and A.J. Hawk (interception) made big plays that allowed the Packers to nearly pull out another tight, come-from-behind victory.
In the end, it wasn't enough to secure a victory, but as the players slowly made their way out of the locker room, all heads were high, and players were proud of each other for fighting back from a two score deficit in the final quarter and not giving up. Regardless of what happens tonight in Philadelphia they planned on doing Monday what they've done all season: get back to work.
"It came down to the end and you could see our fight," Quarless said. "You could see how much fight is in us."
Facebook Comments
Disclaimer: Please note that Facebook comments are posted through Facebook and cannot be approved, edited or declined by OnMilwaukee.com. The opinions expressed in Facebook comments do not necessarily reflect those of OnMilwaukee.com or its staff.