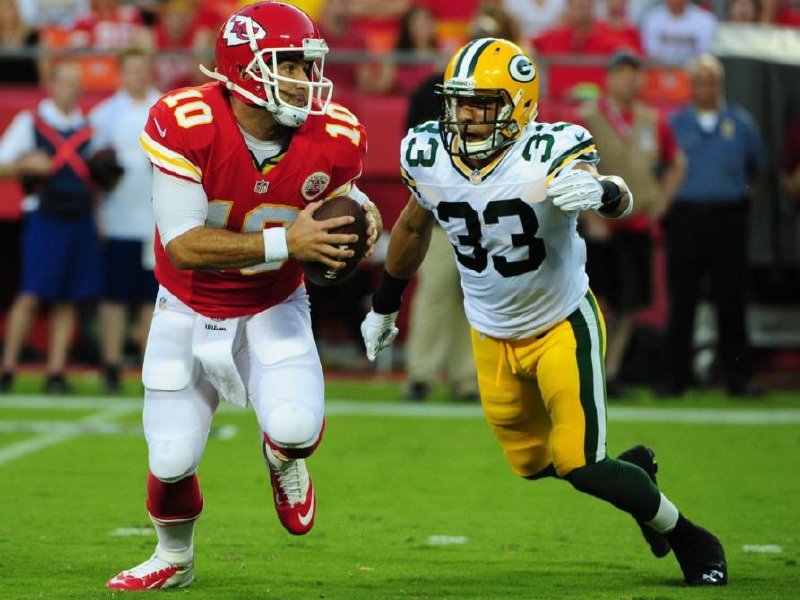 Packers rookies don't lack confidence
GREEN BAY – To come out with a victory on any game day in the National Football League is to win that particular week's battle of attrition. Players go down with injury mid-game, or are lost during the following week to ailments discovered after the adrenaline has worn off.
To win a Super Bowl, it's a season long test for coaches and personnel departments must pass.
Every team in the league knows this, and prepares for it. The Green Bay Packers are no different, but perhaps they go about it a different way: with the addition of wide receiver Myles White and tight end Jake Stoneburner to the 53-man roster, the Packers will have 14 rookies on the roster heading into Sunday's contest against Cleveland (not all may be active).
Eight of them were draft picks, the others were signed after the fact. Some were training camp surprises, spent time on the practice squad and earned a promotion when the need presented itself.
David Bakhtiari is starting at left tackle. Eddie Lacy is making an impact at running back and fellow rookie Johnathan Franklin already has a 100-yard game under his belt. Micah Hyde and Chris Banjo made immediate impacts in the secondary due to early injuries at corner and safety. Datone Jones, a first round pick, has been rotated early on a defensive line that has been the one healthy strength all year long.
Sam Barrington, Andy Mulumba and now Nate Palmer are getting looks at linebacker.
What has helped all of them contribute right away and earn the confidence of the coaching staff is an unwavering belief of self.
"I think you've definitely got to be confident, but just like anything in life I think when you approach something new and different, it takes a while to get adjusted as you feel things out," Franklin said. "As an athlete, you have to trust in your skills and your ability to play."
You hear it all the time about players. "They lost confidence," or "They need to believe in themselves." Or you might hear "I had to find out if I belonged."
It's a real thing for some players. But for this group of Packers rookies, that was never an issue. They always believed they could perform.
"I feel like when my time is called upon I feel I can do it," Jones said. "The biggest thing for me is just to play hard. All I can do is play hard and aggressive for the other 10 guys on the field. Hopefully they do the same so we come out and win big games. That's pretty much it."
It also makes them wonder why that question is asked – if they needed tangible proof to believe in themselves.
"I don't know, man. That's a hard question," Hyde said after a thoughtful pause. "I don't know if I could definitely answer that question. I think if you make even one play at this level, against good competition – let's just say against our offense (in practice), you have that idea that you belong here. I think that after that, from there on, you have that confidence that you can compete at this level. That might be where it comes from."
For them, confidence is not like the tide, constantly advancing then receding.
Franklin laughed when asked if he experienced such an ebb and flow.
"When you get to the NFL you can't make it bigger than it is," he said. "You have to remember that it's just football. You have to keep getting better. Sometimes you see that guys can get complacent, or content, or not continue to work because you got to where you are, but I think it's all about just every day wanting to improve and wanting to get better."
Added Hyde: "I don't see it as varying. I really don't. Maybe athletes say it doesn't vary, but I really believe that. I'm not just saying that. I think it comes along with being humble, too. If I get beat, yeah, I'm a young guy and these guys get paid too but at the same time I don't feel like they should be doing that. If I make a play, just the way I was raised, I just feel I should be doing that.
"Maybe I have a messed up way of thinking, maybe I'm just screwed up in the head, but that's just my way of thinking about it."
Facebook Comments
Disclaimer: Please note that Facebook comments are posted through Facebook and cannot be approved, edited or declined by OnMilwaukee.com. The opinions expressed in Facebook comments do not necessarily reflect those of OnMilwaukee.com or its staff.