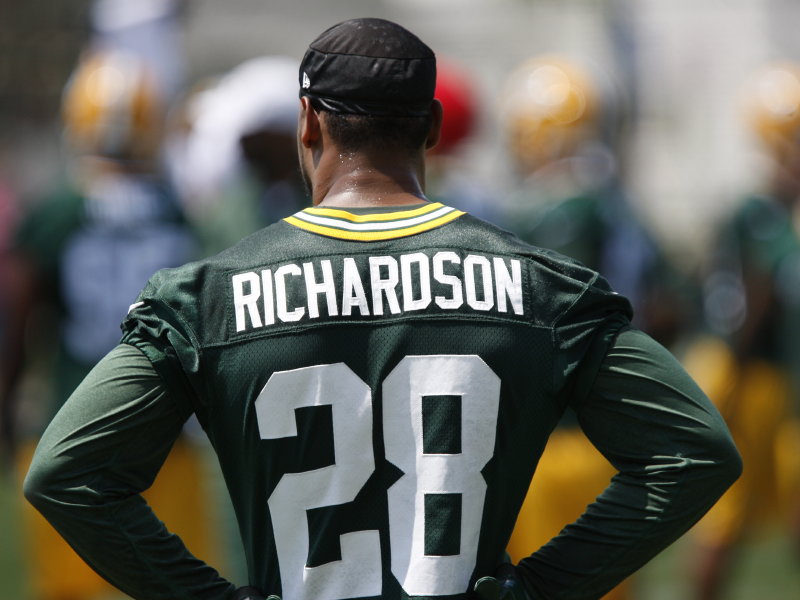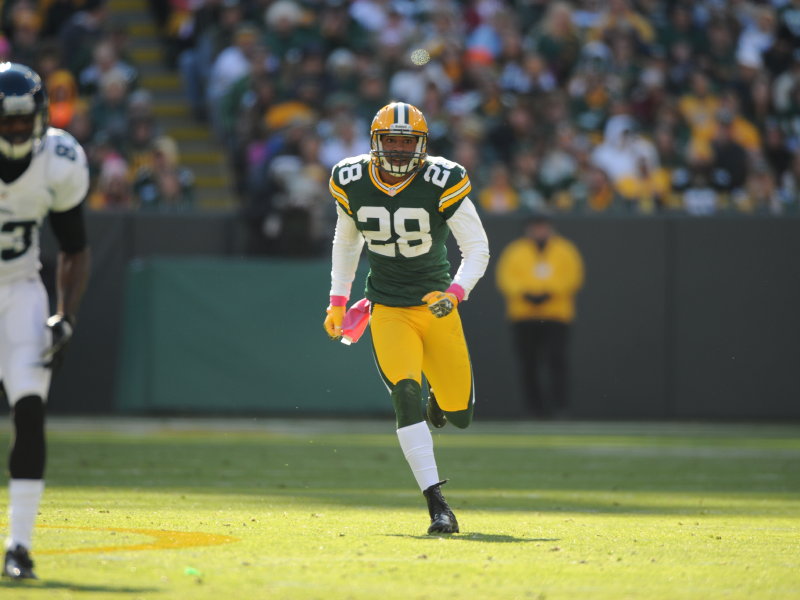 The beginning, and perhaps an end, in Green Bay
GREEN BAY – The gold bobbed up from the green, rising and falling in near unison between the 5-yard and the goal lines in the newly renovated south end zone at Lambeau Field.
It was just over 40 minutes from kickoff in Friday night's preseason opener against the Arizona Cardinals, right before the team broke into stretches and positional warmups. Then would then recollect in the tunnel and race onto the field under the roars of 73,738 fans.
The National Football League never sleeps, but the Packers' 17-0 loss to the Cardinals could be counted as the true beginning to the 2013 season. There was an opponent, and results that could be measured on film and on the stat sheet.
It was also the first time the Packers took the field as one unit, against another. Away from it all, Sean Richardson hurt.
He was in the locker room before and after the game. He was with his teammates within the stadium, taking his mental reps as he watched his fellow safeties struggle at times against the Cardinals. No, it wasn't his spine that hurt, the parts that were fused together in surgery. It was the mind and spirit.
"It's tough. It's tough, man," he said Thursday of what it feels like to be relegated to the role of spectator. "Just watchin' the boys scrimmage (on Family Night on Aug. 3) I got kind of emotional you know, because I couldn't be out there. It's tough to watch a teammate play the game you love so much …"
His voice cracked, his bottom lip trembled.
"But I've just got to keep faith, stay positive and hopefully I'll be back out there with them."
Richardson was an undrafted free agent out of Vanderbilt that made the team out of training camp last year, and he appeared in just five games before injuring his neck covering a kick on Nov. 25 in New York. Back tightness was his primary symptom, and on Nov. 30 a herniated disc was discovered. The next day, he was placed on injured reserve. Two months later, he was operated on. Now seven months into his recovery, he can run, lift…
"Everything but contact," he said, finishing a reporter's thought. "I feel great. My body feels great. I'm in shape. I'm back. My strength. I never really lost any strength in my limbs or anything lifting wise. I'm starting to get my tone back. I feel great. They just don't want me to get back out there and then something devastating happens. A neck injury is real serious. So they're being very cautious."
He won't, or can't, put a timeline on a return, saying only that more opinions need to be collected from more specialists, and at some point, someone, will make a decision on whether he can begin his season.
"It's in God's hands now," Richardson said.
It's something he says often.
But there are no passages taped to his locker, or specifically recited.
"I just talk to Him, man. I just talk to Him, just like I'm talking to you," he said of his faith. "I feel like if you just be yourself and you believe and talk to Him, he understands you. It's not a special script that I say and stuff like that. I just talk to Him like 'Give me guidance and whatever you want me to do I'm willing to do it and whatever path, show me the path you want me to take.' It's how I grew up."
That faith, and the support of organization, has helped him face the fact that his career might be over after just a handful of games.
"It's much needed support and I appreciate it every bit," he said. "With an injury like this you can kind of step back and look at it - ah, man, I may not be able to play again – but then you go look at other people's situations and it's a lot worse. Life could be a lot worse. People are out there with cancer. If it doesn't happen, then it don't happen. But we're all pulling for me to play again, but like I said, my health is the number one thing and it's very important to me, as well as the coaches and the doctors. That's why we're being so cautious and taking it day by day and getting different opinions and then come together and see what's the best decision for me."
Until that decision is made, he will act like safeties coach Darren Perry's assistant, imparting whatever wisdom, and criticism, he feels is necessary. It's a role he's embraced thus far, working the group when players rotate in and out. On Thursday, he wrapped his hands inside Brandon Smith's shoulder pads and yanked him from side to side, showing him how to shake free from such a situation. Later, he walked up to David Fulton to tap his helmet for a job well done.
"Sean is a great guy, both on and off the field," safety M.D. Jennings said. "His spirits are up and that's a great thing to see. Even when we're out at practice he's always taking mental reps. He always, as soon as you come to the sideline off the field, 'read this key, read that key'. It's great having a guy like Sean around you. Hopefully he's back out there with us real soon."
Fulton says no one senses any defeat, any deflation, in Richardson. He's helped the rookie's study habits, too. Fulton says he now goes home and hand writes out the defensive plays, then goes over the man and zone calls with highlighters to reinforce them.
"I'll try to help coach out a little bit," Richardson said with a smile. "If I see something I'll pull someone to the side and tell them. I'm looking forward to getting back out there, but in the meantime I'm trying to be a great teammate and supporter for the younger guys.
"I want to get out there so bad because now I know the playbook so much better and I can play faster. It looks so much easier now compared to last year. I'm very anxious but at the same I just have to make the right decision and the best decision for me and my health."
His guidance this next week will be appreciated – the Packers allowed 270 yards on 16 of 27 passing and two touchdowns to Cardinals quarterbacks Carson Palmer, Drew Stanton, Ryan Lindley and Caleb TerBush.
Following the game, Richardson packed his iPad into his bag, like the rest of his teammates, ready for film breakdown on Saturday. It's still not the same, though. Richardson doesn't want to think about how it might be over the next time the doctor calls, and doesn't try to let it show, but even his newest teammates can feel it hanging over him, and it resonates with them as well.
"Yeah, I just feel every day you go out there, you can't take nothing for granted," Fulton admitted. "You have to give it your all because you never know when your time will come."
At this point, Richardson is hoping that time is an ally to health, rather than acting as a stay of retirement.
"You go through a lot of stuff and you persevere," he said. "Everything wasn't all cookies and cream in the NFL and I came a long way. I'm proud of myself and all my accomplishments and I still have many more to accomplish, many more goals. It's not the end of the world."
Facebook Comments
Disclaimer: Please note that Facebook comments are posted through Facebook and cannot be approved, edited or declined by OnMilwaukee.com. The opinions expressed in Facebook comments do not necessarily reflect those of OnMilwaukee.com or its staff.