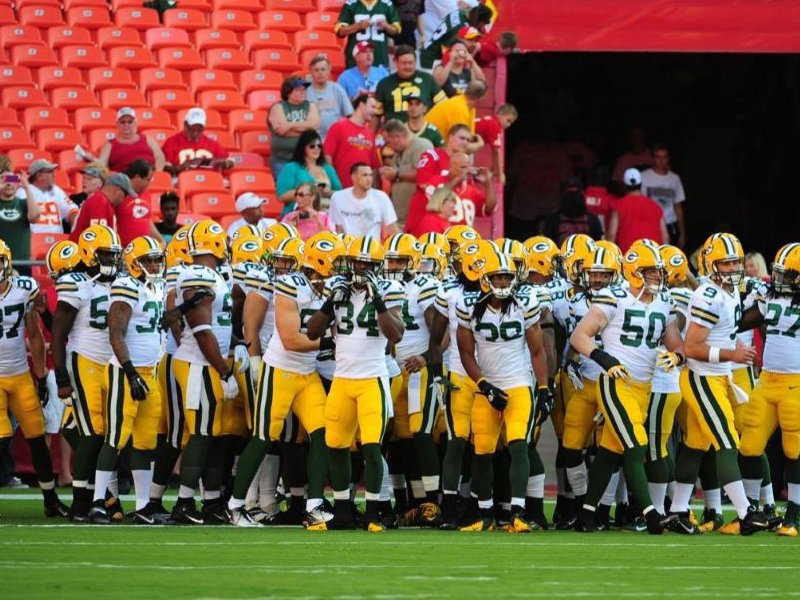 Are the Packers too young?
There doesn't seem to be much excitement surrounding the Green Bay Packers heading into this season, at least among the fan base.
I draw such a conclusion from sampling Milwaukee sports talk radio, Twitter, Facebook and having general conversation out in public. There seems to be a "wait and see" approach, with fans believing the team will win the NFC North but after that, they aren't so sure (or that confident).
Yet out in Las Vegas, the Packers are one of four NFC teams that have 12-1 or better odds to win the Super Bowl.
With Aaron Rodgers at the helm the Packers will always be considered a playoff contender, if not a Super Bowl threat, but the skeptics will likely be pointing at one thing when it comes to the Packers: Youth.
Jimmy Kempski over at Philly.com broke down the average ages of the complete 53-man rosters at the start of the season across the league.
Here are the 10 youngest teams in the NFL:
St. Louis – 24.98
Cleveland – 25.25
Buffalo – 25.3
Seattle – 25.31
Jacksonville – 25.41
Green Bay – 25.42
New York Jets – 25.6
Kansas City – 25.68
Miami – 25.7
Philadelphia 25.74
What jumps out most to you about that list?
Other than the Packers, the Seahawks were the only other team to make the playoffs in 2012.
The combined record of the other eight teams in that top 10 was 39-88-1. That's some bad football.
The middle portion of that list, teams 11 through 16, included playoff qualifiers like New England, Cincinnati, Minnesota and Atlanta.
So, being in the bottom half of the league in average age isn't the worst thing in the world, but being inside the top 10 seems like you're rebuilding.
Then again, Seattle is one of the few teams Vegas has as a bigger Super Bowl favorite (9-1) than the Packers.
So which is it? Is this team too young, or Super Bowl contenders?
Can it be both?
In 2010 the Packers opened the season as the 14th youngest team with a ripe old average age of 25.88 and we all know what that end result was.
It goes without saying that general manager Ted Thompson has done a good job of preventing this team from getting old.
On offense, only John Kuhn (30) and Seneca Wallace (33) are not in their twenties. On defense, it's just Ryan Pickett (33), Tramon Williams (30) and Johnny Jolly (30).
Only 10 players on the 53-man roster have six or more years of experience.
In a young man's game, is that shrewdness, or has Thompson been too itchy in not allowing those young players time to grow into something greater?
Or can that point even be argued considering how long he let Rodgers ripen, and that's really all that matters?
For example: Dezman Moses and Terrell Manning were young linebackers who made the team last year, but were cut this year in favor of new rookies. Was not enough improvement shown? Were they just not that good? Or are Nate Palmer, Sam Barrington and Andy Mulumba more gifted?
On the offense third year players D.J. Williams and Alex Green were cut.
Can you be too young in the NFL? Possibly. We'll see how those other teams that rank in the top 10 with the Packers fare this season and if age really isn't anything but a number.
Facebook Comments
Disclaimer: Please note that Facebook comments are posted through Facebook and cannot be approved, edited or declined by OnMilwaukee.com. The opinions expressed in Facebook comments do not necessarily reflect those of OnMilwaukee.com or its staff.